Over the years we have been fortunate enough to visit some pretty interesting places.  In the beginning, we were eager to buy stuff everywhere we went.  But over time we've come to value different things and often don't bring anything back at all anymore.  One souvenir we almost always do keep is a bit of local money.  This habit has bloomed into a full blown collection of interesting foreign currency.  Below are the ten that we find the most interesting.
10. Seychellois Rupee
The Seychelles is without a doubt one of the most beautiful places we have ever explored. Appropriately, their money is pretty beautiful, too. The Seychellois rupee is adorned with fish and flowers and perfectly represents the unique exoticism of its country. As we explored the Seychelles, and discovered the largest seed on the planet, we mostly spent euros.  But these rupees are not too hard to find.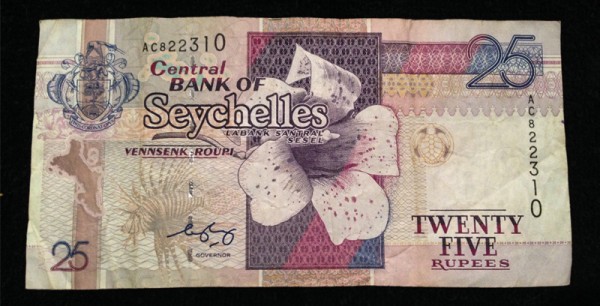 9. Hong Kong Dollar
Even though Hong Kong has been part of China since 1997, the special administrative region maintains its own currency as well as other traits that definitely make it feel much more like an independent state.  Hong Kong continues to use paper currency.  However in 2007 they issued a special $10 note made of Guardian polymer for a two year trial in order to commemorate the ten  year anniversary of the country's handover.  You can still find these limited issue $10 notes in circulation today.  They are probably the most interesting bit of Hong Kong currency out there.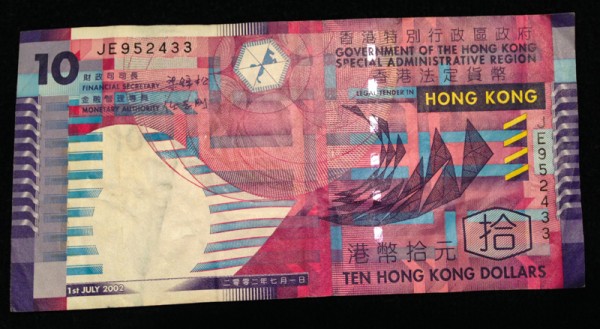 8. Egyptian Pound
For me, the most interesting thing about the Egyptian pound is how long they leave them in circulation.  At nearly 7 pounds to one US dollar a single pound is effectively worth almost nothing.  And yet Egypt still has a paper note for that denomination.  One pound notes are basically circulated until they disintegrate.  I assume the only reason these notes don't have the pyramids on them is because they weren't yet built when they were printed.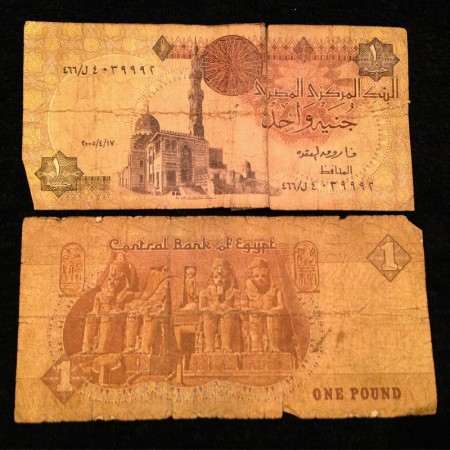 7. Israeli Shekel (Sheqel)
The history of the shekel is as interesting as the history of Israel itself.  From 1948 to 1980 Israel's national currency was the lira.  From 1980 Israel made the switch to shkalim (plural of shekel) but due to rapid devaluation against the US dollar in 1986 the shekel was deemed the "Old Shekel" and Israel rolled out a "New Shekel" that was worth 1,000 of the old shkalim.  The current shekel boasts every security feature there is.  Made of Guardian polymer each note is plastic, waterproof, and sports a small window in the shape of a Star of David in the lower corner.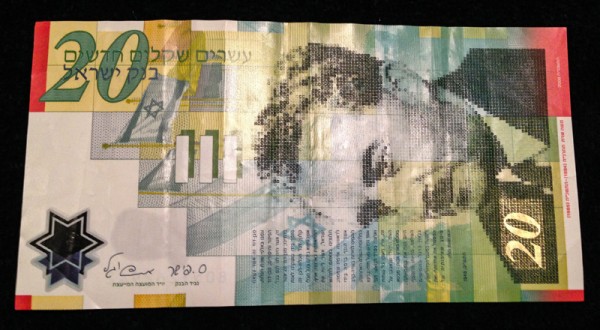 6. Mongolian Tögrög
I'll be honest, I didn't know what this currency was called the entire time I was in Mongolia. In fact, I'm still not sure how to pronounce the two dots on top of the O.  What I do know is their notes feature what appears to be two dozen cows hauling a gigantic yurt on wheels and a man with some killer facial hair.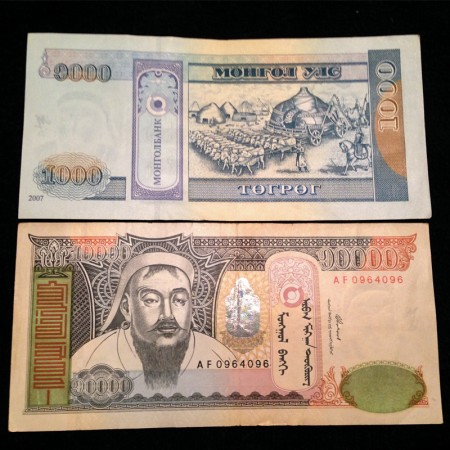 5. Hutt River Dollar
Going in to your local currency exchange you will definitely not find any Hutt River Dollars. This unique currency was given to me personally by the Princess of the Principality of Hutt River.  Pegged to the Australian dollar, the only place you can pick up this currency is by paying a visit to the Hutt River capital of Nain. Yes, those are emus on the back.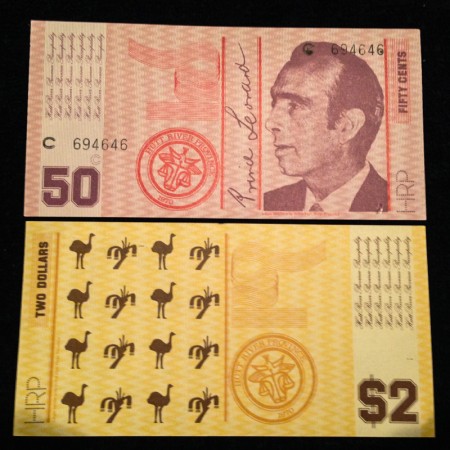 4. Western African CFA Franc
I picked this one up on a visit to Dakar, Senegal and it never really made any sense to me. At the time, I didn't know of any regions of different countries that shared a single currency outside of Europe. However there are actually two currencies in Africa that do just that. The Western African CFA Franc is used in Senegal, Benin, Burkina Faso, Ivory Coast, Guinea-Bissau, Mali, Niger and Togo. The Central African CFA Franc is used in Cameroon, Central African Republic, Chad, Republic of the Congo, Equatorial Guinea and Gabon. The most interesting part of these two currencies is that they are effectively interchangeable, have a fixed exchange rate to the Euro and are guaranteed by the French treasury.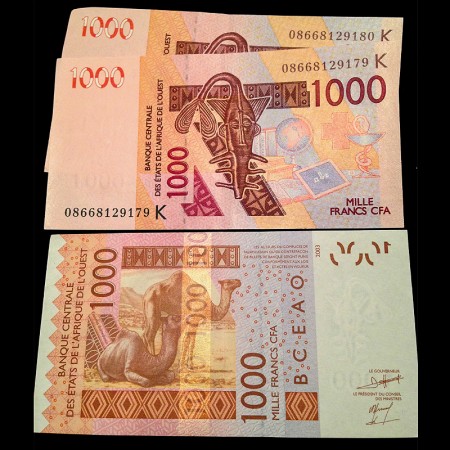 3. New Zealand Dollar
This money has penguins on it.  PENGUINS!  Do I really need to further justify its inclusion on this list? New Zealand is another country that makes use of the polymer notes instead of paper. This means that like penguins, their money is entirely waterproof.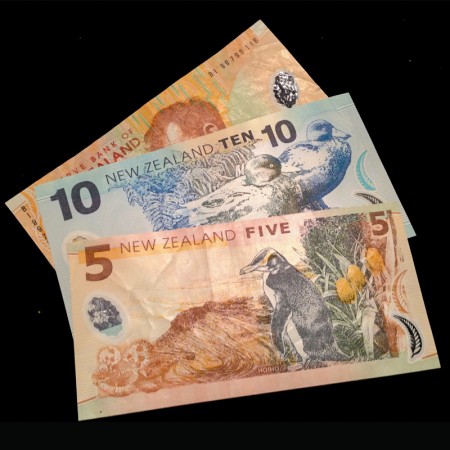 2. Cuban Convertible Pesos
Cuba is one of the most interesting countries in the world, especially from a currency standpoint.  They are one of few nations that actually maintain two separate and wildly unequal national currencies. This unique arrangement allows for a functional internal economy while promoting the existence of goods and services that the local population could never possibly afford.  Locals use the Cuban Peso (CUP) and foreign visitors use the Cuban Convertible Peso (CUC).  For practical purposes one CUC equaly roughly 25 CUPs thus keeping the best of Cuba out of reach of its citizens.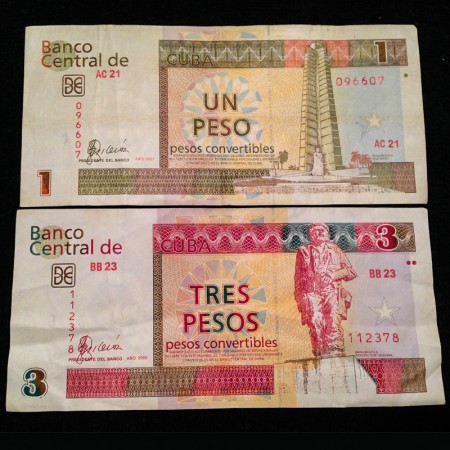 1. Iraqi Dinar
So I'm cheating a bit on this last one. I have not been to Iraq, but I do have these dinars in my collection. I just acquired them through other means. These are of course not the currency of modern Iraq.  This is most evident by the fact that they prominently feature a dapper young Saddam Hussein that's looking a bit like a mustachioed Ricky Ricardo.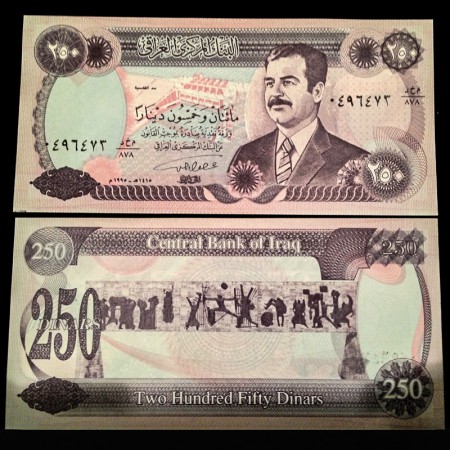 Do you collect currency when traveling?  What have been the most interesting ones you have seen?