No alarms this morning, just waking up in a hard bed in the Miraflores district of Lima, Peru. We, at least I, took my time getting ready and we ate the free continental breakfast downstairs at the Casa Andina Hotel. Today we would explore Miraflores by day and the Barranco district by night. Now, I thought we were close to something, as we were told we were in a good area of Miraflores, but we had to walk quite a bit before we came to anything worth mentioning. We crossed a highway, walked 20 more minutes, then finally hit some stores and a bank. This city seems weird and I wasn't sure how much I like it to be honest. I guess it seems like a capital city and we didn't have the greatest first impression with all the walking to the center. Finally though, we did get come upon the city center and man was it hot out! I was wearing a dress with not a store to be found to buy sunscreen and Dave was wearing jeans and a polo with sneakers. This poor kid had to be helped. I spotted a clothing store with piles and piles of unmarked clothes in large bins with a sign with the price on it. Of course the sizes are all different, not that most things were labeled anyways. Most things were very much NOT American clothing – plaid shorts, v-necked printed tshirts too tight for any American guy, etc. Dave was able to find a decent pair of navy shorts and he was eager to get a tshirt that he would ordinarily never buy. He found it in a maroon tee with cursive writing and flowers on it – awesome. He paid for the clothes (S/. 40 = about $12) and we were off to the central part of the city.
There we quickly stopped in the park and then headed to a cafe to eat. We chose Haiti and split an ice cream dish with fruit in it and some cokes. From there we headed down a tree lined street with not much else going on, until we reached the coast. This was really beautiful! We walked along there for a long time, slowly making our way to the restaurant that we had chosen in the Lonely Planet for lunch. Of course it was no longer there. We continued on the beach/cliff walk and contemplated paragliding (I'm too scared), and finally made it to another restaurant, Vista al Mar, that the book had mentioned. This place was located in the Larco mall and the location could not have been better really. The front was all glass and seemed to hang off a cliff into the ocean. Pretty frequently a paraglider would pass by. I felt disgusting and sunburned and was most happy to freshen up in the bathroom and sit for a while in the shade. We enjoyed a nice relaxing lunch of Peruvian appetizers, shrimp risotto, and sea bass stuffed with shrimp. Dave took photos of para-gliders with his 300mm lens.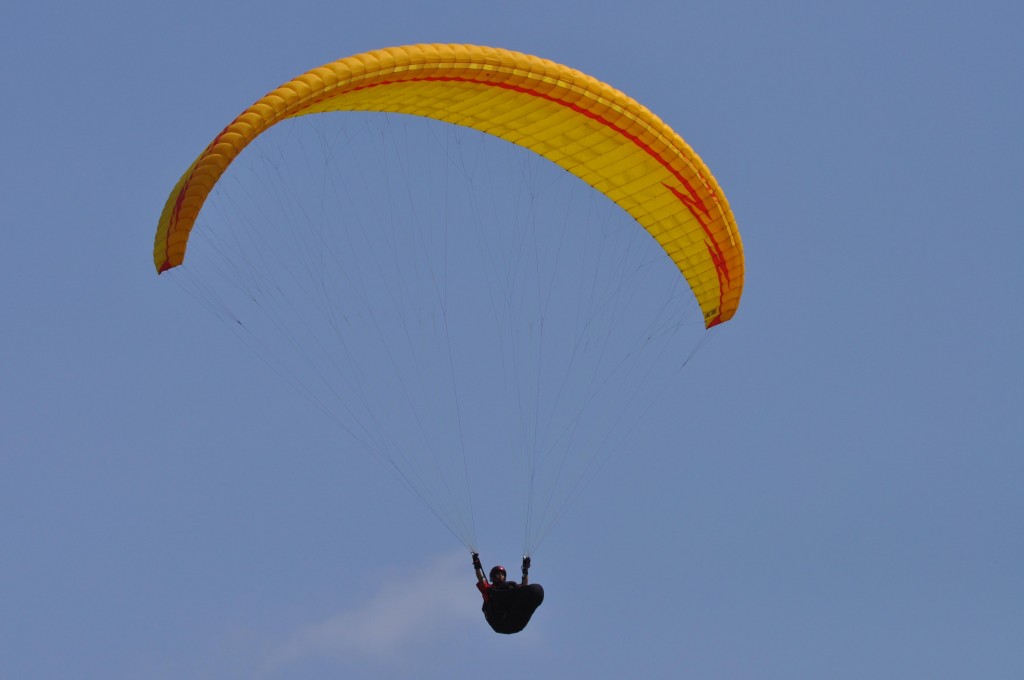 After "lunch", which finished around 3:30, we set out to buy sunscreen. We went to the Marriott first and it was $50! Finally we found a farmacia and it was $10 for sunscreen, aloe and shampoo. From there we walked home, which was much faster than this morning because we were already so far from the city center. I passed out for a while and Dave did for a bit too I think. Around 8 we decided that we should start looking for dinner. We'd head that the Barranco District was a great spot for dinner and drinks. For aS/. 6 taxi ride we were in the center of Barrancos and we were feeling the vibe!  Definitely drinks before dinner. There was a street that seemed to be on the verge of getting crazy so we walked there and were pestered to go into each and every establishment there. Finally we decided on Hakuna because of their outdoor balcony. We both had mojitos and sat there talking, enjoying the Latin music and Lima energy.
After that we searched high and low for a place to eat until we stumbled upon an area that we filled with restaurants and had a very chill atmosphere. We decided on El Dolfin because, in the end, everything looked pretty much the same. I got sangria and we shared arroz con mariscos picante (rice with spicy seafood). It was nice to sit there and watch from our balcony above this little area that resembled Asia a bit with its bridges and terraced hills. Very unique. After dinner we found a taxi back to the hotel and called it a night. Our flight is very early tomorrow – I'm very exited for Cusco 🙂