Jumped out of bed this morning at 6am on the dot – I was so excited for Macchu Picchu and New Years Eve in Cusco, Peru! Dave was more excited though and in about 9 minutes he was standing there with his shoes on, jacket zipped up, and backpack on his back ready to go. We had agreed to leave at 6:30. The next 20 minutes he just started at me getting ready looking anxious telling me that trains make him anxious. lol, HE makes ME anxious 😛 what a crazy kid.
Finding a taxi was easy because we were right in the city center so we made it to Poroy Station well before 7am. We bought waters from these women selling them through the gated fence and then shared a coca tea and some potato chips. Soon it was time to board. Perurail turned out to be a lot nicer than expected except for that we had to face two strangers and practically bump knees with them the entire time. The total trip time was about 3 hours and the scenary was breathtaking. We went through small villages with tons of cows, stray dogs and cute children waving at the train. Soon the terrain was more mountainous and a crazy river ran next to us the whole time. Took some photos out of the train window but I doubt it will really capture the beauty.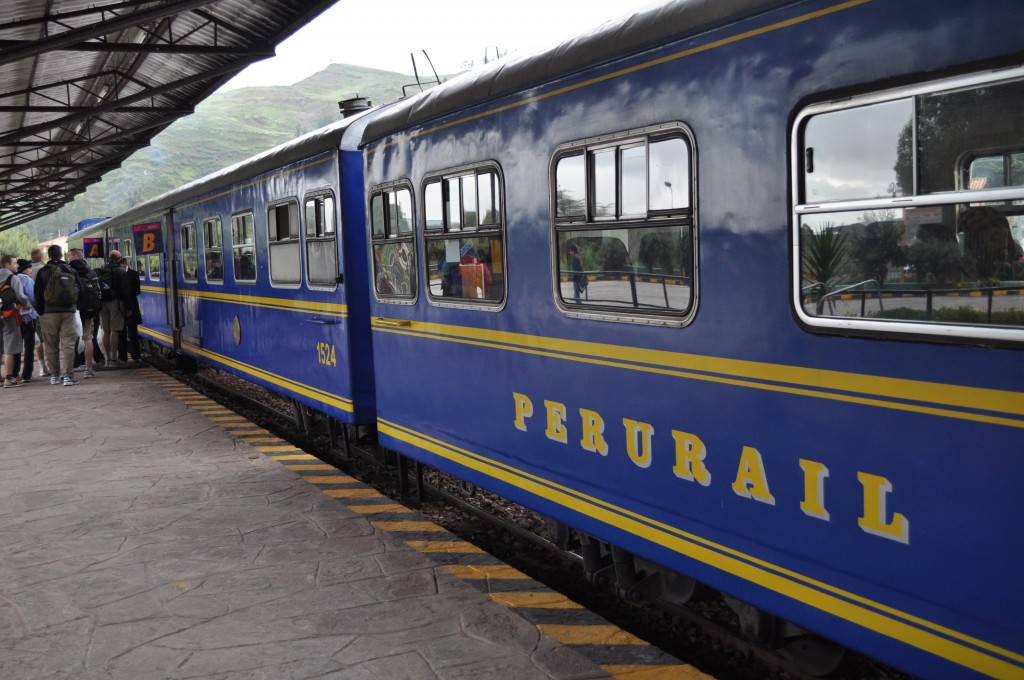 We arrived at Aguas Calientes and were pretty confused as to where to go. We ended up following these girls from Argentina because they spoke obviously better Spanish than us and seemed to have a clue, unlike us. They led us to the ticket booth were we bought tickets for $45 each (ouch! double the price that Lonely Planet had said) and then to the bus station where we paid another $14 each for the 20 minute bus ride to Machu Picchu. We quickly boarded the bus and it began its ascent. We were on the side of a mountain zig zagging up it the entire time. It was just amazing as we got closer and closer to the clouds. Machu Picchu is actually lower than Cusco but its still quite high. The bus dropped us off and we went through the gate, got a passport stamp (!!) and then began up the stairs to the top. One of the first views that we saw was the quintessential Machu Picchu photo with the mountain in the background and the city in front. We took loads of pics, jumping shots, shots taken by fellow Americans, and finally a great shot just taken by a rock with a timer. It began to rain at this point so it was very slippery on the stones and I'm a bit nervous climbing rocks anyways. We set out up a terrance and briefly lost each other because I couldn't make it up some levels because of my littler legs and girly disposition. We finally found each other…and some llamas!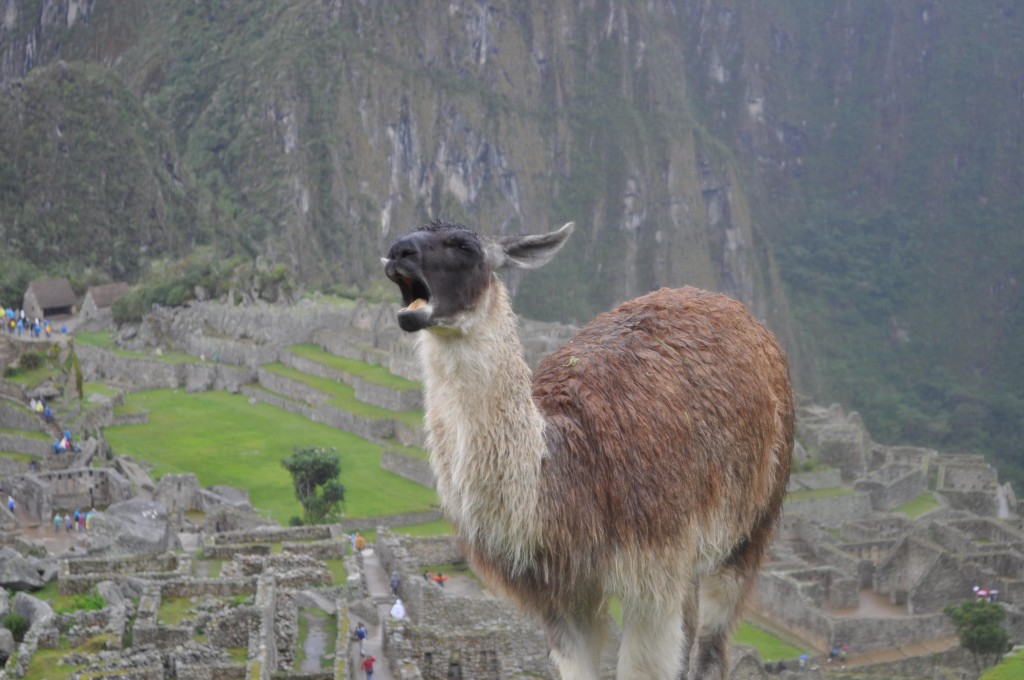 I had no idea if llamas were dangerous at all but they seemed pretty chill. We were alone on this terrance with these two llamas and we got some great shots "with" them (well, as close as we dared to go), and also of just them and the ruins. Must be nice to be a llama here. On another note, we had no idea what we were seeing or anything while we were walking around. There were many opportunities to get a guide, but we didn't want that. No one really knows what the function of this city was anyways. The city as a whole is simply magnificent and writing about it doesn't really seem to have any point because only a picture can capture it. Its lush, its old, its in pretty great condition for being 600 years old, it sits in the clouds, it has llamas and it has a chocolate milk river running around it below 🙂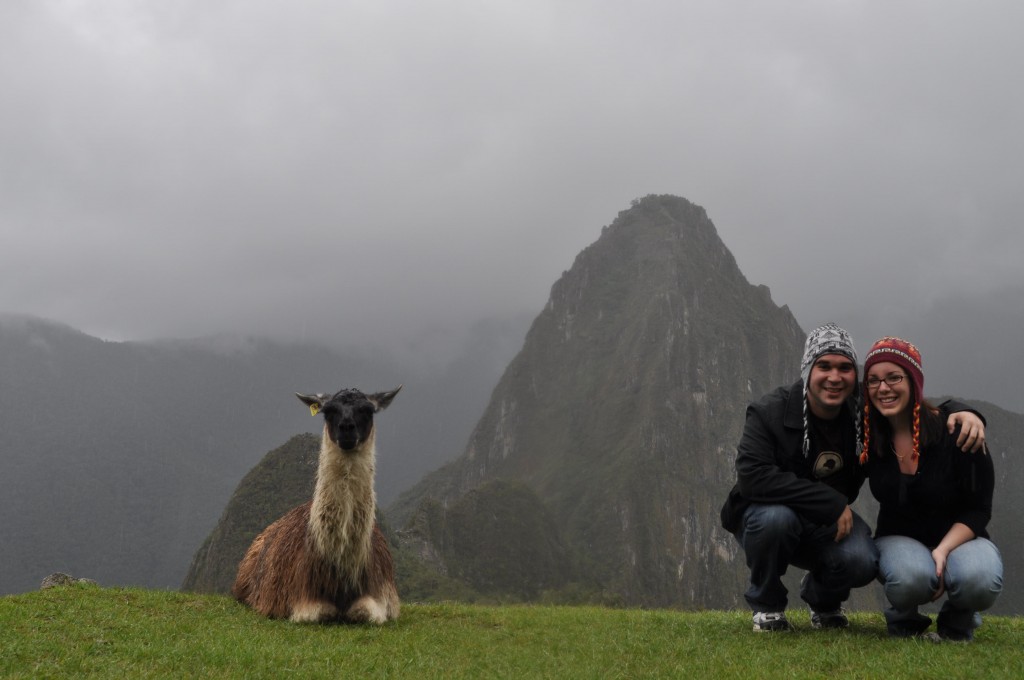 From our highest point with those llamas on the terrace, we started our decent. We stopped quite often to take photos with each of us wearing our goofy hats that we had bought just for that purpose. The rain soon stopped and we stopped to sit and try to read a bit in the Lonely Planet but we had decided long ago that that book was filled with nothing but lies anyways. We took some more cute pics and eventually found a point that I think was one of my favorites. The view was not that of the city, but rather the mountains and the wispy clouds surrounding the city. After all, this view was probably why they built the city here in the first place. We hung out there for a bit and soon it was time to leave. We followed signs for the exit, stopping of course to take a shot of Dave grazing with the llamas. There was one restaurant at the summit just outside the gates and we figured we'd try that first for lunch. It was $33/person! No way. We hopped on the bus and were extremely satisfied with our visit. The ride down was very funny. Dave and I sat apart and there was this woman behind me who would not shut up about the bus going down the mountain! She kept wishing they'd drive slower, wishing she'd walked, asking for divine help, and causing a general scene. Very embarrassing and of course she was American. Sigh. I kept my mouth shut.
At the bottom we decided to give the guide book another chase. Of course the place we picked was closed, but there was another place very close by. We had soup, chicken curry that I didn't mind and Dave hated, and french fries. It was ok. From there we went back to the train, stopping quickly to get a water sample from the crazy river that ran through these parts. We sat in our same seats and I am now catching up on writing all of this as we approach Cusco. What a great end to 2009 and hopefully an even greater beginning to 2010!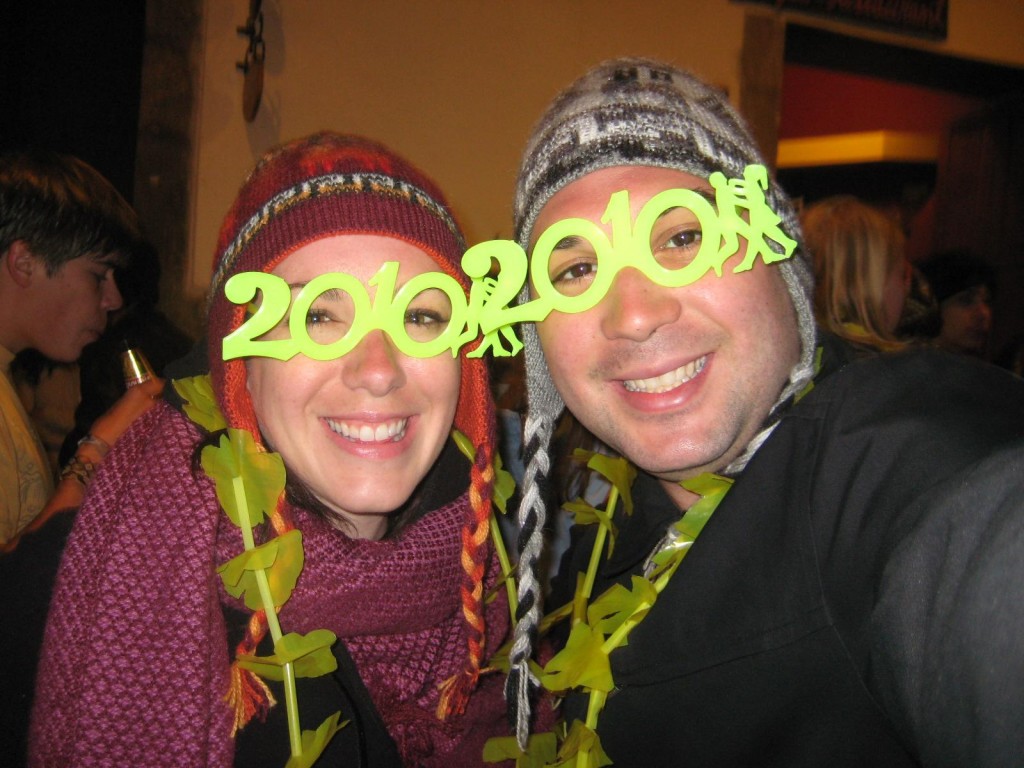 Well we ended up getting in an hour before we expected to and catching a S/. 6 bus back to the city center. We were in Plaza de Armas before 9pm and headed straight for a camera store to get Dave a 220 volt charger for his camera – for some reason his camera battery only takes 110v. After that we went back to the hotel and I showered and dressed for the New Years extravaganza. We were back in the Plaza de Armas by a little after 10. New Years Eve in Peru is simply amazing.  Things were already a bit crazy with people selling fireworks everywhere and then other people setting them off absolutely everywhere. We found a place to sit under some covering along the plaza and watched the madness. Everyone from little kids to old ladies were selling fireworks, beer, cigarettes…it was just nuts. As midnight approached the crows were getting crazy and loud fireworks were going off feet from us. Dave bought us leis (sp?) and 2010 glasses, although the glasses didn't offer the same assistance to my vision as my regular ones, so I had to pass on wearing those. I can't emphasize enough how crazy all of this was. Finally it was midnight and, although there was no countdown, it was still great. Everyone started running around the square, yelling, screaming, spraying beer everywhere… We took a video of all of this and I really hope it captures the scene. We were chanting "Cusco!! Cusco!!" while running around the square, almost like a soccer chant.  Around 12:30 I was starting to feel sick though, I think because of sitting on the cold stones for 2 hours, so we headed back. On the way, however, we both got hit in the legs with a firework! Dave took the brunt of it but it hit me too and wow did it sting. I guess that was it – we were out of there. The stringing didn't last too long though. Back at the hotel I was really feeling cold so I covered myself in blankets while Dave showered. We went to bed soon after that. I have great hopes for 2010 and it was a great end to 2009 🙂