Now that our baby girl is five weeks old, it was time for her first vacation: New York City!  It wasn't a real vacation, since we live in NY, but rather it was a test for other trips we have planned this year.  Vacationing where you live is a nice excuse to eat only in restaurants and to stay at an awesome hotel!  Also, because you don't have to travel, costs are low and your timing can be flexible.
We stayed at the Inn at Irving Place which, despite me walking past it a million times on my way to work, I had never noticed. The front looks exactly like any other brownstone around Gramercy Park, but inside it is a gorgeous space filled with antique furniture and swanky rooms.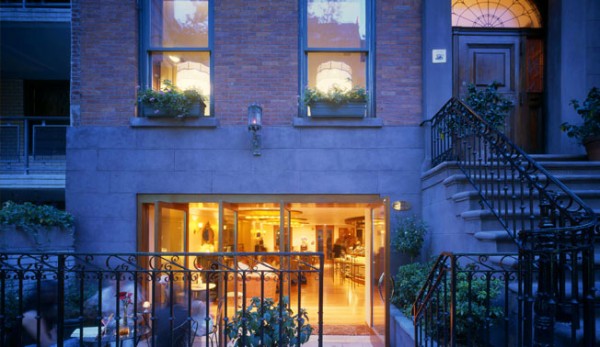 It feels completely unlike New York City (in a good way).  Obviously our baby girl loved to sprawl out on the big bed:
Eating is our favorite thing to do in NYC, so aside from enjoying the hotel, we enjoyed all of the nearby restaurants!  Since this was a vacation, we treated ourselves to lobster, pork buns and churros.
City Crab & Luke's Lobster
These are some of our favorites in NYC. City Crab is a less fancy version of City Lobster, its sister restaurant. It's loud, dark but still delicious and spacious (necessary with a baby)…and also like, 2 blocks from our hotel. Despite it being named City CRAB, we had the lobster to celebrate our big night out in the city (with a 5 week old baby strapped to my chest).  We split the Maine tails dipped in garlic butter with crushed red pepper. Awesome.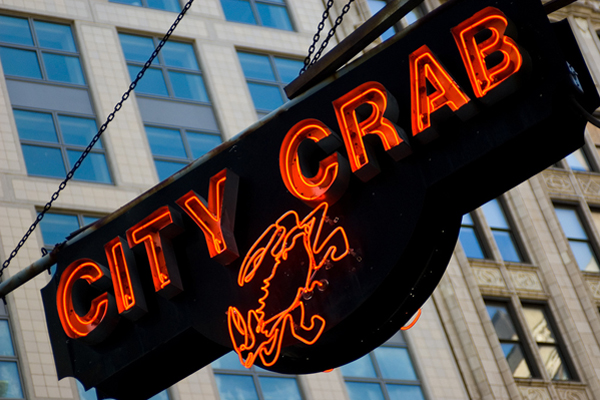 The next stop on our "tour of lobster" was Luke's in the East Village.  It feels like a hidden gem of sorts, but it's on all sorts of NYC "must visit" lists, so I'm not sure it's so hidden.  Regardless, the menu is short and we always each get a lobster roll and split a shrimp roll.  The rolls are no joke – nothing but lumps of lobster or shrimp and very light on the mayonaise.
Again, our baby girl slept through this excursion.  I didn't even drop a single piece of lobster on her tiny head (yes, there is a baby under that adorable cat hat).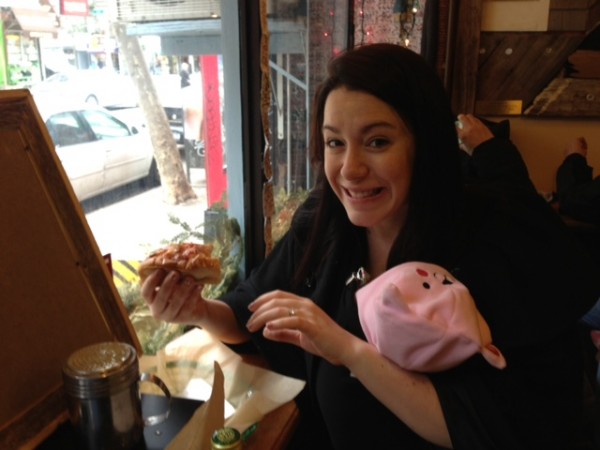 Pork Buns, Pork Buns, Pork Buns!
What is a pork bun?  It wasn't so long ago that I had no idea.  Now, I crave them like a drug and Ippudo in the East Village is the place to eat them in NYC.  They are a spongy "bun" (ok, spongy and thick taco-like shell) with mayo, lettuce and DELICIOUS pork-belly inside.  They come two buns to an order, and it is tempting to order two orders just for yourself.  I restrained myself though, mostly with the help of a Kirin beer.  Again, not a drop of porky goodness was spilled on baby girl's head (really, this is the tour of "Eating Things with a Baby Strapped to You").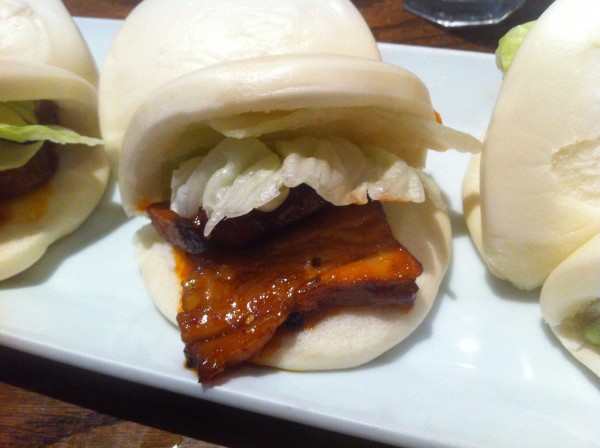 Dessert
Dessert in the winter is difficult.  Most dessert places in NYC are too small to sit down, or the only dessert is ice cream, which is miserable to eat outside when it's 30 degrees.  Max Brenner offers a place to sit, takes reservations and has way more than just ice cream.  Dave and I split the churros and also had a nutella milkshake.  I have to say, nutella is really popping up in everything lately and I'm not complaining.
We had some other random meals (Indian food, falafel), but the above were definitely the highlights.  All in all it was a great weekend and we are excited to take our baby girl on her first international trip next month to Canada.  I think she'll be very well behaved and we'll keep up our collection of "Doing XYZ With a Baby Strapped to Me".