Exploring street markets can be the highlight of any destination and I've been lucky enough to explore my fair share from around the world.  The following are my top ten favorites and they span the globe from South East Asia to Africa to the Middle East and Australia.  Have you been to a market that I missed?  Don't agree with my ranking?  Tell me about it in the comments.
#10 – Colaba Causeway (Mumbai, India)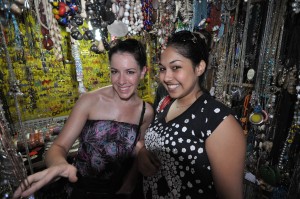 If you're exploring Mumbai and walking around searching for Colaba Causeway Market and unable to find anything other then random stalls lining Shahid Bhagat Singh Road, it's because you've actually already found Colaba Causeway and are standing in the middle of it!  This outdoor shopping street layers commercial shops with unending rows of stalls selling everything from sextants and other nautical equipment to saris to statues.  I suppose it's difficult in a city like Bombay with a population of 18+ million people to fit in a major street market so Colaba Causeway seems to just fill in the gaps layered above normal society.  The street can be impossible to walk down, often times single file and sometimes totally impossible when someone stops to actually make a purchase.  This is not the type of market where everyone is selling the same thing either. This is a treasure hunt and as you explore you'll have the opportunity to buy everything from telescopes to jewelry to custom made saris made from scratch and ready for pickup two hours later.  Difficult to find what you're looking for, but a great place to find something you don't yet know you want.
#9 – Bến Thành Market (Hồ Chí Minh City, Vietnam)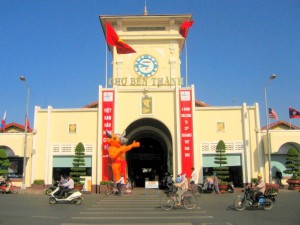 On any trip to Saigon this giant indoor landmark is impossible to miss and worth the trip.  If you aren't Vietnamese, prepare to be mobbed, grabbed at, touched and shouted at but that's all part of the experience.  You'll find prices here cheaper then most everywhere in South East Asia, including Thailand.  Designer cologne, designer shirts and sneakers, Vietnamese crafts, textiles, souvenirs, even food stalls to get some authentic Vietnamese food for when you get hungry.   This place has it all and sure, all the name brand stuff may be knock-off but you can't beat the prices!  Keep your wits about you, go with a buddy, and the dongs will be flying out of your wallet by the hundreds of thousands.  Don't worry, when you out-buy your luggage you can just buy more luggage!  This place is such a big piece of the Vietnamese economy there literally used to be a picture of it on their money!  Did I mention the food stalls?  Don't miss out.
#8 – Victoria Street Market (Durban, South Africa)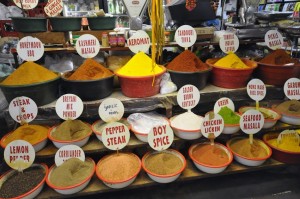 If you didn't know better you'd think you were in India.  Or maybe not, maybe it's definitely Africa.  It's really hard to say as this 170 stall indoor market in downtown Durban walks the line between the two cultures so extremely well.  Spices are the name of the game here and everything is available to taste.  Poultry spice?  Don't mind if I do?  Stick my finger in something green called "bbq fish"?  It's delicious, I'll take a bag full.  You're sure to leave with pounds of spices you won't know what to do with when you get home but it won't matter because they just taste so damn good.  Then there are crafts.  Everything from masks to beaded animals to spears and shields to textiles.  This is THE place to get a good deal on souvenirs and gifts in South Africa and although the vendors are eager for a sale, they aren't pushy or grabby in the least bit.  Even without bargaining prices will be 1/3 what they'll be back at the airport.  But don't let that stop you from bargaining them down even further!
#7 – Souq Waqif (Doha, Qatar)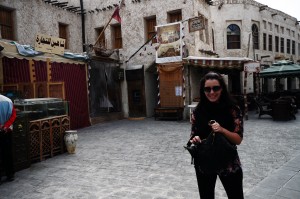 A good market is a place you want to go, get exactly what you want at exactly the right price and get out.  A great market is one that you want to visit even when you don't have any shopping to do.  What's better then a place to just wander around and maybe smoke a little sheesha and watch the world go buy?  Souq Waqif is a 100+ year old souq that the Qataris renovated back to its original glory and is essential to any day in Doha.  Instead of dirty, filthy shops with shady people the streets are wide, comfortable and clean.  The shops meander in and out of the main walkway and off-shoots that wind in every direction.  From souvenirs to spices to pets, this souk has everything and its open air, clean style makes exploring it extremely comfortable. Another nice touch is the abundance of restaurants, cafes, juice joints and sheesha bars dotted throughout.  Purchase some spices and then join some of the many Arabs (not just tourists) at one of the outdoor tables.  A perfect metaphor for Doha itself, this Souk offers all the authenticity of  old world Arabia with all the comforts of the Western World.
#6 – Khan el-Khalili (Cairo, Egypt)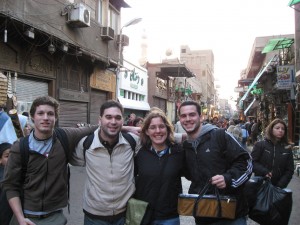 A trip to Khan el-Khalili is not for the faint of heart.  Be prepared to be talking non-stop and fending off the advances of vendors trying to get you to buy from them.  Everyone may sell the exact same things, but that just means that vendors need to differentiate themselves  in other ways – like talking to you.  Most can say key sales-related phrases in all major languages and will greet you depending on what you look like as you move through.  You'll get outrageous statements like "I have everything you could ever want" or "Tell me what you want and I will get it for you" and no amount of hilarious push-back will ever actually upset anyone.  Here, bargaining isn't suggested, it's a necessity and with each negotiation you and the vendor are actually playing out a game together.  If you accept an opening price the vendor may be pleased to make more money, but he'll be disappointed with you as a human being.  Do your country proud and bargain that lucky scarab statue down as far as you can.  That Egyptian vendor may not be able to afford meat for his family to eat, but you beat that price down to and well beyond insulting levels.  The result will be a firm handshake and a big smile.  Nobody respects a sucker.
 #5 – Grand Bazaar (Istanbul, Turkey)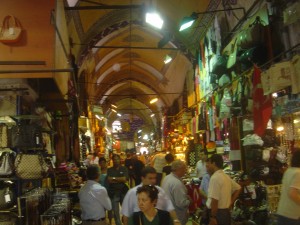 If you watched the opening scene of James Bond Skyfall and thought to yourself "what is this awesome place and can it possibly exist in today's modern society?" the answer is Istanbul's Grand Bazaar and absolutely yes.  Kinda indoors and kinda out, this is the largest covered marketplace on earth and seems to sprawl on forever in all directions under colorful tent fabrics.  Be prepared to get lost because there are no landmarks and even every entrance looks the same.  At first the vendors may not seem so aggressive but after awhile once you're more into the shopping experience you just may feel differently.  You can easily wander around this place for hours trying on jackets, picking up bags, looking at carpets and examining dishes and painted bowls.  This place has everything and each vendor is eager to sell out the next insisting his stuff is genuine while the other guy's is shit.  "Like this leather?  Watch me hold a lighter to it and see how it won't melt.  That means it's legit, not like that fake leather the other guy has treated with a chemical that stops it from burning.  How do you know I don't do the same thing?  What now?  Sorry, no English."  When you get tired have a seat in one of the cafes and enjoy a tea and some Turkish appetizers.
#4 – Paddy's Market (Sydney, Australia)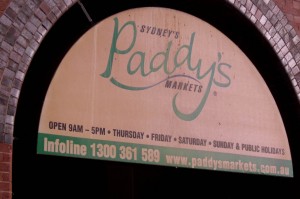 Australia can be expensive, especially as a tourist.  But you're a fool to buy anything pretty much anywhere but Paddy's Market.  This downtown landmark is part Aussie-souvenir market, part Asian flea-market and market fruit and vegetable market.  Want a good deal on a boomrang?  A hooded sweatshirt that says "Australia"?  Little koala bears that pinch their arms open and closed to grab things?  A change purse made out of a kangaroo's scrotum?  You can get it all here at prices shockingly lower then just outside the market's doors.  Want something a little more practical?  Ride the escalator upstairs to "Market City" a more proper feeling mall that sits right atop the market.  The diversity of stuff you can buy at Paddy's is great but don't expect to have to bargain down the prices or insult the vendors by offering them next to nothing.  Prices definitely great, but they're also fairly set.  No need to embarrass yourself here.  Be sure to get some Aussie licorice though – how is it so good?!
#3 – Patpong Night Market (Bangkok, Thailand)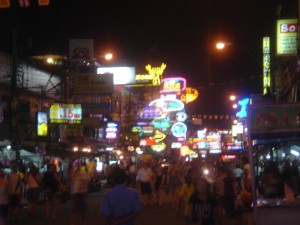 For the most part Bangkok is just one giant, chaotic disaster.  Taxis driving way too fast, tuk-tuk's speeding in the wrong direction creating huge clouds of smoke, prostitutes approaching from all directions and guys that look way too old and way too white to be with such young Thai looking girls.  In the center of it all, is the nightlife district of Patpong and in the center of that, is the night-market.  Surrounded by sex clubs, restaurants, bars, clubs and other forms of entertainment, this mecca of debauchery is the perfect place to finally pick up that switchblade you've been wanting, a few "Lacoste" shirts and one of those cat statues that waves at you in perpetuity.  Be prepared not necessarily to bargain, but instead to name your own price.  This is bargaining to the max where vendors are so confident they can make a profit they ask you to open the negotiation first.  Be careful, if they accept your offer you know you probably got screwed.  Overstimulated from shopping?  Duck into one of the clubs and watch some Thai women shoot ping pong balls out of their vaginas while you enjoy a nice warm "Heineken".  Yes, really.
#2 – The Old City (Jerusalem, Israel)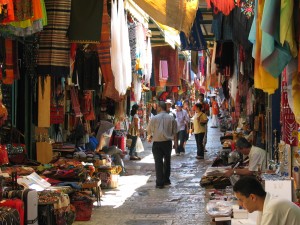 I'd be insulting pretty much everyone to label Jerusalem's Old City as a marketplace and nothing more.  In truth, this is the birthplace of three major religions and the religious and cultural sites that can be experienced here are impressive enough to blow your mind.  But after all of that, there's the shopping and it's the sense of place and religious importance  of the city that makes it such a compelling place to purchase things.  Start with walking through one of the massive gates that separate the Old City from the rest of Jerusalem.  Then realize that while you're crouching over to examine a nice hookah you spotted from across the street that this was the street Jesus walked down carrying a giant cross before he was crucified.  What's that past  the falafel stand?  Of it's the Kotel, the holiest place in Judaism and the last remaining piece of the Jewish temple that was destroyed by the Romans (as well as where something else meaningful happened).  This place is a crossroads of so many ancient civilizations and so many religious conflicts there couldn't be a better place to pick up a new kippah.
#1 – Jemaa el-Fnaa (Marrakesh, Morocco)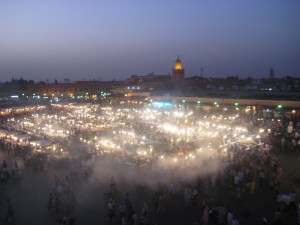 It's hard to imagine a place that could top Jemaa el-Fnaa or the "main square" as most people would call it in Marrakesh.  Certainly MUCH more then just a market, this is the center of Marrakesh's old city and where everything and anything of note takes place.  During the day the square and the surrounding labyrinth of narrow streets are home to endless stalls and shops selling everything from statues to jewelry to musical instruments to soccer jerseys.   In the square itself dont' be surprised to see a man charming a snake that's slowly rising out of a basket who rushes over to show you the snake up close when he spots you.  This place is basically as close to Disney's Aladdin as you can get in real life.  Grab a fresh squeezed orange juice from one of the dozens of juice vendors (those Arabs love their fresh juices) and try not to get lost on the way back to your riad.  But the real magic happens at night when the center of the square becomes a massive outdoor food market where you can pick your food, watch it be cooked and then sit down to eat it at long communal tables.  For a really unique view check out the roof deck of Cafe Arab which overlooks the square.  The cacophony of sounds rising from the huge clouds of cooking smoke in the square is something you will never forget.