For most Americans traveling to Vietnam, the Vietnam War will play a large part of the experience. Relatives will comment on your travel itinerary and you'll probably know someone touched by the conflict (if you yourself were not). The Forrest Gump soundtrack will play in your mind as you fly over the lush countryside before descending into Saigon. And of course you'll need to take a day trip to the Cu Chi Tunnels.
A Day Trip from Saigon
In addition to a day trip to the Mekong River Delta, a tour of the Cu Chi Tunnels is a given on your agenda while in Saigon. It only takes half a day and, like the Mekong River Delta tour, it is very cheap. For about $5, a bus picked us up in Saigon at 8am and drove us to the Cu Chi Tunnels. Kahn, our tour guide, gave us a brief history of the town of Cu Chi and the tunnels while we drove.
On the way, we made an unfortunate pitstop at Handicapped Handicrafts. The place is a roadside tourist stop that sells crafts made by (you guessed it) the handicapped. To make matters even more uncomfortable, these artists have been handicapped by Agent Orange. If you'd like to get angry at American chemical companies, do some research on Agent Orange. It's even worse than you remember from high school.
The History of Cu Chi
Back on the road again, we made it to the Cu Chi Tunnels by about 9:30am. Before the tour began, we were treated to a short propaganda film on the Vietnam War, or "American War" as it's called in Vietnam. It's fair to say that the video was especially upsetting to the Vietnam War veterans in the audience, but regardless we watched the film and the presentation on the Tunnels that followed. We learned that the tunnels had existed since the 1940's and were expanded during the Vietnam War. During the war, the people of Cu Chi lived in the tunnels and were able to continue their lives while the war continued above ground.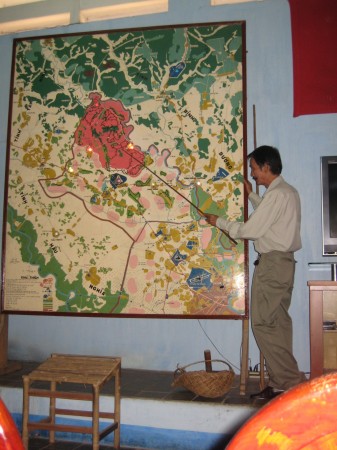 After the history lesson, our first stop was a mock tunnel entrance. We learned that you must have a 34″ waist or smaller to fit in the tunnels, which immediately meant that some of our group would be unable to participate.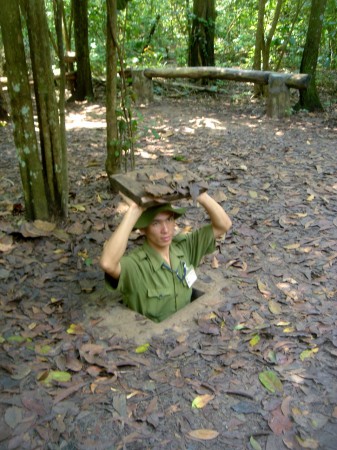 Into the Tunnels
We took photos posing in this tunnel, hoisting the trap door above our heads. Next stop was actually crawling through a tunnel. We were warned that it would be pitch black and less than 3 feet in height, meaning that we would have to crouch while running through. We would have the option of exiting the tunnel after 30,60, or 90 meters. Dave and I assumed that we would be able to make it to 90 meters without an issue, but we were quickly proven wrong. The tunnels were stifling and easily over 100 degrees. We were happy to exit after only 60 meters.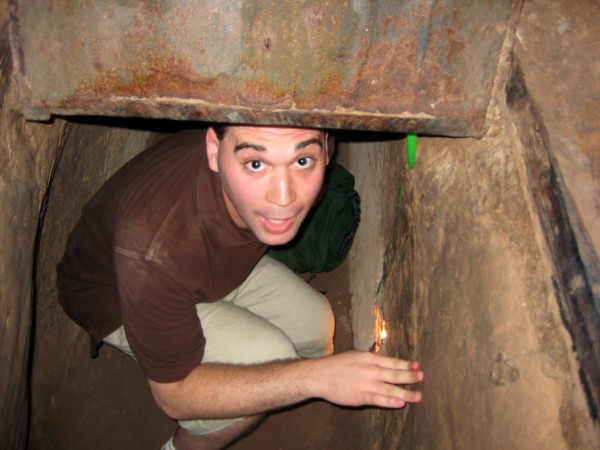 Setting the Traps
The next stop on our tour was especially frightening for Americans and for all those who fought in the conflict. Kahn, eager to convey the cleverness of the Vietnamese people, showed us a set of traps that were invented to harm the American soldiers. Our stomachs were in our throats as we were led from one trap to the next.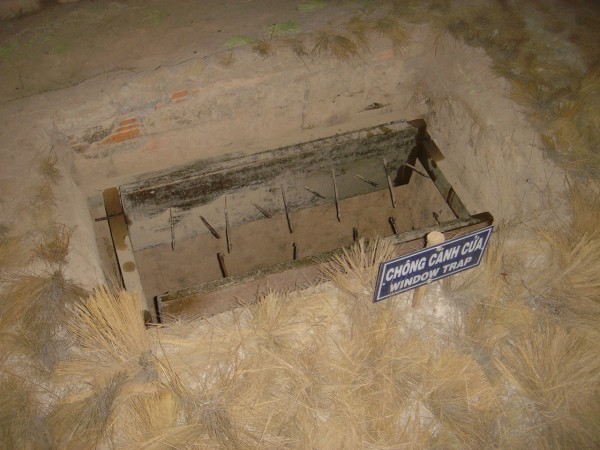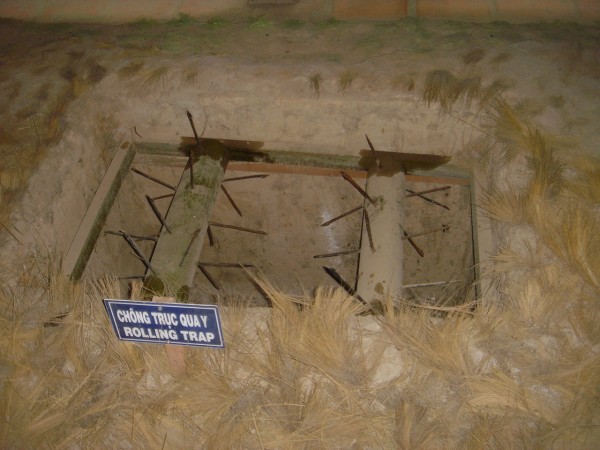 We were also shown an American tank that had been captured, as well as a large crater created by a B52 bomb. While none of us were eager to climb aboard the American tank like other tourists, it seemed ok to stand inside the crater. Check out the size!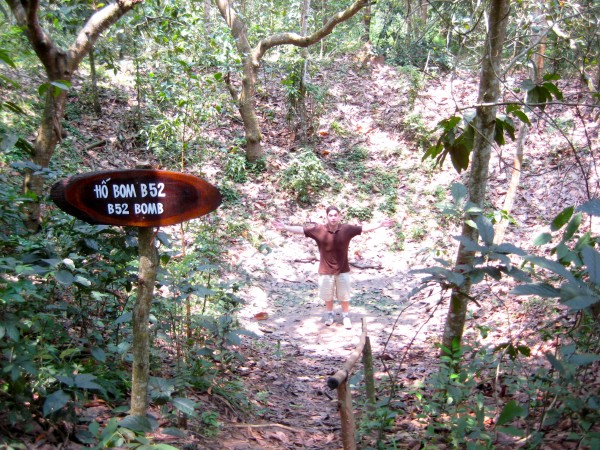 Pay to Shoot
In a move to capture a bit more cash from the tourist crowd, and probably with plenty thanks to the Vietnamese government's lax regulations, you are allowed to shoot a variety of weapons at the Cu Chi Tunnels. I didn't understand the significance of this stop on the tour, but that certainly did not stop Dave from purchasing a round of 10 bullets for approximately 160,000 dong ($10). You can choose from an M16, M60 or AK-47. Dave selected the M60…and I cowered in the background.
After my nerves were sufficiently shaken, it was time for a spot of tea! We were treated to some tapioca root, peanut sauce and very hot tea. It was a strange and anticlimactic way to end our tour of the Cu Chi Tunnels. That and the gift shop.
Dark Tourism
While a trip to the Cu Chi Tunnels is billed as a must-do during your trip to Vietnam, I can also make a case for skipping it entirely. Visiting the tunnels could be considered a form of "Dark Tourism", which refers to visiting sites that are associated with terrible events in history, often accounting for many deaths. Sure people visit these places (Ground Zero, Hiroshima, Chernobyl), but it is incredibly uncomfortable. That is especially the case with Vietnam War sites because Americans are often the victims and the Vietnamese "victors" are giving the tour, happy to show how they destroyed the enemy. It is also extremely uncomfortable to support financial gain due to any tragedy.
That said, it is very important to learn. While few of us would ever be in such a position of power to actually stop a war, we can change our attitudes, which may then change an actual outcome. We think we are safe, that we as a people have learned…but we have not. Make a stop at any of these dark tourism sites across the globe and realize that not much has changed over time. In my opinion, that means we have to keep on learning.