After over five years, today I am returning to London!  I had studied abroad here as a Junior at Boston University back in 2004 and had taken classes, worked an internship and explored the entire UK. As I bought a ticket I kept thinking how much things had changed in my own life over the past 5.5 years since I'd been standing in this exact same spot. Heathrow is about 50 minutes to Gloucester Rd via the Jubilee Line and the ride was more than fine. What always strikes me about the difference between the UK and America is the general quietness everywhere. People talk quietly, announcements are made more quietly and the feeling is generally more subdued.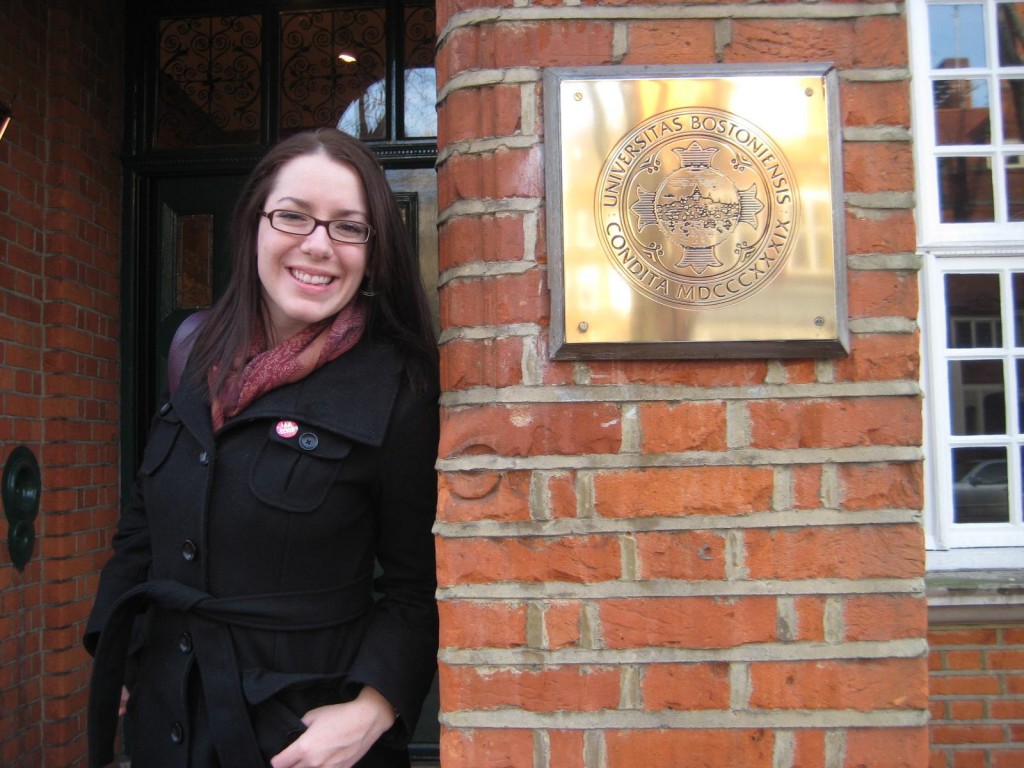 Stepping out of the Tube station at Gloucester Road Station in South Kensington was bizarre. For the 4 months of my internship, I was here every morning and every evening, and of course every time I went anywhere in London. We were staying at the Park International Hotel on Cromwell Street which was very easy to find. The room wasn't ready yet so we just dropped our bags and started walking. The BU building was very close to there so I decided to show Dave where I had taken all of my classes. I led us to Harrington Gardens and there was the BU seal on the outside. Its only one building because the London program is an internship so most time is taken up working, but it was nice to see it again. From there we walked down Gloucester Road and it was very funny to see all the stores that I had once frequented – even if the were seemingly meaningless at the time. There was the Waitrose where I did my shopping, the coffee shop, the stationary store, the post office, the pub(s), the laudromet. Some things had changed but mostly it was all the same. We did stop in Starbucks which was something that I think I only did once while I lived here because it was so damn expensive. We walked to my flat on Queen's Gate and were actually able to sneak in! I led us to the elevator, remembering the tones that were going to play before the doors opened on my (the 5th) floor. The kitchen looked the same but unfortunately I couldnt get into my room because its new occupant wasn't home. Oh well. Back downstairs we used the computer lab and then we were off again.
The plan was to walk to this cool restaurant that we saw in Budget Travel which was about 3 miles away but involved walking along Hyde Park. It was a long walk but the weather was nice – down the High St, down Picadilly St, through the Circus, and then straight to the restaurant. This is the Asian-ish part of town and I think I had taken my dad to an Indian restaurant in the area back when he had visited. Anyways, the restaurant was Inamo and was a technologically advanced Asian restaurant. A projector was above the table and you interacted with everything by using this touchpad on the table to sort through a picture menu that was projected onto the table.  You could order food with only a few taps of your finger. You could also change the "tablecloth", call the waiter, see maps of the area, and even play your dining partner in battleship! The food was decent; we had miso soup, ribs, nigiri, and a chicken and aubergine curry dish. I wish there were more restaurants that used technology like this!
After lunch we were sad to see that it had started raining and that it wasn't a good time to walk along the river after all. We took the Tube from Picadilly Cir. back to Gloucester Rd and went back to the hotel and ended up falling asleep for about 45 minutes before showering and relaxing until dinner. It was amazingly nice of Dave to book this hotel rather than try to find a hostel. Its just great to have a decent shower and the comfort of a hotel after a long flight. Much appreciated 🙂 We decided to get Indian food for dinner at a place not so far called Taste of India. It was different from home, but still very good and extremely spicy. We got the usual garlic naan, chicken tikka masala, and prawn vindaloo. British food is actually quite good because it is mostly NOT traditional British; the are still reaping the benefits of their empire.
From there we made a quick stop at an internet cafe for Dave to tend to a quick work matter and then we went to the Stanhope Arms. I didn't go to this pub as much as the one that was closer to my flat, but that one is gone so this was the next choice. My biggest memory there was going there one Sunday night in February to watch the Patriots in the Super Bowl. It was a funny memory because of course no one in all of Europe cared much about the Super Bowl so this pub had somehow make an agreement with BU to illegally open at midnight and stay open until the end of the game. They had placed blackout curtains on the windows, ordered Bud Light especially for us (which is the only time I've ever had a Bud Light – disgusting), and risked losing their license so that we could root for the home team. It is one of my favorite memories in London, which may seem weird, but it was a unique experience to see something so American through foreign eyes. It also made me feel connected home because the Pats won that year and we all emerged at 4am onto the quiet streets of South Kensington in joyous celebration of our victory 🙂 Of course, no one gave a damn.
So yes, the Stanhope Arms. I ordered snakebites for Dave and me and we found a place to sit. The place was packed and we found ourself next to a man who was ready to engage us in conversation. He turned out to be from Algeria, spoke 5 languages, and was now working in the UK. We talked about a myriad of topics ranging from the Northeastern US, his dislike for the Jesus loving bible quoters from the South, gay marriage, and finally set onto his favourite topic of the evening – enticing Dave to propose to me. It was all in good fun but he wouldn't quit and made no secret that he thought Palermo was a lovely city to propose in and that one should not waste time. Poor Dave. We had 2 pints each total and then headed out at 11, stopping at Tesco Express to get some sweet chili crisps before heading to our hotel and then off to bed.