Mozambique is a beautiful country filled with warm people, incredible wildlife and stunning nature. Most visitors will go to experience the urban culture of Maputo, the wildlife of the Niassa Reserve or the idyllic beaches of Vilanculos, but there is another place worth visiting in Mozambique. The tiny beach town of Ponta do Ouro lays just across the border from South Africa and offers an experience that is nothing if not authentic.
Getting There
Ponta do Ouro is most easily accessible by road from South Africa. Roughly two hours from Hluhluwe the border is easily accessible from the iSimangaliso/St Lucia area up past Sodwana at Kosi Bay. From the Mozambique side Ponta can also be reached via Route 201 which comes down the country from Maputo. It should be noted that the area around Ponta, including the town itself, has no paved roads. In place of paved roads there aren't really even unpaved roads. It's more like…sand dunes. Unfortunately, this means that you can't drive to Ponta without a four wheel drive vehicle.
Border Crossing
The Kosi Bay border crossing is pretty laid back to say the least. It's really just a couple of opposing buildings flying different flags. It was around this time that I noticed Mozambique's flag has an AK47 on it. Although a mildly concerning revelation, it did not stifle my excitement to enter the country. If you have an American passport, you'll need to buy a visa at the border which costs R400 – roughly $40. The border agent I dealt with was by far the friendliest such person I have ever encountered. Not only did he give me a warm welcome to Mozambique, but when I told him I would only be in the country for a few hours, he cut the visa cost in half for me to R200! I did not see that coming.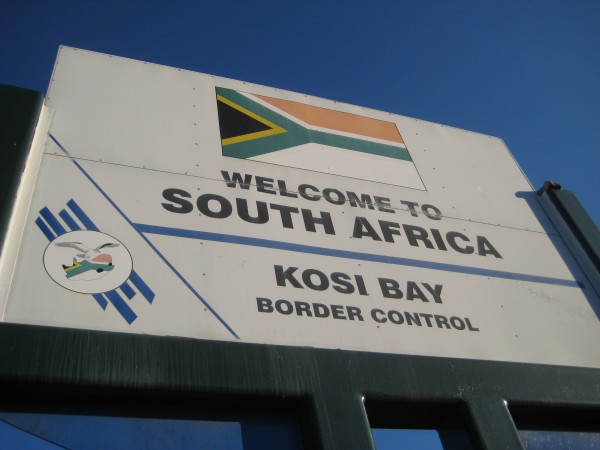 After border formalities you can either drive the 15km into the dunes to Ponta if you have a four wheel drive vehicle and a lot of confidence, or park your car at the border and arrange a pickup from someone in town.  I had arranged a pickup through Kaya Kweru and just as promised they had a van and driver waiting for me to head into the dunes.
Portuguese Influence
From 1498 to 1975 Mozambique was a colony of Portugal and known as the Overseas Province of Mozambique State of East Africa. 477 years of Portuguese influence doesn't go away too easily and is noticeable from the moment the border officers first address you with "Olá".Of course, the Portuguese influence doesn't end at language. You'll notice immediately that the people of Ponta, and Mozambique as a whole, have a very unique ethic appearance. Certainly a blend that can only come from centuries of European influence in Africa. And then there's the food, don't even get me started about the food.
Prawns and Chicken
When I think Mozambique I think of two things right away. Mozambican prawns and Mozambican chicken. Both of these wonderful dishes are the result of the wonderful blending of Portuguese and African spices and both are a must-eat when in Ponta or any other part of the country. You may be tempted by the beach cafes overlooking the Indian oceanside, but there are really only two places you should be eating in Ponta.
For prawns, go to Fishmonga where you'll find the biggest most succulent prawns you've ever seen cooked to perfection in a peri peri sauce. Fishmonga is located right in town and easy to find. For chicken, the place to go is Florestinha do Indico. Get a seat outside on the patio and order a Portuguese chicken with some of their outrageously spicy peri-peri sauce.
The Beach
The main draw of Ponta is, of course, the beach. The Ponta do Ouru beach stretches on for miles offering endless fine brown sand and warm crashing ocean. It's difficult to describe just how beautiful this beach is. The ocean comes in nice and shallow and washes over the deep swath of sand. The sun is hot and the plants tropical. There are no crowds. It's a wonderful place to spend any amount of time.
Fernando's and an R&R
I was told by friends before going to Ponta that I absolutely had to no matter what go to Fernando's Bar and get an "R&R". Once in Ponta, it's pretty easy to find Fernando's but it's not so much a bar as a shack with a countertop. Turns out, an "R&R" is a rum and raspberry. The idea of it sounded pretty great since I absolutely love both rum and raspberries. It was absolutely awful. It came in a gigantic glass filled with ice and WAY too much rum countered with just enough raspberry to make it taste like cough syrup. It was not good. Not even remotely enjoyable. I could only have a few sips. Despite how gross an R&R is, a visit to Fernando's is still a must. Perched in the center of town with barely any walls to keep the warm breeze from coming in, it truly is a Ponta landmark. If you aren't feeling the R&R, grab a beer and some fresh pineapple. Can't go wrong there.
Closing Time
One last thing to keep in mind on Ponta is that the border between Mozambique and South Africa closes at 5pm. If you are just going to Ponta for the day from South Africa, be sure you get back across the border in time or you'll be staying the night!