Contrary to March of the Penguins and Happy Feet, all penguins do not live on icebergs in Antarctica. But did you know that you can find penguins in South Africa and Namibia? Their colonies are beaches or warm islands!  In other words, these are the smart penguins.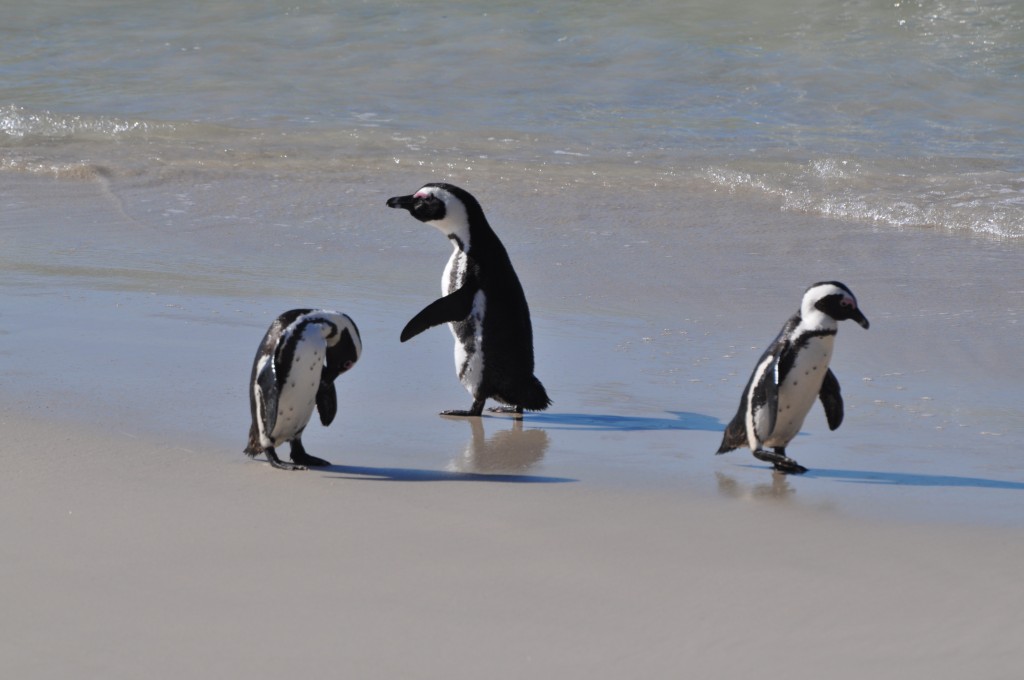 Boulders Beach
Boulders Beach is the site of an African penguin colony that is a 30 minute drive down the Cape Peninsula from Cape Town, South Africa.  It is a popular destination for tourists as you can easily get a good look at penguins from a boardwalk perched above the beach.  Penguins colonized the beach back in the early 1980's (doesn't it sound hilarious to refer to penguins as "colonizers"?  I imagine them planting their flag in the sand).  Although there are thousands of penguins that call this colony home, the African penguin is endangered.  Over the past 100 years, their population has declined by 95%.
Despite these sad statistics, the Boulders penguins are benefiting from conversation efforts.  The proof is in seeing the numerous chicks just hanging out on the beach!
Admission to the penguin colony area is 45 Rand (less than $6), and proceeds go towards conservation. It's well worth your time and this guy certainly appreciates your contributions: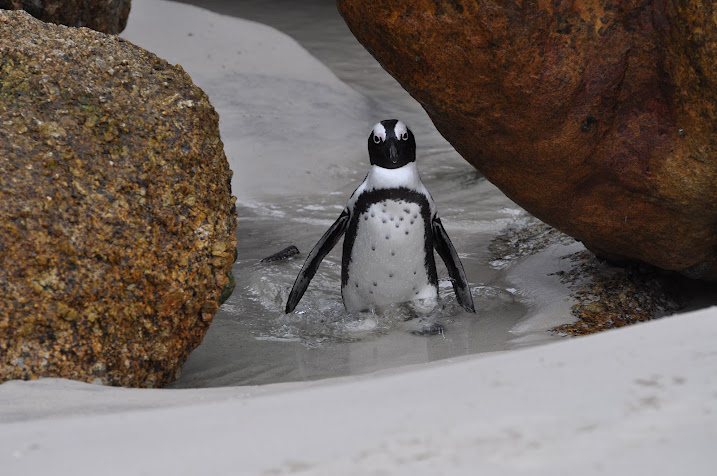 Walking along a neighboring beach we came across a penguin pair that could not care less about our fascination with them.  They carried on their waddling and swimming as we snapped dozens of pics:
SANCCOB and Penguin Adoption
Located just outside Cape Town in nearby Table View is the Southern African Foundation for the Conservation of Coastal Birds, or SANCCOB (if you're wondering why the acronym doesn't match up, it's because the name has changed slightly but the acronym remains).  This organization is devoted to rehabilitating seabirds in the area after oil spills, injury, abandonment (either the chicks or the eggs)…or just a bird getting lost.
Rocky, the rockhopper penguin, is one such example of a bird getting lost.  Rockhoppers like her are indigenous to the waters off of South America.  When Rocky showed up off the coast of South Africa, she was obviously quite far from home.  Introducing her back into either a penguin colony in South Africa OR South America would be potentially dangerous to other birds; she could have been exposed to diseases from either location that would harm her new colony.  So, Rocky lives at SANCCOB and plays a sort of "mascot" role for the group.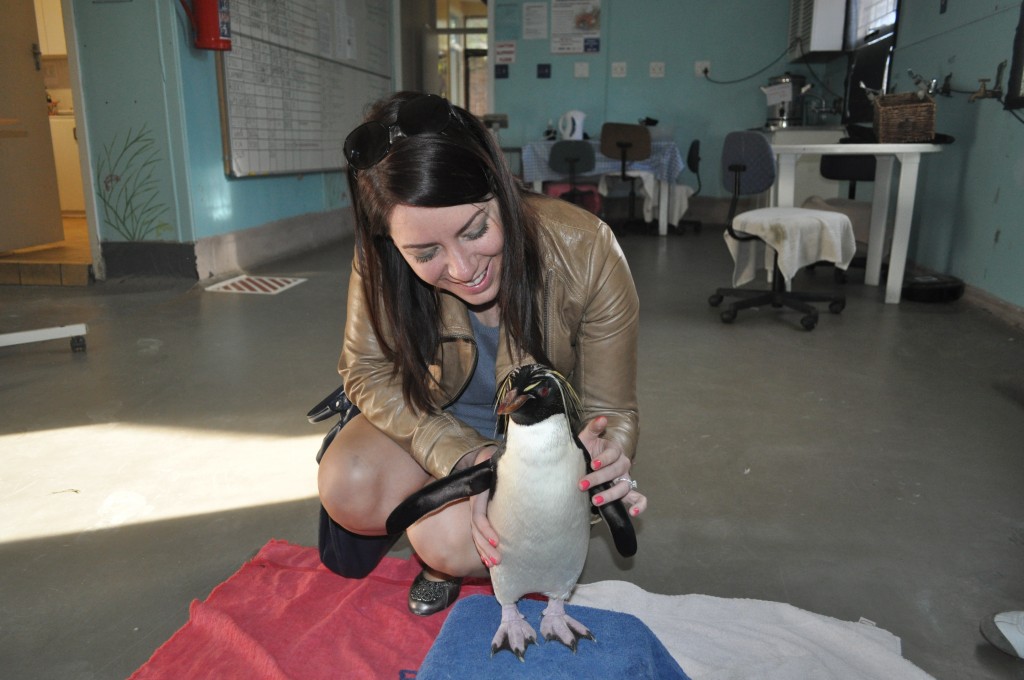 There are a few penguins and other seabirds that live at SANCCOB, but most of the work being done is for the temporary residents. Just 2 weeks ago, an oil spill off the coast of Cape Town brought over 200 African penguins to SANCCOB's facility for clean-up.  Once de-oiled, these penguins are released back into their natural habitat.  It is estimated that the current African penguin is 19% larger than it would have been if not for SANCCOB's work.
Like any organization doing good and important work for animals, SANCCOB is underfunded and relies on the generosity of people around the world to continue operations.  To help out, you can adopt your very own penguin for about $60.  I adopted one for my dad during my visit and got a bio of my bird as well as a handsome picture!  I'm happy to say that my dad's penguin, Jorma, is now happily swimming off the coast of Namibia.  Won't you adopt one today?? 🙂