Buenos Aires is a beautiful city.  It's a place I had wanted to go for a very long time and when I finally visited, it still took me by surprise with just how great it was.  As soon as you arrive in "BA", as it's often called, you know you're in a special place. What could make a city so wonderful even better?  Well, what if everything was half price?  I'd say that certainly qualifies.  And that's exactly what's happening.
The people of Argentina have no faith in their economy.  With an unofficial inflation rate of 25% and constant fear of economic collapse, they have so little faith in the economy that they prefer to have all their savings in US dollars locked in safe deposit boxes. With so much wealth leaving the Argentinian economy, the government took drastic action to try to solve the problem.  They removed the ability for Argentinians to buy US dollars completely.  This has led to the rise of a parallel market for dollars.  A black market, or "blue market" as they call it, is thriving in Argentina and always hungry for foreign green-backs.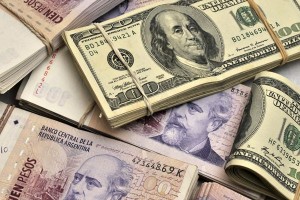 If I had gone to a bank or ATM to change my dollars to pesos I would have gotten about 5.8 pesos for each dollar I changed.  This is the official exchange rate which is pegged by the government and artificially controlled.  Most visitors to Argentina will convert their money at this rate and not think twice about it.  They will then report back that their experience in the country was fairly expensive.
But there's another way.  A much better way. I was able to convert my dollars to pesos at a rate of 9.7 pesos to the dollar.  This is a HUGE difference.  It effectively meant that everything I spent money on for my entire trip was 67% cheaper than it would have been otherwise. Suddenly, Buenos Aires wasn't just reasonable, it was downright cheap!
How did I do this?  How can you make sure you do the same?  A friend of mine walked me through the steps for exchanding dollars for pesos before I left the US and I am extremely grateful to her for having done so.  Here's how it works:
Bring all the cash in USD you think you could possibly spend.  Make sure you go to the bank and only get nice, crisp $50 and $100 bills.  No tears, no marks.
When arriving in Argentina, do not go to the ATM and do not use your credit card.  Go to your hotel and ask where you can change dollars at the black (or blue) market rate.  This can be done either with an "Arbolito", a street vendor, or at a "Cueva", an illegal money exchange office.
Many Cuevas are legitimate businesses that change dollars on the side.  Just be sure you go someplace recommended by someone trustworthy.  You can't just waltz in anywhere and ask for the black market rate on dollars.
Once you have a trustworthy place to change your money, go in and say you want to "vender dolares" – sell dollars.  The buyer will then tell you the rate they can offer and ask how many dollars you want to change.
After you get your pesos be sure to check each and every one to make sure they aren't counterfeit.  100 peso notes should have watermarks and foil strips.  Make sure you check each bill for these features.  The seller will not be offended if you do this in front of them.
Feel like a bad-ass for trading on the black market.
Last but not least, be sure to spend all the money you change.  It's virtually impossible to change your pesos back to dollars.  So be sure not to change too much!  If you do, there's always duty free at the airport.  This is why we have an obscene amount of Grey Goose in our apartment right now.
One of the main places to change money is on Florida Street near Casa Rosada.  There are no shortage of places to change near here. However, if you want specific, trustworthy places, I do know of a few.  Shoot me an email at dave@stylehiclub.com for the details.