Hang gliding is a must do in Rio de Janeiro, Brazil, so even though I had no real drive to run full speed ahead and throw myself off of a cliff, there I was: strapped into a harness, hooked onto a hang glider with my instructor asking me 100 times "you will keep running, yes?".  Yes, no problem, dude, I will run straight off this cliff.  This was my trip to Rio.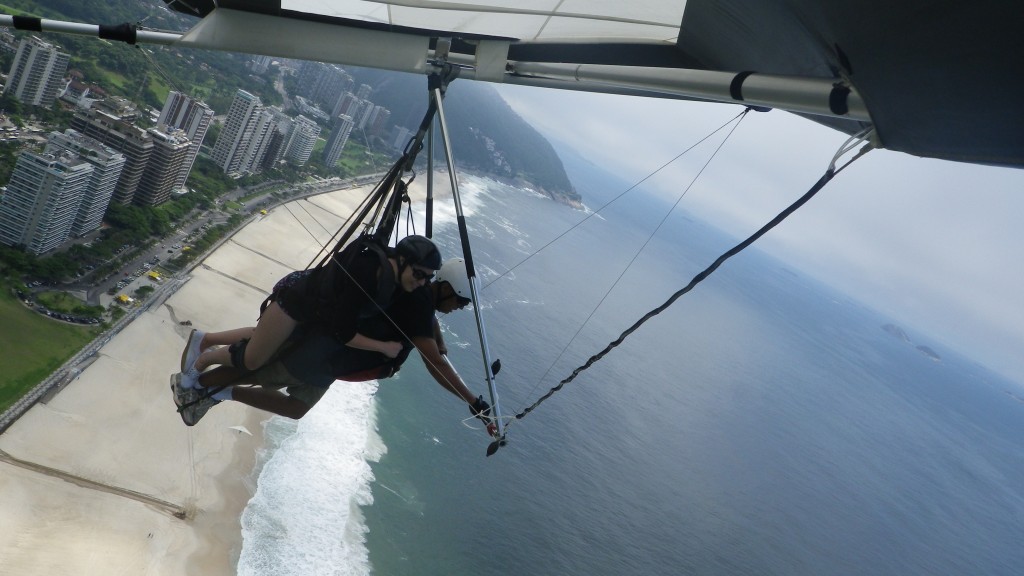 Despite hang gliding being a tourist activity in Rio, it isn't actually sanctioned by the government for commercial purposes and is more of a "at your own risk" activity.  On top of the obvious potential danger that comes with this and any adventure sport, it's also quite expensive to do in Rio.  I'm happy to say it was more than worth it!
How to Book
There are a variety of options for hang gliding in Rio, most of which have websites that allow you to book in advance.  We came to Rio the week before New Years, which is the peak time, and were still able to book hang gliding the day before we wanted to go. I do not think advance booking is necessary unless you're very pressed for time.  We chose Hilton Fly Rio which, at USD $150 (R$275 "Brazilian reals") per person was half the cost of booking online through companies that have fancy websites.  Of course you're going to want the pictures and video of your flight, so count on that costing you an additional $50 (R$100).  You can negotiate a bit on the cost of your photos and videos though, especially if you are in a group and will be making multiple purchases.
Legal Loopholes
Because of the strange legality around hang gliding in Rio, Dave and I had to technically join a hang gliding club and "enroll" in an instructional class.  Legally, what this meant is that we were students learning to hang glide.  We had to become members of this club and our pilots were really our "instructors" who would be showing us the ropes for our certain future of hang gliding.  So, we stopped off at a small hut before driving to the cliff, paid the nominal membership fee of R$15 ($8), and received our identification cards for the Clube Sao Conrado De Voo Livre.
On top of the cliff, there was a government official who did actually check our ID's to ensure we were enrolled in a hang gliding club.  He may have questioned us more, but we don't speak any Portuguese.  I assume that he just does his job to ensure the procedures are followed but of course he knows that everyone is a tourist and not a real student.
It was in no way booked as a commercial, tourist activity, even though it absolutely was exactly that.
The Experience
Our experience started at the Parque Nacional de Tijuca, which is south of Rio's city center.  When we first arrived at the top of the cliff, the entire area was completely covered in fog.  We could not see the ground below at all.  Obviously though, we first had to wait for the fog to clear.  So we waited.  And waited some more.  More hang gliding "students" appeared, most of them Brazilian or from other South American countries.  Soon there was a parking lot of hang gliders waiting for clear skies.  Dave and I stared at the wooden ramp we would soon run down.
The goal was to run as fast as we could down this ramp and to not freak out and stop running upon reaching the edge.  What?
We didn't really know what would happen if we got scared and stopped, but judging by the number of times our instructors said "you will keep running, yes?", we figured it was best we do what we were told.
We waited for about two hours, just staring at the ramp.  Honestly it wasn't scary at all because there was no visibility.  Then suddenly, everything cleared.  The beach we would be landing on, Pepino Beach, became visible down below.  There were mountains to the left and a city in front of us.  Below, the slope of the mountain gave way to homes and high-rise apartment buildings.  Oh crap.
Dave was on deck first.  Before I knew what was happening, he was running full speed ahead with his instructor.  They reached the end of the ramp, leapt off and then we lost visibility of their glider.  The dip downwards only lasted seconds, and soon I saw the yellow wings soaring over the treetops.  No time to look though, I was up next!  I hadn't been nervous at all, but now my heart was beating so hard that I thought it might explode.
Hilton, my instructor, stood to my left positioned my left hand on his back and my right hand on a strap by his shoulder.  He clung to the cross bar and on the count of "three" we ran as fast as we could (or probably as fast as I could), down the ramp.  I was so paranoid that I would stop running too soon that I kept on running even when there was no ground beneath my feet.  In my video, I look really silly.  Also, don't wear short shorts if you're going to be strapped into a harness.  You'll have to Photoshop every picture so you don't show your butt to the world…but I digress.
I can't describe the feeling of hang gliding very well.  It isn't scary at all.  In fact, I spent much of the time thinking "why aren't I scared?".  We passed over the green hills of Rio, the high-rise apartment buildings, and wove left and right, catching pockets of air that propelled us higher and higher.  Years ago, parasailing had made me a bit nauseous and motion sick, but this did not.  I could see for miles and miles, from the harbor islands to the swimming pools in peoples' back yards.  It was almost too much to take in, and it all happened too quickly.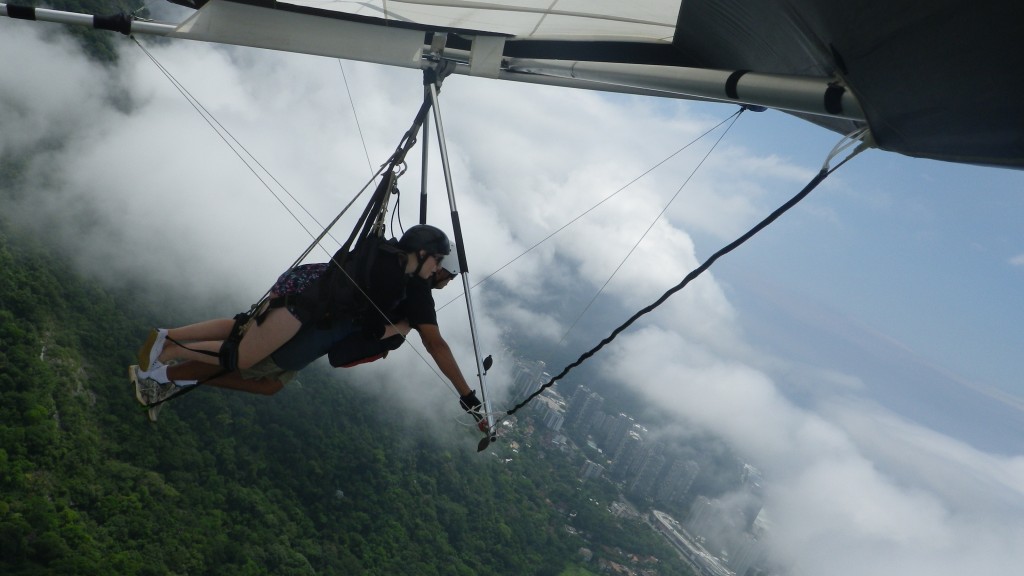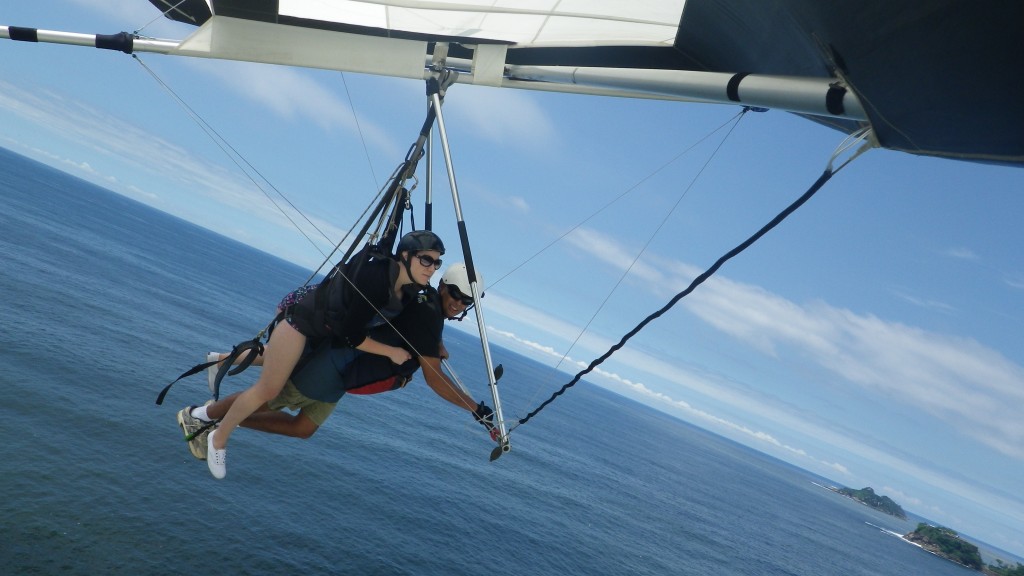 In about 8 minutes we were landing on Pepino Beach.  Hilton instructed me to run as we came in for the landing.  Always the good student, I started running well before our feet hit the sand.  In the end, Hilton was so much taller than me that we were already at a full stop by the time I could reach the ground.  Landing is easy!!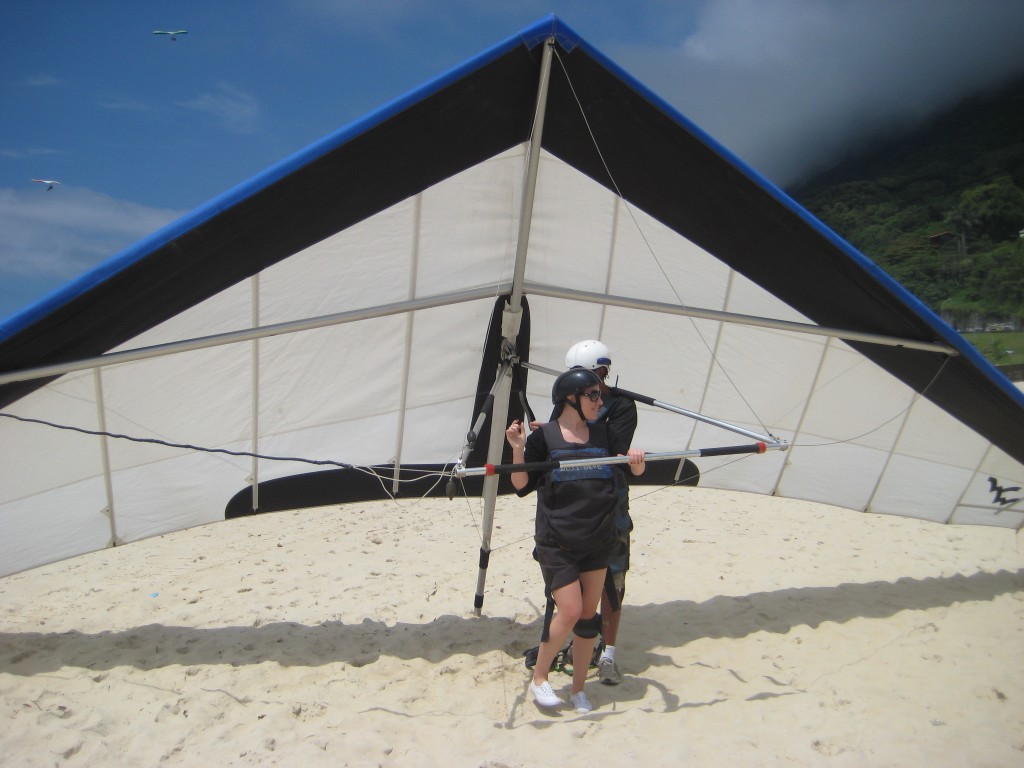 All in all a great experience and surprisingly less frightening that I had imagined it would be.  Should skydiving be next?  I'm truly scared of that one.  What about the world's tallest bungee jump when I'm in South Africa in May?  Pretty scared of that one, too, but this stuff is addicting right?