When our baby girl was just two months old, we decided we needed a little change in scenery. Make that a lot of scenery. With Dave's abundant vacation time, and my maternity leave, it was the perfect time for our first transcontinental train journey! We would be taking The Canadian train across Canada with our infant. We traveled from NYC to Vancouver to Seattle, with stops in Buffalo and Toronto. Despite this sounding like the worst idea possible, and not like a vacation at all and more like a transcontinental screaming fit laced with dirty diapers, allow me to explain how traveling by train with an infant is actually a very good thing to do.
See, trains rock little babies to sleep. One of the first equations that new parents learn is that the car = sleep. There's something about the motion, being strapped into that tiny seat and looking at everything go by that overstimulates infants to the point of exhaustion. There are tales of parents driving around the neighborhood at all hours of the night just to get their babies to sleep (although I think this may be akin to walking up hill both ways to school, in the snow of course, but I digress). So sign me up for something that moves nonstop FOR THREE STRAIGHT DAYS.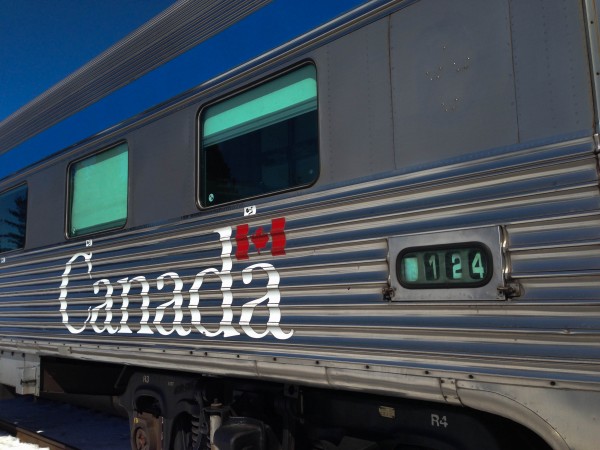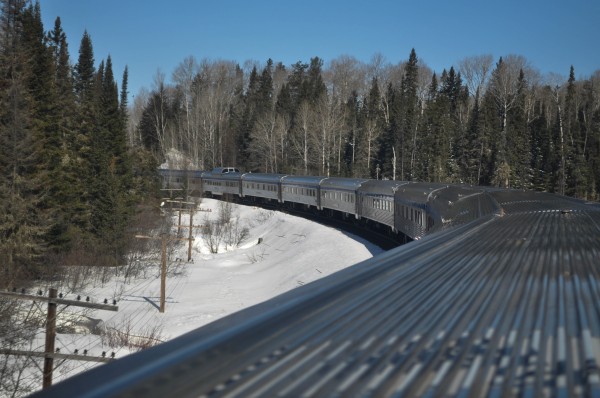 While there was a fair share of crying (she was still a tiny 9 week old baby!), here are some tips and general reasons why train travel is the best type of travel with an infant. Especially trains that are long, long, long and continue overnight.
1. Infants are tiny.  The rooms on a train are tiny. So, this pretty much works out perfectly. Baby girl slept next to me in my bunk (the low bunk obviously!). I had brought a co-sleeper along, but ended up not using it because it took up too much room. I spooned her the entire time, plus it was super easy to feed her when she woke up at night.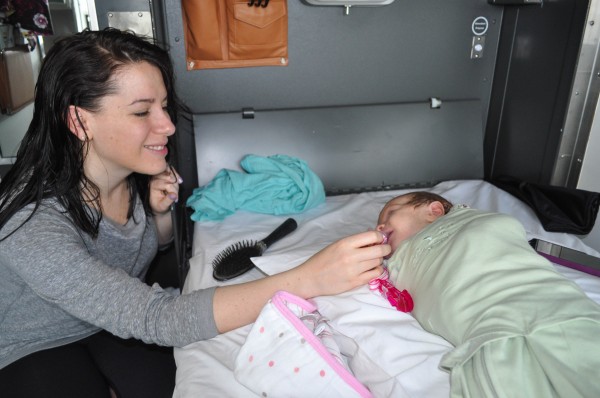 2. Time zone changes are slow.  While really tiny infants really aren't on a schedule, somewhere around 1-2 months old they start to sleep more at night than they do during the day. A few months after that, they start sticking to a consistent bedtime and they start to decrease their night wakings. All of this can be thrown into turmoil by flying because the timezone change all happens in one day. Train travel, on the other hand, allows the change to happen gradually.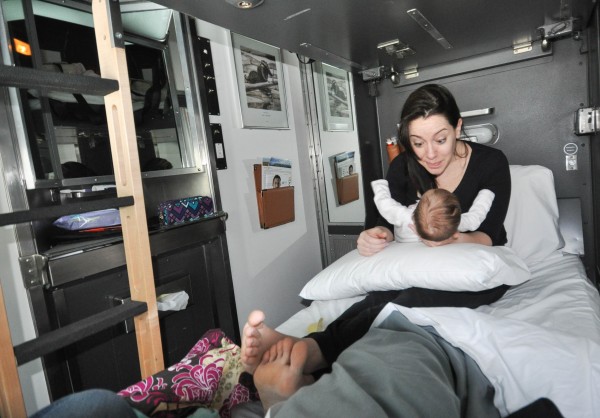 3. Constant scenery changes.  Looking out the window is the perfect thing to do. It's relaxing, easy (even an infant can do it!) and if you take a nap…well, you didn't miss too much. There'll be more scenery later.
4. Infants don't need too many baths.  You can wash a baby a couple times a week. That's not gross or anything, that's really how often you need to clean them. Any more than that and their skin gets all dried out. Even though there was a shower in our carriage for us, it would have been hard to wash baby girl in the sink in our room. So she just didn't get a bath for those few days, and it really wasn't a big deal.
5. Everything is casual.  Dinner is casual. The day is casual. Everyone is sleeping in bunks sharing a (spotless) communal shower. This makes for a comfortable environment that is also somehow classy.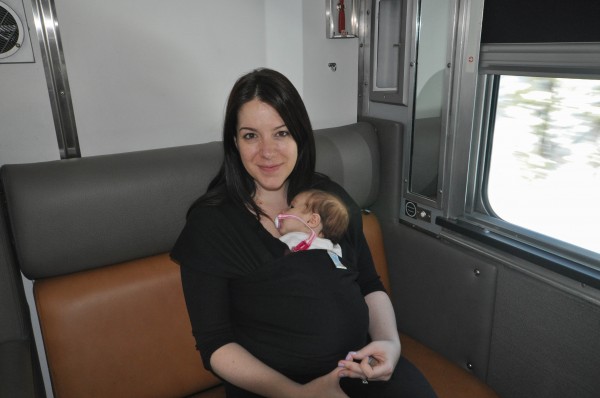 6. Breastfeeding is easily done.  Honestly I'm not sure where you would wash bottles on a three day long train journey, so this is an advantage of breastfeeding while traveling. There's also no need to buy any bottled water for mixing formula. Unlike traveling by car, you don't have to stop when your baby has to eat, and unlike a plane, you have some room to spread out! It's very easy to find empty seats that offer lots of privacy.
7. No need for a stroller.  The hallways are narrow on board trains, even a train as large and fancy as the Canadian. Strollers are completely unnecessary anyways, seeing as there aren't so many places to go except up forward and back through the train cars. You can get by for your whole trip with just a simple baby carrier.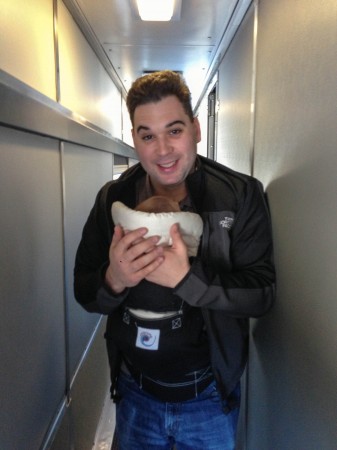 8. ROCKING ROCKING ROCKING.  I can't stress enough how beneficial the constant rocking is! Baby girl took great naps and slept well at night, too. In fact, we all slept really well.
Our journey flew by and soon we were arriving in Vancouver!! While it took much longer to get there than if we were to fly, the vacation itself was our time aboard the Canadian. It was a perfectly paced trip for our new little family.