"It wasn't intentional.  I always learn about learning the entry requirements for every country I visit.  I always mail away my passport or wait in line for hours at the Consulate to get the required visa.  So I am sorry, Paraguay, that I snuck into your country and blatantly disobeyed your border patrol officers.  Sorry.  But everyone else was doing it.
Our trip to Brazil brought my husband and me to Iguazu Falls at the border of Brazil and Argentina.  The plan was to explore the Argentinean side of the Falls for one day, then the Brazilian side the next day.  In trying to map our driving route, we noticed that the border of Paraguay was just a few miles away.  The three countries meet at a "triple frontier" in the middle of the Río Paraná.  To get to the second largest city in Paraguay, Ciudad del Este, all we had to do was cross the Friendship Bridge from Brazil.  How could we not take advantage of being so close to Paraguay?  Why not go to Paraguay for lunch? It would take an hour, tops.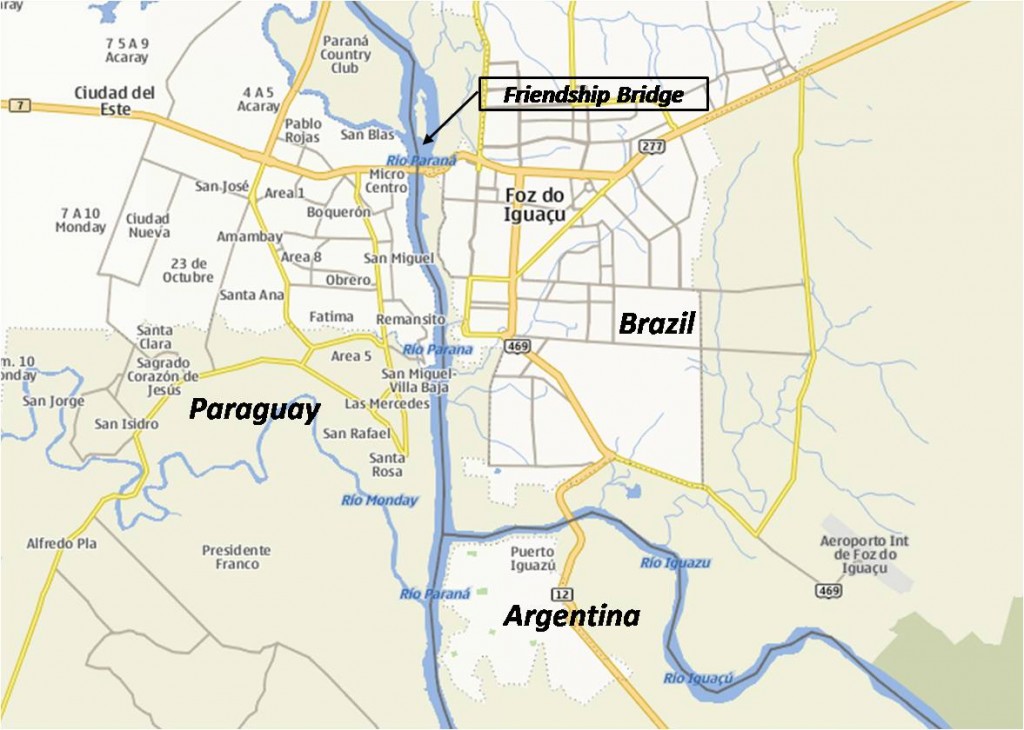 We did a limited amount of research for our little excursion to Paraguay.  We were surprised to find that Ciudad del Este is a tax-free shopping destination for Brazilians.  Paraguay capitalizes on the high cost of goods in Brazil by basically opening their border for the deal-seeking masses.  From what we read, the Paraguayan side of the border was effectively open.  It seemed that customs officials were rarely present at the crossing and if they were there, they were asleep.  The thought of obtaining a visa didn't even cross our minds.  If they didn't even care enough to protect their borders, why would they ever require a visa?
After hiking on the Argentinean side of Iguazu Falls, we drove back into Brazil, drove to the Friendship Bridge and parked our car about 100 meters from the Immigration checkpoint.  We nodded to man sitting on his stoop to watch our car.  The unspoken agreement here was that he would ensure our car stayed safe while we crossed the border, and in return we would pay him upon our return.
Leaving Brazil was a joke.  The masses just walked on through the border, not even entering the Immigration booth to have their passports stamped for exiting Brazil.  Well, we thought, we'd better play it safe and officially exit the country.  We were in Brazil on a visa – better to not mess this up.  Inside the small office, we were completely alone.  The immigration officer seemed generally surprised to see us.  I bet ours were the first passports she had stamped that day.
The walk across the Friendship Bridge was beautiful.  The river was blue, the trees were a lush green and the wind kept us cool in the 100 degree weather.  Ahead of us, the aesthetically displeasing Ciudad del Este loomed.  It was the scar on the otherwise beautiful landscape.
Entering Paraguay, the crowds again just walked right by the immigration office.  Well, we would take this border seriously!  We marched straight up to the counter, presented our passports and chatted to each other about where we could eat lunch.  Was the token KFC too far away?  Did the Americana Mall have a food court?  Should we check out the shopping, too?
"Necesitan visas," barked the official.  Huh?  Why would we need visas?  No, no, there must be a mistake.  My husband pulled out his American passport in place of his Italian passport, thinking that perhaps being Italian was the issue.  "No!" shouted the official.  He explained to us that we must go to the Paraguayan Consulate in Brazil and obtain a visa for entering Paraguay.  The cost was $55 for each of us, or only $30 for the husband if he used his Italian passport.  What?  So if we had just kept walking and entered like everyone else, we would have been fine, but since we had decided to do the right thing, we could not enter Paraguay?  This didn't seem fair.
We asked the official what we should do.  The three of us all seemed equally annoyed that we had attempted to enter Paraguay legally.  The official gestured towards the other side of the highway, meaning we should just cross the road and walk back to Brazil.  Well that seemed lame.  Was he going to actually watch us to make sure we left Paraguay?  It didn't seem likely.  Outside of the office it was chaos: thousands of people, a maze of cars and alleyways filled with stalls selling everything from lighters to flatscreen TV's.  We could easily get lost here.
So we ignored the immigration official and walked right into Paraguay.
Once inside Ciudad del Este, it didn't really seem worth it at all.
It was crowded, hot and filled with nothing but shopping stalls and malls.  Images of Locked Up Abroad flashed across my mind.  Was seeing all of this crap worth ending up in a Paraguayan jail?  We walked a few hundred feet, trying to locate a restaurant.  Just a quick lunch and we would leave.  No one seemed to be selling food; cheap electronics was more the rage here.  Finally we found the Mona Lisa mall which promised both lunch and air conditioning!  We climbed to the fifth floor, past the designer perfumes, sunglasses and watches, and found a small restaurant serving some strange variation of "European" food.  We shared a delicious meal of beef stroganoff.  The entire time I felt like I was doing something wrong.  We quickly paid the check, which was quoted in US dollars like everything else in the mall, and left.  I found it annoying that they were freely using American currency yet made it so difficult for Americans to get into their country.
Walking back to the bridge, I insisted we get our story straight.  You know, in case border police separated us and questioned us.  Should we explain that we hadn't known to stop at immigration?  That we didn't know Spanish and didn't understand the officer on our way into the country?  We were still deciding on our story when we realized we'd accidentally walked behind the immigration office and were already well past the exit checkpoint.  Yes, we had accidentally snuck out of Paraguay!  In this case, sneaking across the border is MUCH easier than doing things legally.  Back in Brazil, we passed through Brazilian customs and immigration.  This was the first required checkpoint of this entire journey.  We were the only travelers entering Brazil without armfuls of tax-free goods from Paraguay.
So was it worth it?  Well, maybe.  I doubt I'll be extradited back to Paraguay to face charges, so I guess the story alone was worth the stress of "sneaking" across the border.  I also doubt there are many areas in the world where the border is such a joke yet a visa is required.  I also doubt I'll make it back to Paraguay anytime soon, so I guess something is better than nothing.  Also, it was cool to eat breakfast, lunch and dinner in three different countries that day!"
This is the account of a fictitious traveler who illegally entered Paraguay.  Fascinating story, but as the title suggests, still illegal.  The traveler will remain anonymous in the unlikely event that said traveler wishes to go to Paraguay one day and the immigration officials subscribe to Style Hi Club's RSS.