Cambodia is unique for a lot of reasons, but the monkeys that occupy both the large cities and the rural temples sure do make you realize how diverse our world is.  In New York we have squirrels.  In Boston, squirrels.  In London…squirrels.  Instead of something lame like that, Cambodia has MONKEYS!  I'm not sure who doesn't think that's amazing…obviously I sure do.  Did I tell you about that time I got married because Cambodia has cute monkeys?
So let me explain.  A little over four years ago, my to-be husband and I had gone on just two dates.  He and I had known each other back in college, but we were just friends then.  Just before we reconnected though, he had enrolled in a graduate program at the University of Sydney, Australia and would be leaving New York for over a year.  This obviously made dating difficult.  Regardless, he was able to entice me to go on a third date, in Cambodia (!?!), but promising that we'd see monkeys. Find Exhibit A below.  Take extra note of the time stamp as he was in Australia and I was in Boston:

I booked my flight.  So, pretty much, we are married now because Cambodia has adorable monkeys.  Here I am again, this time feeding a monkey, I mean…errr…falling in love.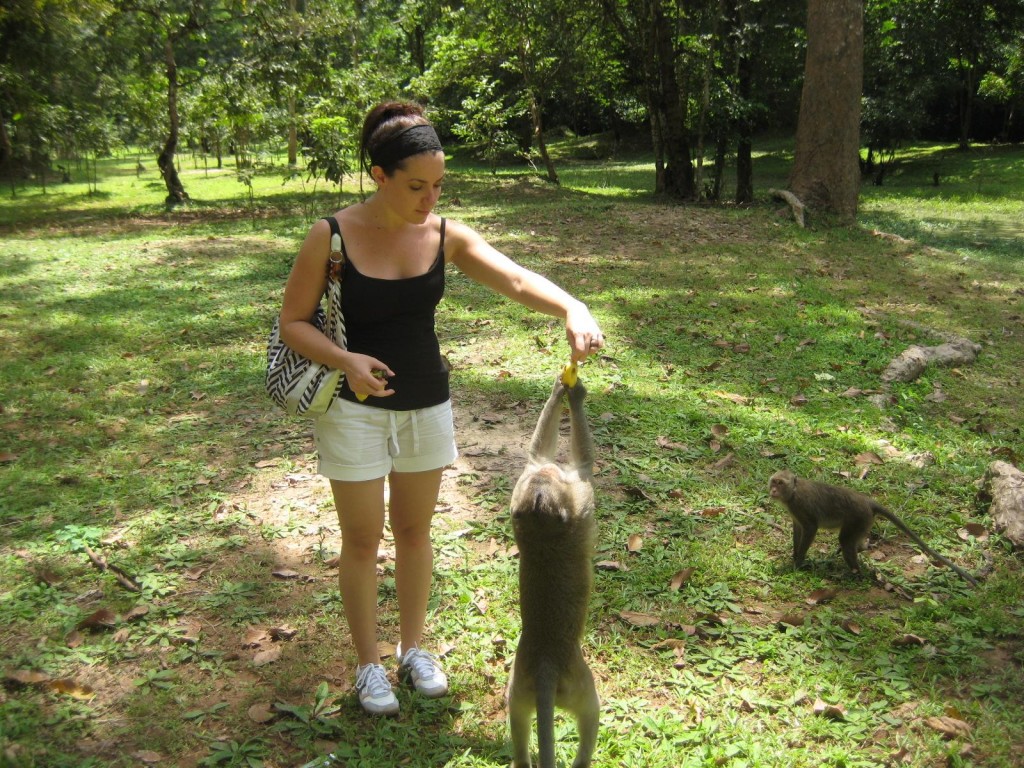 It all worked out in the end of course, and I certainly didn't go on the date ONLY because I liked monkeys (although it was a convenient alibi so that I could still remain a bit aloof).  All of that aside though, the monkeys were really worth all of that time on a plane.  A few months ago, I saved myself 46 hours of flying by just going to Costa Rica to see monkeys.  So, where has been the coolest place that you've ever seen wild monkeys?  Obviously it won't take much to convince me to go… 🙂