We woke up today in Split, Croatia at the Silver Central Hostel.  We had a lot of driving to do to make it all the way back to Zagreb, the capital of Croatia, but little did we know we'd also be experiencing a Croatian hospital today.
Mike had been throwing up all night and we needed to find a pharmacy to find drugs to combat his sickness.  We assumed it was food poisoning from the lamb soup back in Bosnia that had done him in.  Fortunately the manager of the Silver Central Hostel was more than happy to help us out because navigating a foreign pharmacy is challenging and a little scary.  Even if you have some idea of the language, and we do not know Croatian at all, medical terms aren't exactly common knowledge.  On top of that, Mike is allergic to sulfa, and for his sickness he needed a drug that contained sulFER.  These words are quite close.  Good thing for our native-speaker friend.
Not wanting to leave Mike and do a bunch of things in Split without him, Dave and I decided to go to a nearby grocery store and get some lunch and bring it back for all. It was really fun shopping in Split! Things were very different and we had to rely on the courtesy of strangers to help us out. For example, fruit had to be weighed and tagged before the checkout which mean we had to figure out the machine and the codes, which of course aren't the same as they are back home (I used to work at a cashier at Stop and Shop in high school). We ended up getting some hot foods, some fresh bread that had smelled irresistible when we had entered the store, cookies, and some fruits and rice for Mike. All of this was $30 and we had FAR too much food. I liked doing normal-ish things like shopping with Dave and it made me think of the adventures that we will have living in foreign countries down the road 🙂
Back at the hostel, Mike still wasn't doing well. We ate and then decided to take a walk around the city. Nicole would stay with him. The city was very nice – very modern, clean, and beautiful. We looked out at the water, took some photos and walked around the walled part of the city for a while. A lot of the shops were closed but I still managed to get a coffee. Something about walking around a city like this sipping a cappuccino seems just right to me.
Back at the hostel, the manager was still being super nice about us staying WAY past checkout onwards to 4pm. We only had a 4 hour drive ahead of us back to Zagreb but we thought we'd better leave. Dave and I got the car and directions and were off.
Now, this should have been an easy road. It was very well marked and looked big on the map. It started out more than fine…highway A1 – nice wide road, freshly paved, looked brand new actually. Well, that was all well and good until the detour. The road just stopped. It wasn't broken like this on the map!! As we exited the road I asked the woman in the toll booth how we were possibly supposed to get to Zagreb. She seemed surprised by this question, as if it were the easiest thing in the world. On the back of a receipt she wrote down 5 town names and we were supposed to somehow follow these towns to lead us to Zagreb. Things started out ok. The road was very small but it was paved and it was light out and the weather was great. We were driving along the coast with mountains across from us and we were in awe by how beautiful it was. That was, until we realized we had to go all the way up those mountains.
It was getting dark as I approached the mountains and I was torn between wanting to be safe and wanting to get to Zagreb ASAP because it was clear that Mike was going to need a hospital. I drove up a mountain, on the side of a cliff, in the snow. At some points I would think the road was continuing straight ahead but it would abruptly curve to the left. Going straight ahead would have led us off a cliff. There was no guardrail. Eventually we got up the mountain, and then down the mountain, and things were better because at leas the land was flat. It was snowing like a bitch now but at least I was used to that part after living in Boston. We passed signs for random towns and Dave tried to figure out where the hell we were on the map. Miraculously we found out where we were and found signs leading back to A1. We rejoined the road and it was as if nothing had happened. The road was wide, freshly paved, and the snow seemed to fade into flurries. I stopped at the next rest stop and it was time to, of course, switch drivers. I seemed to really get the bad end of that deal.
Mike was getting sicker and throwing up so Dave took off speeding towards Zagreb. We were going 170kmh (105mph). Instead of driving up a mountain, Dave's stretch of land had a nice tunnel that went under the mountain for 3 miles. That seemed like a much better solution. About 30km from our destination we suddenly had to pull over on the highway so that Mike could throw up.  I began pouring over the map but realized the easiest was to get us back to the Sheraton Hotel (where the car was to be returned to) and then ask the concierge what our options were for a local hospital. It was difficult to navigate but once I knew where we were I found us on the city map and we got to the hotel in no time. The concierge told us that the hospital was close so I was put in charge of the car and figuring out how to return it & park and get the luggage back to our hostel while Nicole and Dave took Mike to the hospital. Matt and I loaded up all of the luggage, cleaned out the car and then really need to grab a beer in the lobby. We sat there and had some beers and talked, which was nice, but we were really worried about Mike and had no idea what to expect from a Croatian hospital. After a while Nicole came back and explained that Mike was being treated and that Dave was going to stay with him and we should wait for them there.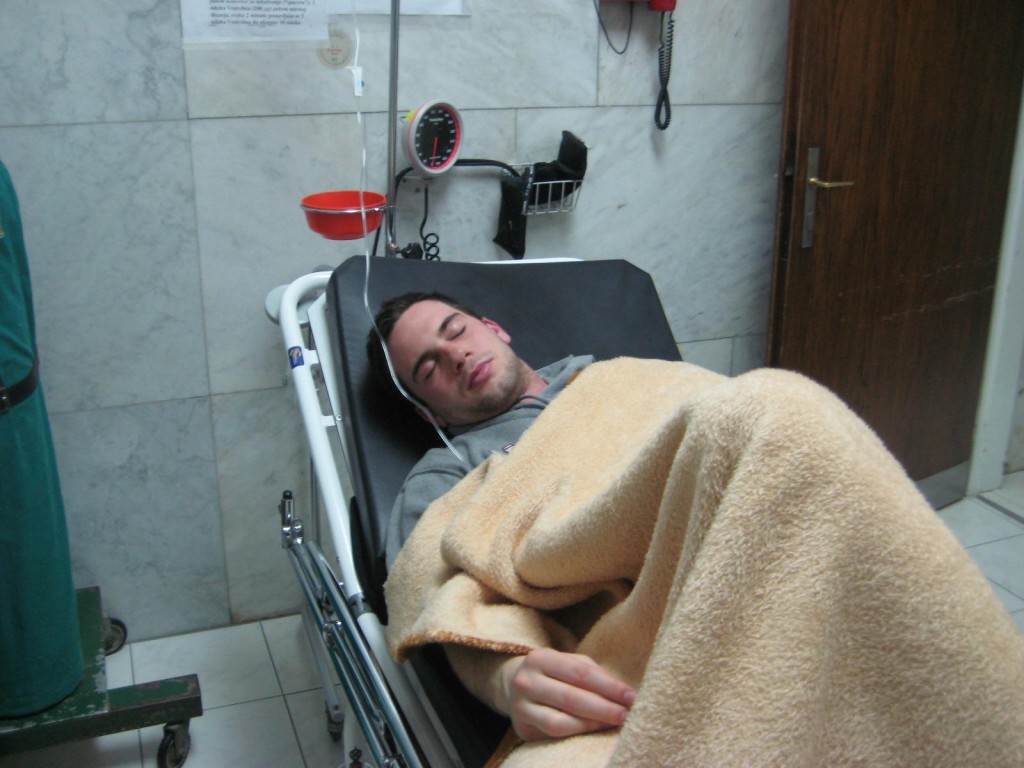 We sat and drank more and talked. It got later and later and I glanced at my phone and realized I had a missed call from Dave. We were supposed to go to the Fulir Hostel because they might be a while. Whoops. By the time we got to the hostel the manager was a little mad at us because we were checking in SO late (like midnight!) but as soon as we told him about the hospital he was cool. We were staying in a different room than the room we stayed in earlier that week and honestly it kinda sucked. We had to pass through a room of sleeping people just to get to our room so of course we woke them all up because we had to cart in so much luggage.
Around 1AM, Dave and Mike showed up and it looks like he had food poisoning but will be ok. The cost of everything, including ambulance transfer, medication and seeing multiple doctors was 400 Kunar – $70. This is the cost of a few tylenol in an American hospital.  We were starving and thankfully had I schlepped the food back to the hostel rather than throwing it out like I wanted to. We poured olive oil on a plastic bag and dipped bread into it as our dinner. It was a somewhat fitting way to end our roadtrip that had led us through these war torn countries in a flurry of confusing signs, missing roads, and language barriers. 1,224 miles spanning 4 countries in 4 days.