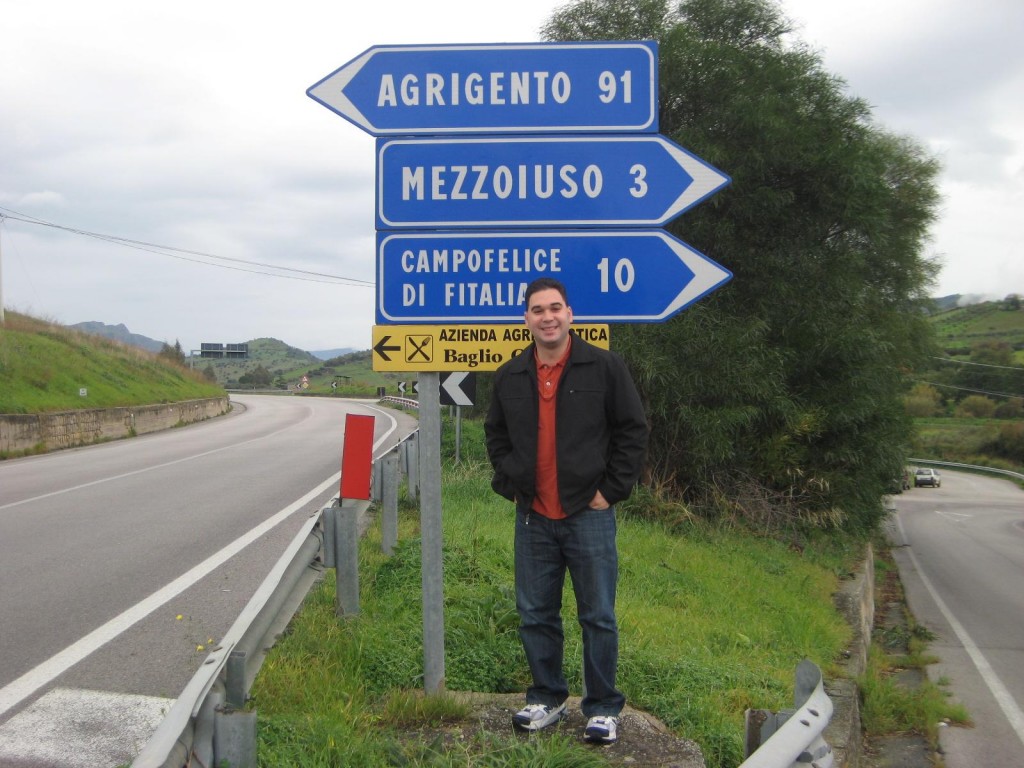 Today we explore Sicily!  We would be picking up a car in Palermo and driving to Mezzoiuso, Dave's ancestral hometown, then onwards to Corleone before returning our car back in Palermo that evening.  We had to get up slightly early to go to pick up the car at the Targarent Office on Via Piradello. First though, time to fill up on the delightful free breakfast at Casa di Amici hostel. Claudia, the owner, had put out the usual European spread of bread, yoghurt, juice and coffee and all of that was more than enough. We got some directions to the car rental office and decided to take a taxi there even though taxis, as a rule, are quite expensive in Palermo. €15 later we were a few miles away and had a very European car, a Fiat Panda. We were on our way! It was my job to do the city driving since it was a manual, and I did just fine even though people drive with little adherence to traffic laws or attention paid to space between their car and the next. Once out of the city, the landscape changed dramatically and we were winding up and down green hills and towards thick blankets of fog that were eerily hanging low to the ground. Our first stop was Mezzoiuso (also spelled Mezzojuso), the town where Dave's paternal grandfather was born.
I parked the car on a narrow road that appeared to be close to the town center and we began walking around. It was a small town to say the absolute least and my guess was that not so much had changed since Dave's grandfather had lived there.
The streets were narrow and steep with homes lining them and doors opening up directly onto the road. The town was built on a hill so we continuously were going up or down stairs or trying not to slip down roads. We found the town square and realized just how American we really were. There was a gaggle of about 20 old men wearing hats and smoking cigars in the town square and they just stared at us as we tried to get into the two churches. After not knowing really what to do, we walked and through the town to try to get a better view from the hill. The gates were locked, however, so we didn't get so far up. It was enough though, and it was raining pretty hard so I was glad we weren't going to be taking a walk up a mountain. Back in the town center, we decided we should get something to eat. Of course we couldn't speak Italian, so first we went into what we thought was a cafe except it turned out to just be a bunch of men standing around a slot machine. There's a LOT of gambling in Sicily by the way. So, we decided to head into this little bread shop so that they could direct us better. There were 2 women working who spoke very little English but we got the point across, they conversed with each other for a bit, and then said "Go. To. Palermo." We laughed and laughed. They let us use the bathroom and I talked a little bit with them and managed to convey that we were from NY and that Dave's grandfather was from the town. The seemed impressed and confused at our presence there nonetheless. They did sell us this great focaccia, maybe pizza?, and we ate it in the square. A little bit braver at this point, we went into another cafe, I had a coffee, and we also got cookies. Everything was delicious and I was happy that Dave had gotten to see his hometown. I think its a great place and much enjoyed it!
The next stop was Corleone, birthplace of the mafia and also some of Dave's family. Dave drove there…but after that it was clear I should be driving as the car is a manual and he still isn't comfortable enough in traffic and on hills and was stalling and rolling backwards. Corleone is a bigger town but unfortunately we were getting there just as "nap time" was hitting Italy, which seems to be about 1:30-4pm. Quite the life they have here. As such, it was a little difficult to find a place to eat and it was still raining so not fun to walk around and check out the options. Dave found us a place though and it was great to get out of the rain and sit. I had a caprese salad to start and we followed that by splitting mushroom risotto and something Milanese. I wanted it to be chicken, but I think it was pork so I covered it in lemon and cheese to take the taste away and it ended up being fine. By the time we finished it was sunny out and we walked around the town in search of gelato and also the church where Dave's great-(great?) grandfather was left as an infant. Yes, turns out they really did that in the olden times. We found A church, took some pics, then again looked for gelato. We ended up getting a rice ball instead lol. Only in Italy I guess 🙂
Leaving there it was still early so we decided to take a drive towards the coast and not go straight back to Palermo. I was driving and things were fine until the road we were supposed to use simply wasn't there. Well, it was there, we could see it, but it wasn't connected to the road we were on as it should have been. It seemed that they hadn't finished the connector…of course. So down the dirt road under construction we went until we came to the proper road. This road was paved…maybe…but there were tons of potholes and it was not an easy drive. It was fun, however! We saw Sanctuary de Rosario, whatever that is. Next we came upon this man dressed all in reflecty orange which at first seemed really creepy but soon we saw that he was directing sheep!! I guess herding is the term 😛 They were SO cute all scampering up a hill wearing lil bells around their necks! Well, after that there wasn't so much more excitement during the drive as it was quickly pitch black and there was no use in driving to the coast so we rerouted to Palermo. Things got confusing around a town because signs were pointing the wrong way (i.e. to get to Palermo we had to head in the complete opposite direction of the sign), but it was all good. As we got closer to the city we decided to just take the car back to the rental place to avoid parking near the hostel and having to wake up early to return it. We got fuel and Dave did an awesome job of leading me right to the Targarent.
We were out of there quickly and had about a 30 minute walk back to the hostel. I really enjoyed this walk through the city just talking about the day and holding hands while heading back to the hostel. Back there, we cuddled up in bed and watched a couple 30 Rocks to unwind before dinner. We decided to eat at the same place we had lunch yesterday, Ristorante Pizzeria 59, although we sat inside this time. Dinner was great with more mushroom risotto, penne arribiate, and then chicken marsala. Note that we were offered meat or beef marsala, chose beef, and ended up with…chicken. Alrighty then. I also had some wine with dinner, yum.
After a fun, long meal we set out to get gelato and were so happy it wasn't raining. We found a place not to far away and it seemed as good as any so we eat got a cone of limone and watched people hover around the slot machine.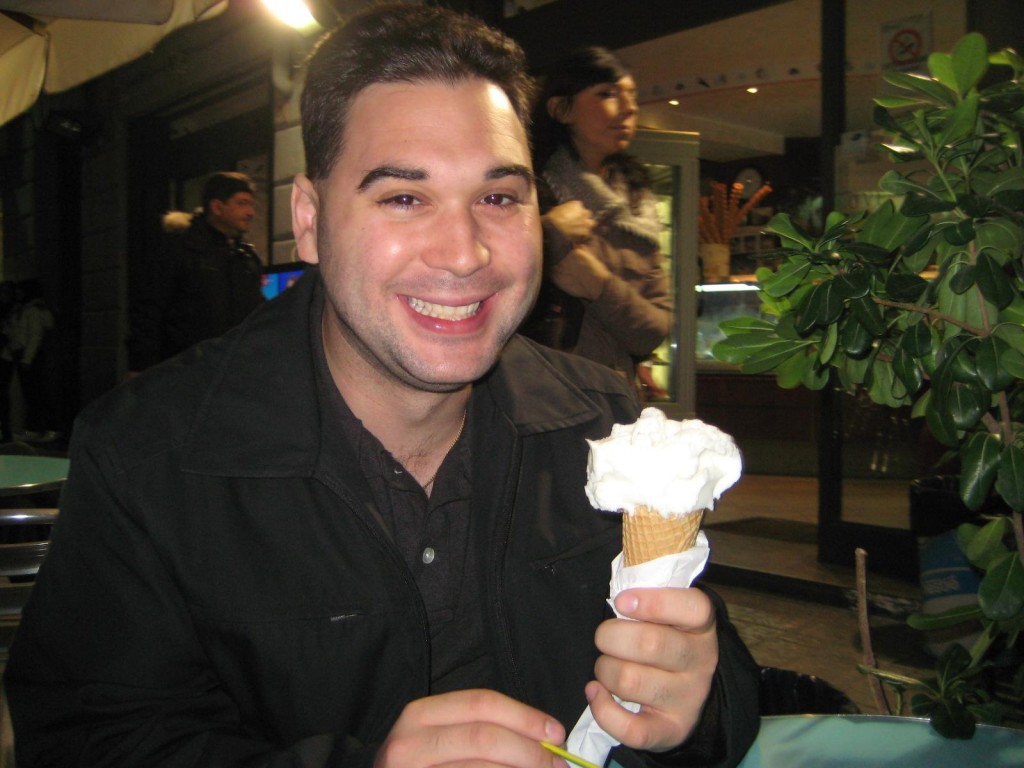 Then, it started raining VERY hard – sideways really. We stayed under the awning for a little bit waiting for it to die down before leaving but the rain had ruined our plans to head to a bar to relax more. Instead we ran back to the hotel quickly and in a darting fashion, moving from awning to tree to bus stop. This would be a night ruiner in NY but here in Italy it seemed romantic. I had never been tremendously excited about Italy because it seems a bit cliche and cheesy-romantic, but it couldn't be denied that the smells in the air, the narrowness of the streets, and the sounds of the Italian language all coupled with the grunginess of Palermo as opposed to the tourist towns of Rome and Venice, make you want to be there with someone special. I was so happy to spend today with Dave, it was really an amazing day.