Today was pretty much the longest day ever.  We drove through 4 countries: Serbia, Bosnia & Herzegovina, Croatia and Montenegro!!  We all got up early at our hostel in Belgrade, Serbia, the Chillton Hostel, and the plan was to leave at 8am.  We hoped to end the day in Kotor, Montenegro.  See below for our road trip map.  Unfortunately Google Maps does not have any driving directions for Bosnia, so we were not able to plan this route in advance.  We bought a map of this entire area in Croatia, and we manually highlighted our route from Belgrade, Serbia to Kotor, Montenegro via Sarajevo.  The actual road is not as straightforward as the map below AT ALL.
Dave and I got up first and were going to go get the car together but due to some bathroom wait times, Dave and Matt ended up going to get it together.  We made sure to get really good directions as to how to get out of the city and we all loaded up the car with our luggage and I was at the wheel driving by a few minutes past 8.  It was much easier with these clear directions to get out of the city and it seemed to take no time at all, except there was a bit of traffic because it was rush hour.  I have to say that they guy in  the Croatian hostel really scared us by saying that he would never take his car to Serbia because there was a chance that it would be destroyed or bombed.  But, I digress.  We went through the crazy traffic circle again and I think its beneficial that I've learned to drive in Boston because there's really no rules there either (although really, Belgrade is just nuts).  Driving out of the city we saw more bombed out buildings and slums with a socialist housing block feel.  I enjoyed seeing Belgrade although wish the 2 hour fiasco didn't happen yesterday so that we would have had more time to explore.
I continued to drive for a while and after a few hours we came to the Croatian boarder.  For this first part of the drive, we were retracing some of our route that we drove yesterday from Zagreb.  Basically we had to drive West back into Croatia, then South into Bosnia & Herzegovina, then back into Croatia, and finally East along the coast into Montenegro.  We crossed into Croatia without a problem and started to retrace the route.  I was driving this first part so I just had to look for signs to Sarajevo.  Finally the exit came and we were what looked like, very close to the boarder Bosnia & Herzegovina.  It wasn't a road that you would have thought a boarder crossing would have been on, though.  It was like driving through very small villages – VERY small.  Finally we came upon the boarder crossing and things were quick crossing in.  I had been nervous that all of these crossings were really going to take a long time but they really never did and we never had any problems with car searches or anything like that.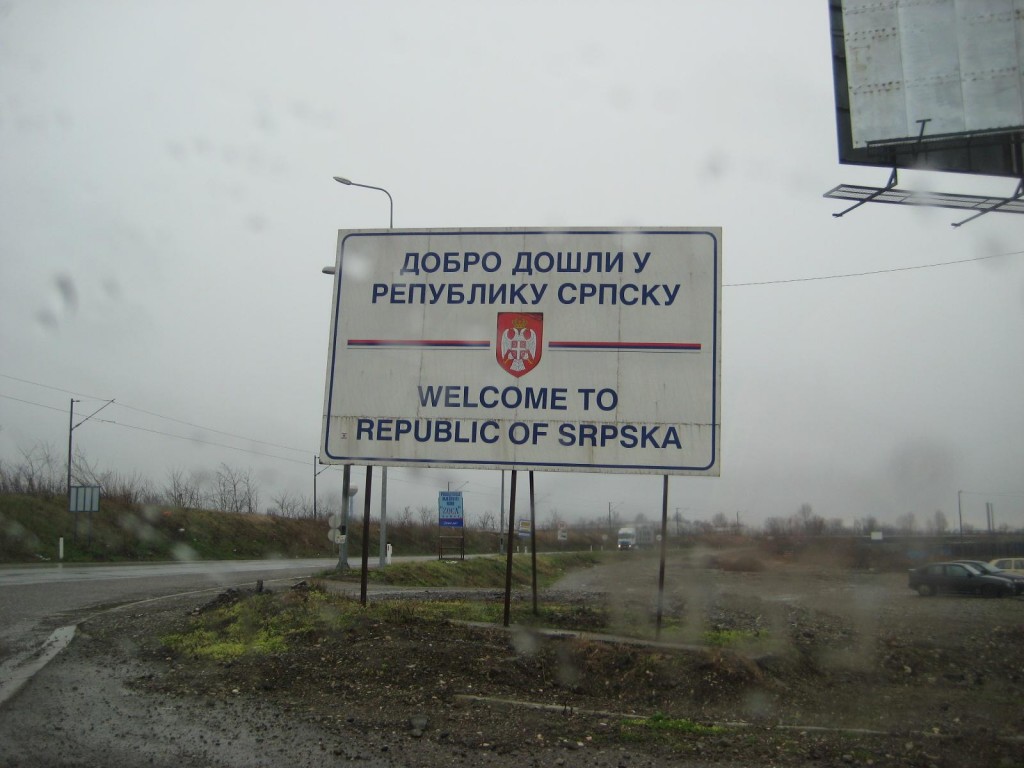 Into Bosnia & Herzegovina, things took a turn and got very poor looking.  This area seemed to have been devastated by the war the most, especially Sarajevo which we would soon be seeing.  I really couldn't get over the fact that we were in Bosnia.  This is a place that I learned about in middle school and high school because of the war there and the brutal ethnic cleansing that went on there.  I'd imagine it would be vacationing in Iraq in 10 years (or 10 years from whenever the war is over, that is).  Shortly after the crossing, Dave took over driving and navigated the roads.  It wasn't a highway for 90% of the drive to Sarajevo, but rather just this rural road that ran along a river.  It was interesting scenery, lots of poverty, some beautiful parts, some extremely industrial parts.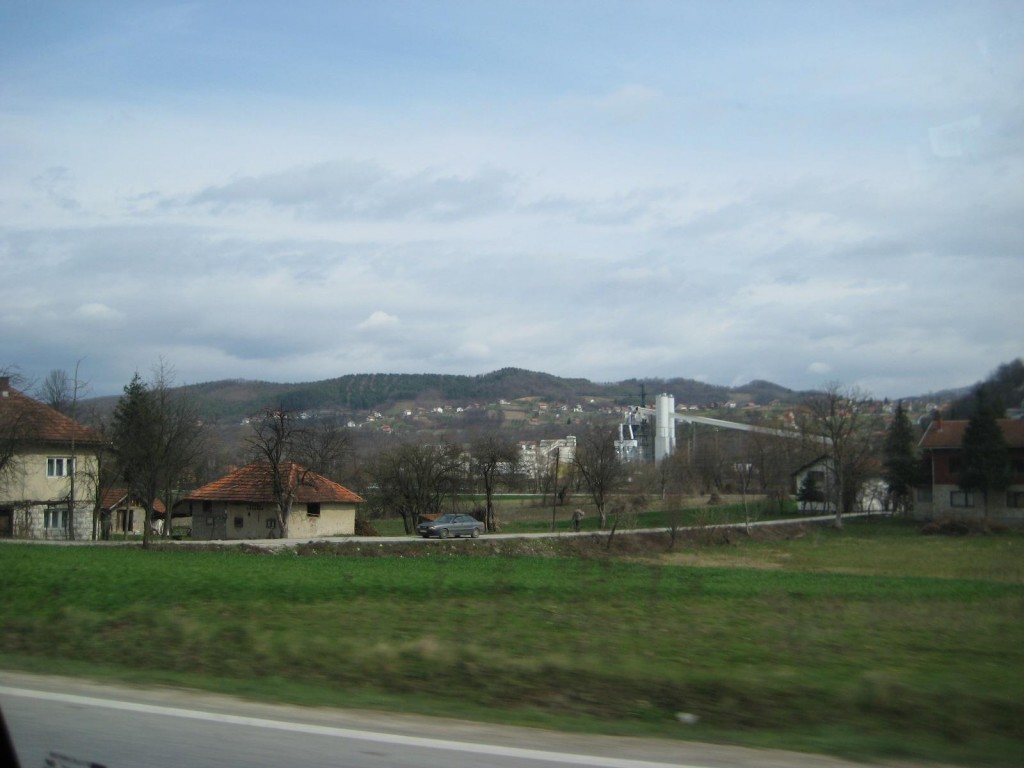 At one point we passed a horse literally walking up the embankment next to the road – it was nuts!  We got closer and closer to Sarajevo and the signs got easier and easier to read.  The roads were wide open and fairly new…all leading to Sarajevo.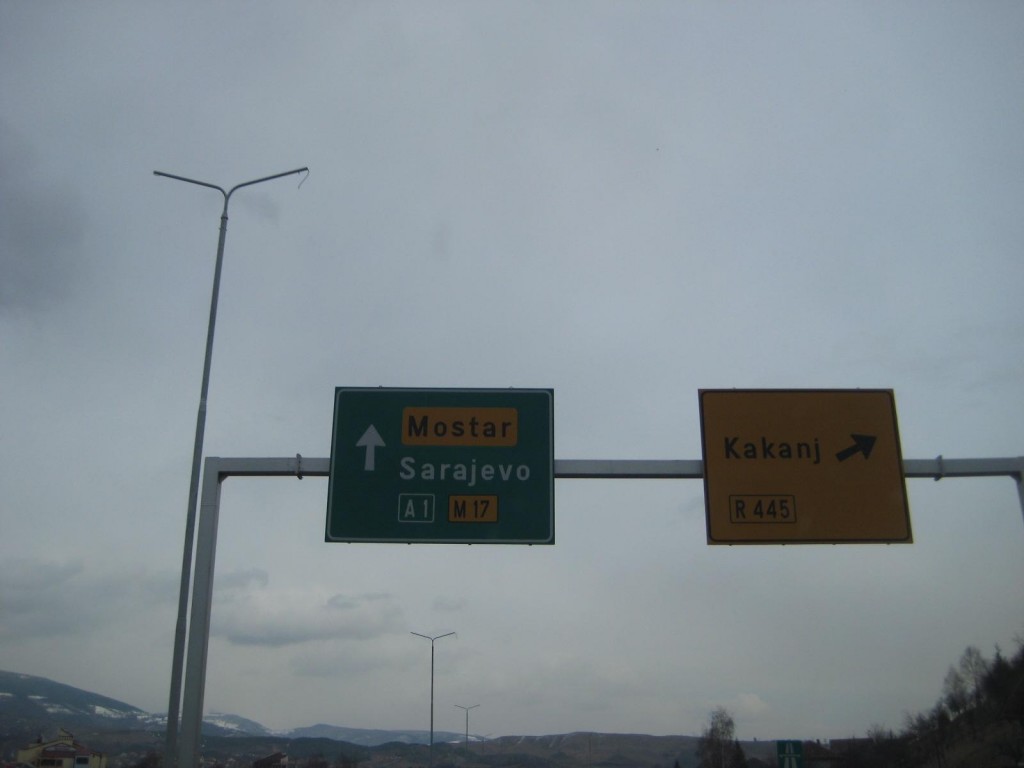 I did my best with the road map and the local map from the guidebook to find find how we would be entering the city.  All we wanted to do was find a place to eat that was close to the Latin Bridge, which was the site of the assassination of Archduke Ferdinand and his wife that sparked WWI.  I think I did a pretty bang up job of figuring out where we were and I guided us to the area of the bridge and around the block just once to look for a parking spot.  Things were easier to read here because they don't use cyrillic characters.  We parked in a lot for practically no money and then set out to find this restaurant that I suggested close to the Latin Bridge.
We found Cafe Jez after a few minutes and all sat down and had a round of beers.  The food was not traditionally Bosnian like the book had said, but that was ok because I think Bosnian food is probably like all of the other traditional foods of the neighboring countries.  No one really spoke much English but we managed to order some chicken sandwhiches and burritos.  Of course, 3 of us order the burrito and only 2 came out so I had no lunch 🙁  When I tried to order another it seemed that they had no tortillas either.  I got a chicken sandwich instead, which was ok.  After that, we easily found the Latin Bridge and took a myriad of jumping pictures on the bridge.  I'm assuming it's not "too soon" to be taking these pictures.
Matt proved himself somewhat fearless as he climbed down the steep grass down to the river to get a water sample for Dave.  After that, we returned to the car and it was time for Mike to drive and Nicole to navigate.  Dave and I were pretty excited not to be doing this because I really can't stress how annoying it is and we were getting on each others' nerves because neither one of us ever knew where to go.  I had showed Nicole the route to take because we had internet in the restaurant and it didn't seem that hard.  Of course in 2 minutes we were lost and they were frustrated at the situation.  This is in no way a reflection of either one of them – it really can't be stressed enough how difficult it is to navigate by through poorly marked cities towards other cities you've never even heard of.  We stopped to ask directions and things seemed to be ok but we got lost again in a few minutes and had to ask this random guy walking down the road.  He spoke little English and Mike drew an absolutely hilariously terrible traffic circle so he could just point, but he ended up pointing us exactly in the right direction.
A note about Sarajevo.  I was very excited to be able to see this city and I wish we had more time to spend there.  During the war the city was under siege for 3 entire days and bombings continued for years – it was, I think, the city most affected by the war.  We drove past the Holiday Inn where CNN reporters were stranded during the siege and also while leaving the city we drove past the airport.  A 800m tunnel from the airport was literally the only way out of the city for much of the war and we saw a spray-painted sign pointing towards the "Tunnel of Life."  Buildings are bombed out and have yet to be repaired.  The main road that we drove down was called "sniper alley" for much of the war because snipers would just hide in buildings, churches, and mosques and shoot thousands of innocent people.  Although we didn't see any, there are "Sarajevo roses" scattered along the pavement of the city to mark where a shell killed someone.  Looking at every face that passed us on the street, I couldn't help but wonder where they were during the bombings – had their home been destroyed, had their friends and family members been killed for no reason?  Every person over the age of 10 had most likely lived through it.  Being in such a place gave me quite an eerie feeling.
Well, back to driving, Mike was doing well through the mountainous terrane.  We had to ensure we just made one correct turn onto another road and we should be all set.  Of course, things were more difficult than they seemed.  The landscape turned extremely mountainous and we were driving through snow covered mountains on a very curvy road.  Mike was doing very well but there were literally NO signs to ensure we were heading the right way.  Nothing.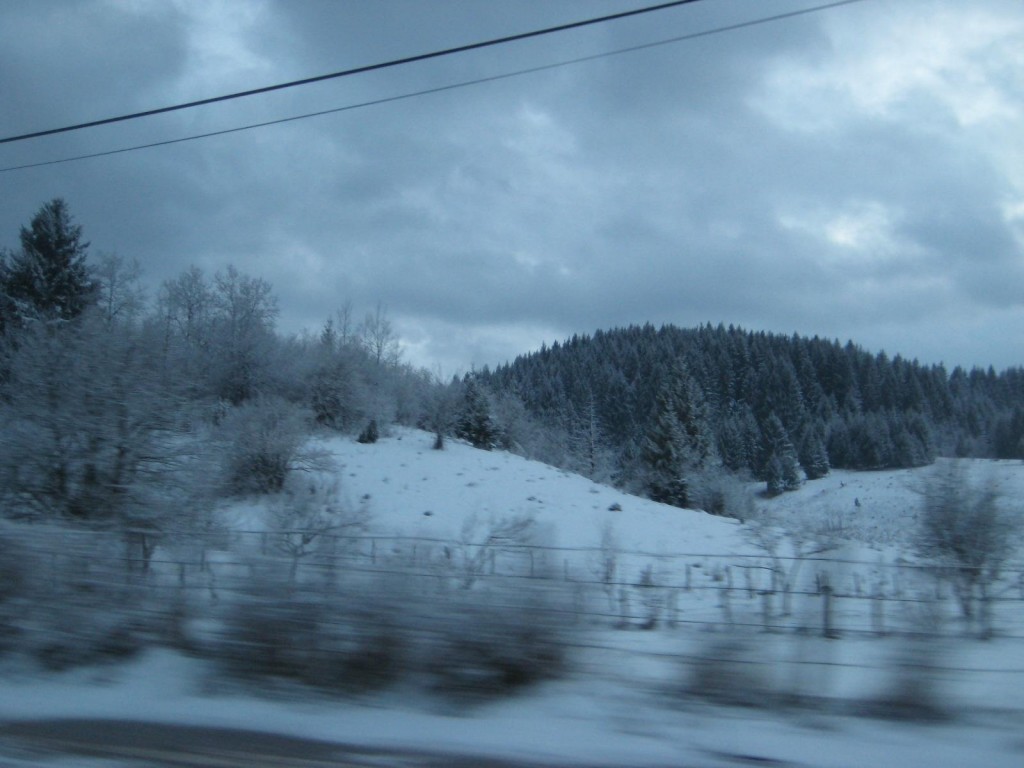 It was quickly getting dark and we needed to make sure we were on the right track and not heading further into the nothingness of Bosnia.  The highlight of this entire exercise was us seeing a snow-covered sign that we though may help.  We got out of the car and Dave started to scrape off the sign.  Wait!!  I saw a scraper right in the car!! Horray!!  Dave is scraping and scraping and we start to make out the word.  THE FIRST LETTER OF THE WORD IS A TRIANGLE!!  Well, this is not good, no, not helpful in the least bit.  But its pretty funny, because that's how screwed we are.
Knowing that we could be heading in the wrong direction and its getting darker and darker, the boys take things into their own hands (after peeing on the side of the road), and flag down a passing car.   This is how you flag down a car on a dark mountain road: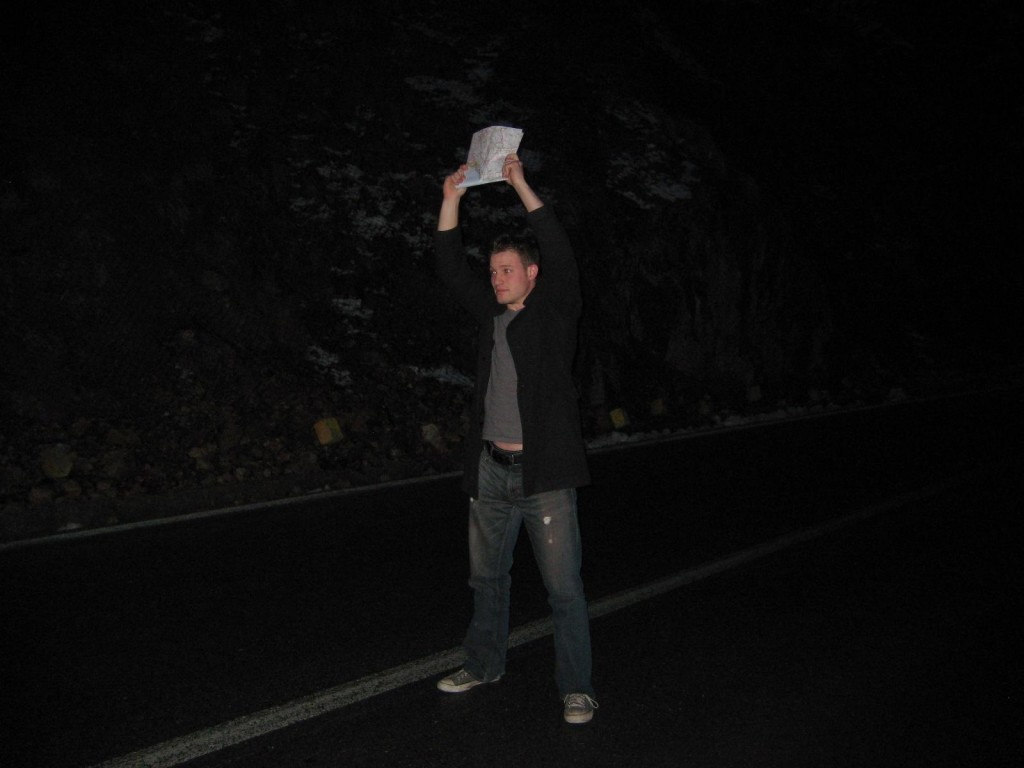 Apparently no English was spoken but we are in fact on the right road and they communicate to them how long it is until we have to diverge.  We confirm this is true at a store that happens to be open and Mike continues his awesome driving.  He is really hauling ass on this mountain road, that at one point, I think was not actually a road.  We felt more confident when we saw tour busses from the coastal towns passing us though.
As we were almost into Croatia, we had a decision to make – go to Dubrovnik, which was about 45 minutes away, or stick with the plan to go to Kotor, Montenegro about 2 hours away.  Just by chance we had hotels booked in both cities.  We stopped at a restaurant in southern Bosnia to discuss and get some food.  The food was normal for what we have been having, which was fried meats and greasy potatoes, along with some beers.  The waitress spoke no English and somehow communicated to Mike to get this $20+ lamb dish – there was a lot of pointing and she seemed to not accept that he just wanted the $4 meatballs.  After some confusion, and what we thought clarified everything, she shows up with two lamb dishes, lol.  I was just there with my cabbage salad w/ red pepper (this is a mixed salad apparently) and my chicken soup.  It was hilarious.  Of course, until the bill came.  We didn't have their currency so we had to pay in euros and she wouldn't give us a check but rather just this stack of papers with non-English words on them.  Great.  Dave and I set out to write everything down that we had, add it up in Bosnian currency, then convert it to euros.  We came up with €39, she said €53.  We argued and argued, pointed at our list of items, she pointed at her stack of papers, and we were at a standstill.  We couldnt understand each other, she was probably pissed about bringing out $50 of lamb that we sent back.  It was a general bad situation.  Finally, we caved.  There was literally nothing that we could do and it was getting very late and we had settled on going to Kotor.  Well, that sucked.  I took the wheel driving and we got directions out of there.  We went through the boarder crossing into Croatia (again!), then finalized that we were going to Kotor.  The sign that pointed that way led us down a dirt road for 40k so that just was not happening.  Instead Dave found another route that we took instead.  It wasn't bad at all and in no time we were at the boarder crossing for Montenegro.
This boarder crossing was too funny.  Everyone was asleep in the back except for maybe Matt and we went to leave Croatia.  The guy inquired about our visit to Montenegro and gestured to the entrance now about 20m down the road.  "Over there…" he said "it is a disaster."  He told us to be careful because the police would stop us and we would have to bribe them and about all of these bad things that would happen.  He said that in 40k we would be in Kotor though.  It was very funny – these countries seem to really not like each other.  Into Montenegro, the guy took a while checking our passports and we were in.  Things really didn't look too bad and in about 45 minutes we were at the ferry crossing at the bay of Kotor.  The ferry just went a short distance but was completely necessary because driving all around the bay was not an option.  Unfortunately we got there at about 12:35am so we had to wait until the 1am ferry.  It was pretty cool, driving the car onto this small ferry and then making the 8 minute trip across.  From there we were to follow the signs for the Hotel Splendido which was 9k up the road.  Driving was nuts again and I found it hard to believe that this was a 2 lane road.  Finally we made it, parked the car, and Dave Matt and I went inside to check in.  They showed us to our 2 rooms (Matt is w/ Nicole and Mike tonight) and everyone except me went to get the luggage.  They took forever at it turned out that the hotel did not like us having 5 people and not paying for it so Dave was arguing that for a while.  I showered and got ready for bed. We finally got to sleep after 3am and had the alarm set for 9am.  Upon driving in I could just tell that there MAY be mountains on all sides of us, but I really wasn't sure as there was no light.  We shall see tomorrow.  🙂