When I found out I would be going to Norway I couldn't wait to the cruise the fjords, visit the real life Arendelle, hike a glacier, and go rafting on a river that I had only previously experienced while drinking out of a fancy cylindrical glass bottle. Something I never really gave much thought to was Norwegian food. The closest I'd ever been to Scandinavian food was eating whale in Iceland and tiny meatballs at IKEA. Norway brought Scandinavian food to a whole other level. Here in no particular order are the 14 most noteworthy things I got to eat in the land of the midnight sun.
#14. Brown Cheese
Brown Cheese, or Brunost, can be found almost everywhere. It stands out because it looks like cheese but is unsettlingly brown. You won't find a Norwegian breakfast buffet without sizable quantities of brown cheese seemingly setup as some sort of alter that the Norwegians flock to and foreigners dismiss with a raised eyebrow. Why is the cheese brown? It's because the milk is caramelized in the cooking process by converting the milk sugar with heat. The cheese has an unexpectedly sweet taste that  isn't bad at all but completely doesn't match what you are expecting when you put it in your mouth.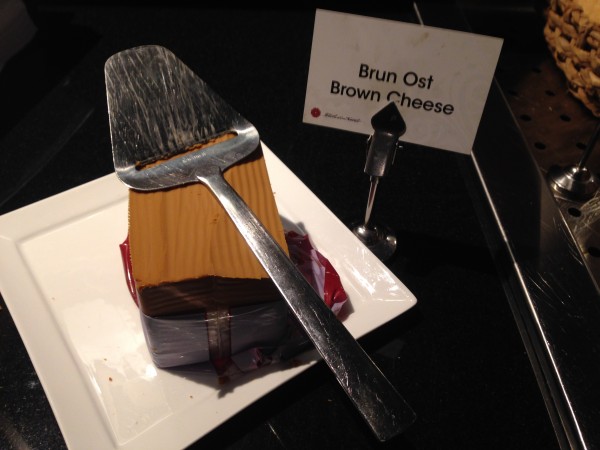 #13. Red Fish
I'm a big fan of fish and shellfish in particular. This probably comes from a lifetime of our family business in the seafood industry. Fish quite literally put me though college! I'd never heard of "Redfish" though. The reddest fish I knew was salmon. Over lunch at Fisketorget Restaurant in Stavanger I got to experience this delicious fish which was lightly grilled outside on the barbecue. It was the most delicious fish I'd ever eaten.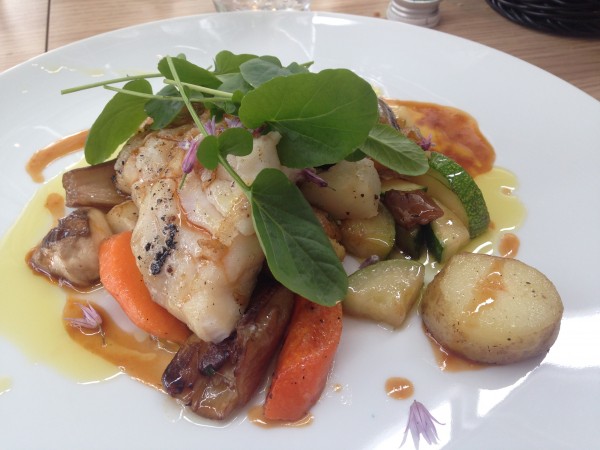 #12. Hotdogs Wrapped in Bacon
Nothing special about this, right? I mean America isn't really short on hotdogs. These hotdogs are over a foot long though, not made of artificial fillers and served in a sesame seed bun. Oh, and did I mention that they were being served on a ferry boat crossing a fjord? Gotta be the best ferry food ever. There's a lesson in this for you, Cross Sound Ferry.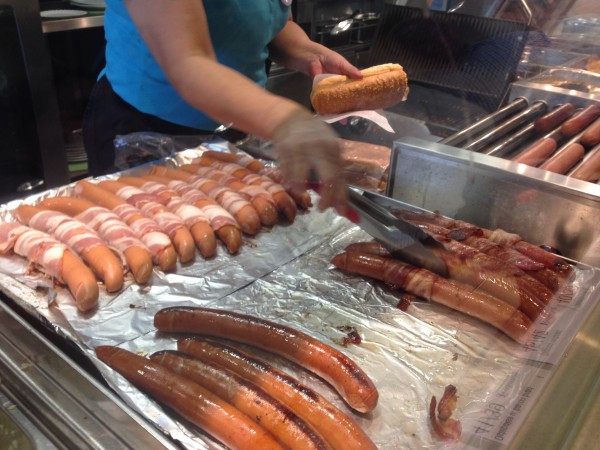 #11. King Crab
Who doesn't love king crab? They are the king of all crabs. As tall as a toddler and even more delicious. I was under the false impression that all the world's king crab came from Alaska. I blame Discovery Channel and its Deadliest Catch. Turns out, king crab come from Norway too. You can even go on a "king crab safari" and catch them yourself – without potentially drowning 150 miles north west of Dutch Harbor.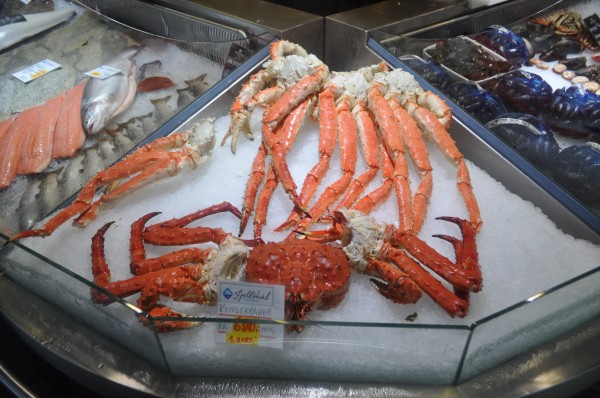 #10. Lingenberries
Lingenberries aren't only for IKEA cafeterias. They aren't even only for Sweden. Turns out, they are everywhere in Norway and so popular it's not unusual to get a bowl of them on your dinner table in a restaurant without even asking. That's right, they are up there with butter, salt and pepper.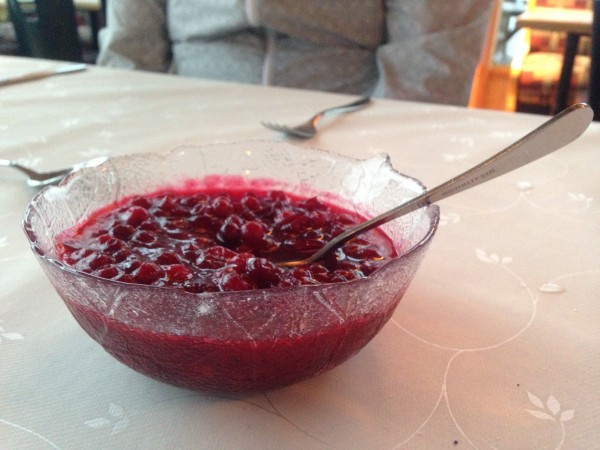 #9. Smash!
Chandra actually discovered this salty snack online before I even went to Norway. They appeared to be Bugles covered in milk chocolate. It seemed almost too good to be true so I sought them out when I arrived in Oslo. Turns out they are everywhere and way more delicious than you imagine. The combination of salty and sweet with chocolate of far better quality than anything we see in the States makes it the perfect snack. Seriously, I brought home like five bags and am eating one as I write this.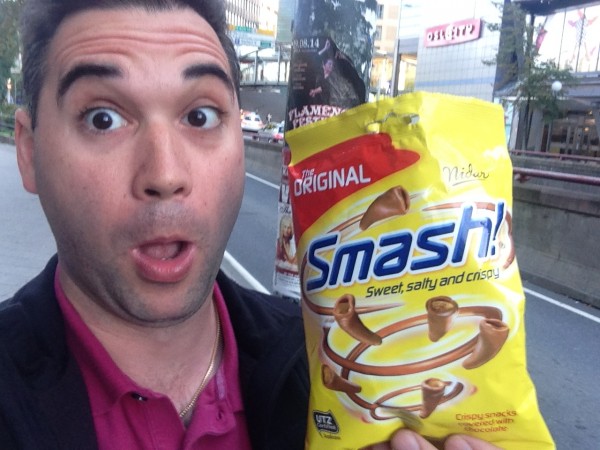 #8. Fish Cakes
You see these things everywhere. They kind of look like English muffins, or maybe potato cakes but like most things in Norway, they're actually made of fish. Unlike crab or fish cakes you've probably had before, the consistency of these are smooth and not like shredded meat pushed back together. Like the brown cheese, the first time you put one in your mouth they don't really make sense but they just kind of work. You'll see people walking around eating these from paper cones like french fries in Amsterdam.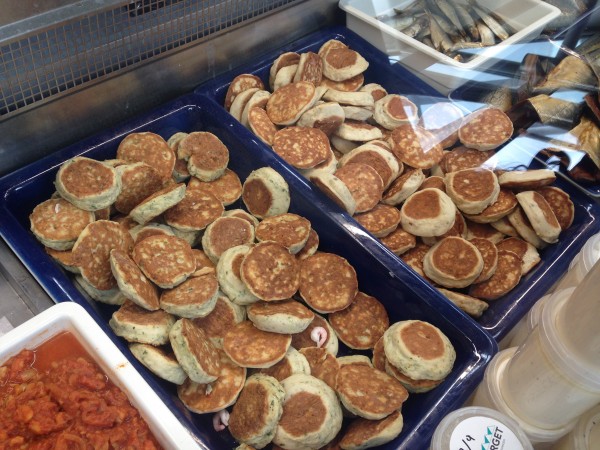 #7. Stone Crab Claws
At home stone crabs are a delicacy. Unless you live in Miami, you probably aren't used to eating them on a regular basis. In Norway, they are absolutely everywhere. We would go to buffets with literally piles of stone crab claws – some already cracked with the meat sticking out ready to be dipped in butter and devoured.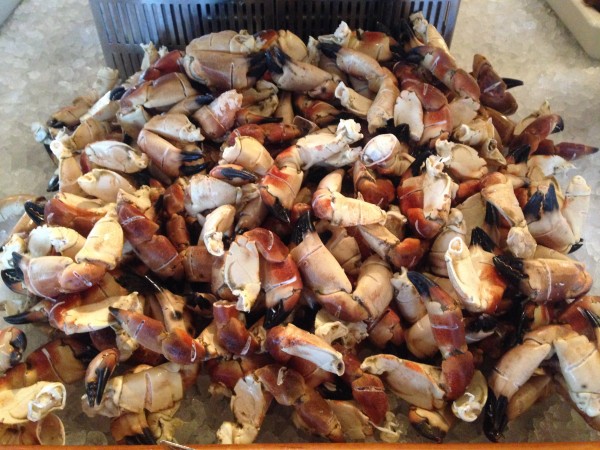 #6. Fish Soup
After a few days in Norway fish soup becomes a bit of a joke. It seems that every soup is fish soup and something about the words "fish soup" just sound so unappealing. Maybe it's because fish already come in liquid so fish soup sounds like someone just ladled out a bit of the ocean and put it in a bowl. Of course that's not the case and fish soup is awesome. The best I had was at Fisketorget Restaurant in Stavanger which had some sort of combination of spices that I can't describe but pleased my brain in ways I could not imagine. Is that nutmeg?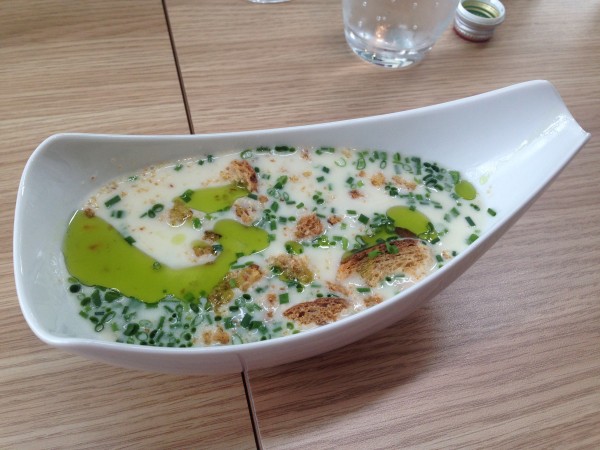 #5. Salmon, Salmon and WAY More Salmon
I have never seen so much salmon in my entire life and you remember I mentioned earlier that my family is in the seafood business. Driving along the water you can see salmon farms in the fjords. At buffets and restaurants salmon isn't just always an option, you usually have about four or five different types of salmon to choose from. Smoked salmon, pepper salmon, raw salmon, salmon salad, whole salmon, poached salmon, I feel like Bubba from Forest Gump talking about shrimp. Fun fact, did you know the word salmon in Norwegian is "laks"? It's all starting to make sense now.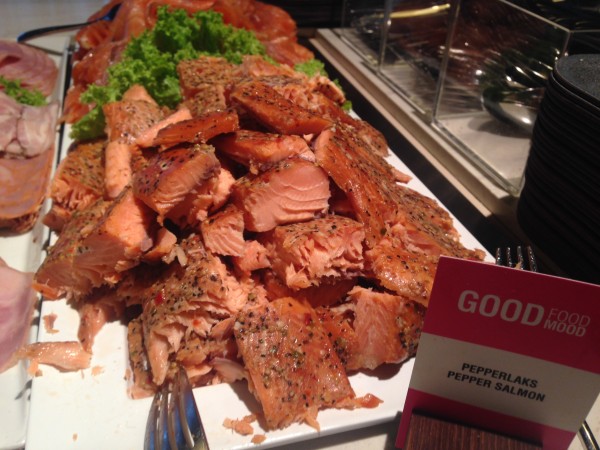 #4. Five Animals on a Plate
At the Fretheim Hotel in Flåm they have an epic dinner buffet that's great for an adventurous carnivore such as myself. Here I was able to accomplish a goal I don't think I've come close to anywhere else. Five different animals on a single plate. Look at the majesty below. There's salmon (of course), lamb, pork, stone crab and that mysterious looking black one which we'll touch on in a minute…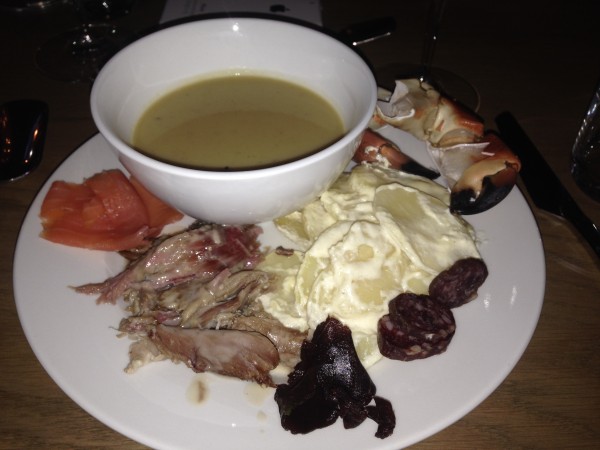 #3. Whale Meat
While walking through the Bergen Fishmarket I came across something I had never seen before. It looked like a roast beef in with the fish. Turns out, it was whale meat and you'll find it everywhere in Norway. Don't worry, the mink whale is not even remotely endangered and tastes delicious. Walking around Bergen you'll even see signs promoting whale-burgers and other such monstrosities. You can't go to Norway and not try whale. It's a must.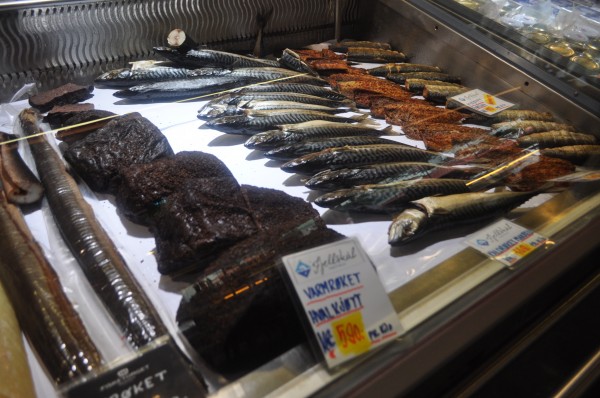 #2. Endless Dessert Buffet
Perched on the edge of the stunningly beautiful Sognefjorden fjord in Balestrand is the historical Kviknes Hotel. Here you'll find not only one of the most impressive selections of salmon, but also the most impressive dessert buffet I have ever encountered. Look at all the options! I couldn't even fit everything in the shot. There's an entire second table adjacent to this one!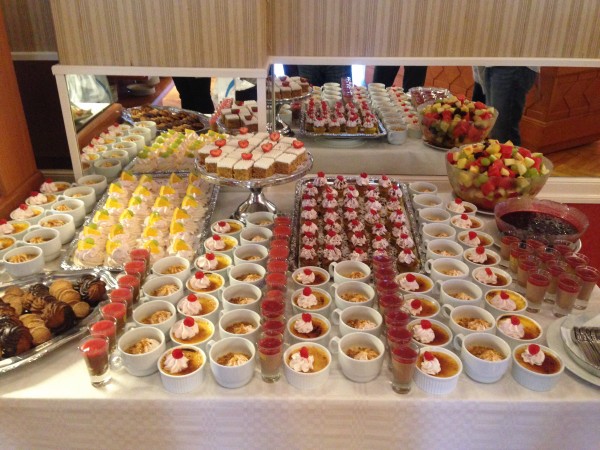 #1. Reindeer Steaks
By far the most exciting thing I ate while in Norway was reindeer. If you go to Bergen a meal at Bryggen Tracteaursted located in the historical area of Bryggen is an absolute must. The restaurant dates back to 1708 and you can really feel all those years of history when you walk in. When I heard reindeer was on the menu I was almost giddy. Sure I like Rudolph and the rest of those guys as much as anyone else but for some reason I really wanted to eat one. It did not disappoint.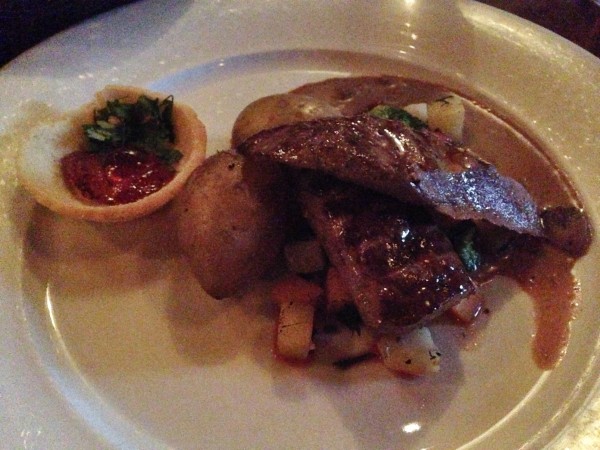 Have you been to Norway? Did you get to eat anything interesting? Let me know about it in the comments.