While most of the world drives on the right side of the road, there are many popular destinations that like to switch things up by driving on the left. But if you're used to driving on the right, how do you drive on the left side of the road? My first encounter with this was in Ireland and then later when I studied abroad in London. I never drove in either of these places, so the only difference I had to get used to was looking in the opposite direction when crossing the road. I'm assuming this must be a problem for pedestrians in all countries that drive on the left, as the road is literally painted with instructions to "LOOK RIGHT" at every crossing.
The first time I actually had to drive on the left side (also called "right-side drive" because of the location of the driver's seat) was when I visited Australia back in 2008.  Look how well I did!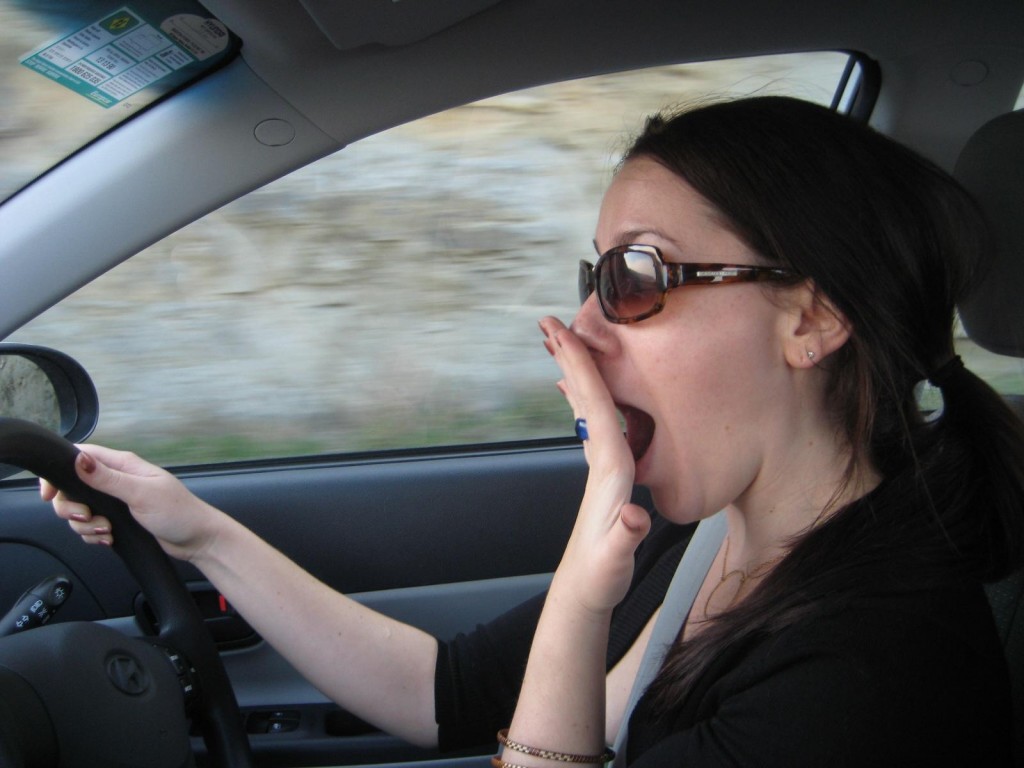 This photo was taken shortly after I took the wheel on the Great Ocean Road in Southeastern Australia. Although to be fair, looking inept behind the wheel might not be related to driving on the opposite side of the road at all:
7 Tips for Driving on the Left
Mistakes are most likely when pulling onto the road.  Whether you've just picked up your car rental or you've stopped for lunch along your drive, be especially careful when pulling into traffic.  If you're making a right out of a parking lot, it's surely your habit  to look left and pull into the right-most lane.  Now when making a right, you have to look right, then left, then cross a lane of oncoming cars. Take a moment to think before you merge into the road.  In fact, take a few moments.
If you're not entirely comfortable with a manual transmission, spend the extra money for an automatic.  Shifting gears with your left hand isn't the most difficult thing to get used to, but you'll have a lot on your mind so it's better to play it safe.  If you do choose a manual, keep in mind that even though you'll be shifting with your left, the peddles are all (thankfully) in the same order!
Be aware that your turn signal and windshield wipers are on opposite sides.  It's a very common mistake to mix up these two functions because putting on your turn signal is so automatic for most drivers.  Undoubtedly, you'll approach a intersection where you need to make a turn…and you'll let everyone know that you're turning by cleaning your windshield.  Oh, oops.  Its not a huge mistake, but it's something to keep in mind.
Your rear-view mirror is now to your left.  Like your turn signal and windshield wipers, your rear-view mirror is also in a new spot.  If you're like me, you check your rear-view all the time (mostly for police cars that may catch you speeding).  It's an especially good idea to keep this habit in foreign countries, as you'll encounter narrower roads compared to the US and drivers will not hesitate to pass you if you are too slow. Speaking of…
Slow cars stay to the left.  Be considerate of others and stay to the left if you're driving on the slower side.  To pass another car, you now pass on their right.  If you're from Boston like me, this will not seem unusual at all.
Be prepared for round-abouts.  People always seem concerned about these in general, so it's a good idea to be prepared for when you encounter a round-about/rotary.  You'll be going clockwise around the circle rather than counter-clockwise.  For the most part, it will seem obvious what to do at a round-about, but you should still know what to expect.
Take time to readjust when returning to the US.  If you've taken a long road trip abroad in a country that drives on the left, it may actually be your habit now to look the wrong way.  Obviously you'll readjust very quickly, but be extra careful when returning to a left-side drive country.
Driving on the opposite side shouldn't take too long to adjust to, and I'm sure you'll be speeding along and exploring a foreign place in no time.  You'll be surprised how well you do, and you'll be happy you've now learned such a useful skill.  Next up, driving a right-side drive speedboat…with your feet.  Happy travels!