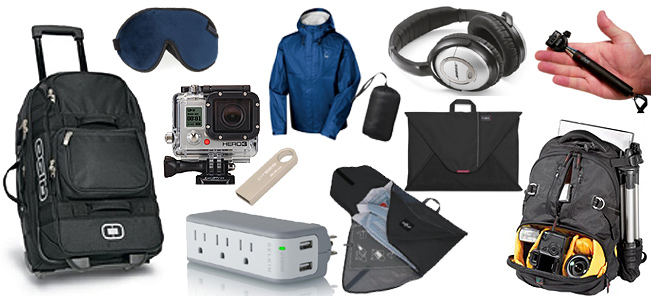 Ahh, travel gear.  Nothing makes me happier.  Over the years I have come to discover little bits of technology or products that have greatly enhanced my travels.  These items have both made traveling earlier, while also facilitating sharing my travel experiences with others.  Below are ten items that I never travel without.  Is there something you've discovered that you never leave home without?  I want to hear about it in the comments.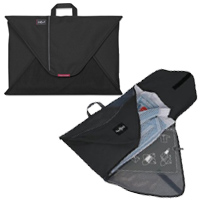 Eagle Creek Travel Gear Pack-It Folder – $27.50
Packing nice shirts in luggage is usually a quick path to having a bunch of unwearable shirts. This simple device solves that problem. It's basically just a plastic surface with four flaps, but with it I can bring a dozen shirts and have them arrive looking as wrinkle-free as when I took them out of my closet.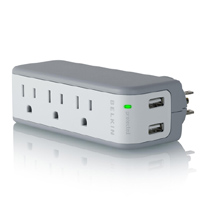 Belkin SurgePlus Mini Travel Surge Protector – $19.99
I used to travel with a dozen different plug adapters, never sure how many things I would need to plug in at once. Then a colleague turned me on to this little beauty. Now with a single adapter, for whatever country I'm going to, I can get three US outlets plus two USB ports.  Now I can charge my laptop, camera batteries, GoPro and iPhone all at once with a single plug.
GoPro HERO3: Silver Edition – $279.99
I was very reluctant to get a GoPro. It seemed expensive and time consuming. It was enough work having to take photos everywhere, but video too?  It seemed like too much. In truth, the GoPro makes it SO easy and it's enabled me to capture some of my most memorable travel experiences in a way I never could have otherwise, including South Africa, Canada, Colombia & Guatemala.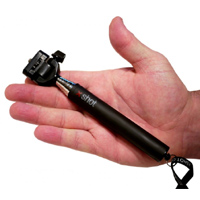 XShot XSP2 Pocket Camera Extender – $19.00
The ultimate accessory for the GoPro, or any point and shoot camera.  This little guy (along with this) let's you not only photograph or film yourself, but also capture your experiences in ways you could never imagine without it. Aerial shots, getting close to animals, underwater and flying in the air – the X-Shot let's me capture my experiences in a far more engaging and interactive way.
Kingston DataTraveler SE9 64GB USB Drive – $37.95
There's nothing particularly innovative about a USB Flash Drive, but I really love this one. I keep it on my keychain so it's always with me and it's so small and discrete looking you'd never notice it's there. The metal exterior is a nice touch and let's it blend it with the keys really well. Plus you can get one with 64GB for under $40! Memory has gotten so cheap.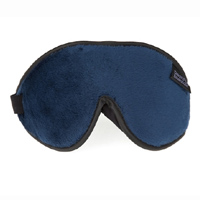 Dream Essentials Escape Luxury Sleep Mask – $19.95
Chandra makes fun of me for using this sleep mask, but it's gotten to the point that I can't sleep without it – traveling or not. What makes the Dream Essentials mask so great is that it has a little space for your eyes to open underneath.  This may not sound necessary, but it means nothing is pressing up against your eyes which makes for a much more comfortable experience. It also blocks out absolutely all light.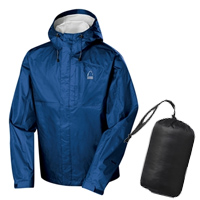 Sierra Designs Men's Hurricane Jacket – $78.98
I bought this little jacket to go trekking in Nepal and thought it did a pretty good job. Sure the trekking was horrendous and it rained so hard that every inch of me was soaked, jacket or not. But I still enjoyed the jacket. It's light weight, surprisingly warm and it fits into a nice tiny little "stuff sack" that's easy to pack in your luggage.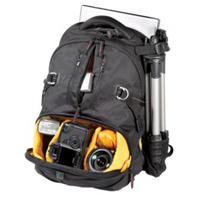 Kata KT DR-467 Digital Rucksack – $99.99
If you travel with a DSLR and don't want to lug a separate camera case, this bag is for you. It's bisected in the middle so that the bottom is a protected area for camera and lenses. Then the top is an open space for everything else. It even has a laptop slot in the back and lots of small pockets for all the little things that never have a home. It's a bit bulky, but it's a solid bag and it holds everything perfectly.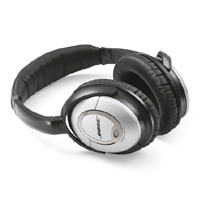 Bose Quiet Comfort QC15 Headphones – $299.00
Damn these headphones are expensive. And bulky. They take up so much room in my carry-on but wow are they worth it. I never ever get on a flight without these headphones. Slip them on and like magic all of the airplane noise vanishes.  Plug them into the airplane's entertainment system or your own devices and you are in a world of your own. When sleeping on a plane add these to the Dream Essentials sleep mask I mention above and you are good to go!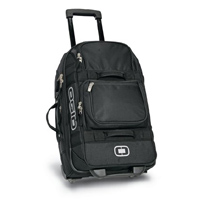 OGIO Layover 22″ Carry-on – $141.01
This has been my go-to bag since I was in college. It's durable, has plenty of room, just the right amount of pockets, is easy to distinguish from other luggage and, best of all, fits in an overhead bin. Traveling on my own, this bag is often all that I need.
Disclaimer: Although none of these products have paid me to write about them, some of the links I have provided go via my Amazon Affiliate program account.