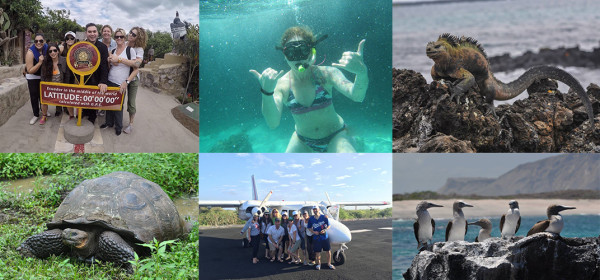 We'll be hosting a very special small-group trip to Ecuador and the Galapagos Islands April 22-30, 2017 to experience the incredible wildlife, history and natural beauty of these famous islands. Most people think the only way to experience the Galapagos is on a cruise ship, but this very special land based itinerary brings you closer to the destination as we hop from island to island experiencing the best of the best along the way.
HIGHLIGHTS:
Snorkeling in the tunnels of Isabela island amongst giant sea turtles, rays and seahorses

Flying over the islands themselves in a small aircraft

Seeking out giant land tortoises in the highlands of Santa Cruz

Viewing the abundant wildlife on Tintoreras including iguanas and penguins

Walking to the center of the earth with a visit to the equator outside Quito

Visiting La Loberia beach on San Cristobal – home to sea lions and iguanas
---
ITINERARY:
Day 1, Welcome to Ecuador!
Most flights from the US will fly directly to Quito. This is your opportunity to explore the vibrant capital of Ecuador. Upon arrival, you will be transferred to the Casona de la Ronda in the center of the city. This is the most exciting area to explore of the city and there will be a great vibe. We will convene for a welcome dinner in one of the central areas to celebrate the beginning of our adventure. Accommodation: Casona de la Ronda Heritage Boutique Hotel or similar.
Day 2, Walking the Center of the Earth
After breakfast, we will depart the hotel to visit the Telefériqo which is one of the highest aerial lifts in the world. The Telefériqo rises from the city center up to the east side of Pichincha Volcano to lookout Cruz Loma at a dizzying 12,943 feet. After lunch, we will leave the city to visit Mitad del Mundo and walk along the earth's equator. Back in Quito for the evening, you'll have free time to explore the vibrant historic city center at night. Accommodation: Casona de la Ronda Heritage Boutique Hotel or similar.
Day 3, San Cristobal Island- La Loberia
After breakfast, transfer back to Quito airport for self-arranged flights to San Cristobal in the Galapagos. Group itinerary resumes on arrival. You will land in San Cristobal, the Capital of the Galapagos. After passing through immigration and baggage claim, meet your private naturalist guide who will escort you during your trip and transfer you to your Hotel. After your lunch, visit La Loberia to learn about sea lions and if you wish, snorkel with them. Other wildlife includes, yellow warblers, frigate birds and several species of Darwin Finches and marine iguanas can be seen. There is also interesting flora including button mangrove, white mangrove, chala, palo santo, cotton, tiquilia, morning glory and other species of the littoral zone as the cacho de chivo, whose seeds is the main source of food for several species of finches. Accommodation: Hotel Golden Bay or similar.
Day 4, San Cristobal Island- Kicker Rock
After a leisurely breakfast, visit Kicker Rock. This site is located off the coast of San Cristobal. It is the remains of a lava cone eroded by the sea, two vertical rocks rising 500 feet above the ocean forming a small channel. This natural monument has become a favorite visiting sight due to the many tropicbirds, frigate birds and boobies that fill the surrounding air. Beneath the sea the crystal waters offer a brilliant show of colorful tropical fish and invertebrates. You will go by boat, it is approximately 45 minutes away; you will snorkel off the boat, around the rock and if you wish through the channel. Lunch is served on board and afterwards you will visit a lovely beach called Manglesito. Accommodation: Hotel Golden Bay or similar.
Day 5, Isabela Island – Tintoreras
Today you will have an early start as your flight is planned for 7:30 am. You will fly to Isabela, which is the largest island in the Galapagos, and one of the most volcanically active places on earth. The Enchanted Islands are seldom seen from above, but as an extension to your selected trip, we fly you to Isabela Island on a small propeller plane that gives you a bird's eye view of the archipelago's stunning volcanic formations. The semi-submerged craters, turquoise waters, rocks and islets are breathtaking. Spend a couple of nights exploring this attractive island. After landing, leave your belongings in your hotel and visit the Tintoreras, a rock formation that is home to a great variety of wildlife with crystalline waters inhabited by white tip reef sharks, Galapagos penguins, turtles, blue footed boobies, and sea lions that are a joy to snorkel with. Return to your hotel for lunch and check in. In the afternoon you may tour the Tortoise Breeding Centre, exhibiting the different stages of development for the Galapagos tortoise.  If time and energy allows you can go to the Wall of Tears, a historic site that was built by prisoners between 1945-1959, thousands died during its construction. Accommodation: Iguana Crossing or similar.
Day 6, Isabela Island – The Tunnels
After breakfast your guide will take you to join a group to visit the Tunnels, one of the most spectacular snorkeling sites in Isabela. This marine sanctuary is characterized by its unique geologic formations. Lava flows have produced a number of arches and tunnels both under and above water, filled with marine life. Entry into this site is shallow and the waves can be quite strong.    Navigation takes just over an hour and there are some interesting rock formations on the way. Simple lunch served on board. In the remaining hours of the afternoon, enjoy some down time and delight swimming or walking on the white-sanded beach opposite your hotel. Accommodation: Iguana Crossing or similar. 
DAY 7, Santa Cruz Island – the Highlands
Today you will have a very early rise. Your public speed boat to Santa Cruz Island departs at 6.00. Navigation takes approximately 2 hours. You will reach the main port in time to have a morning coffee in Puerto Ayora and explore town. You will then drive up to the highlands and visit some lava tunnels on the way. Enjoy a delicious, locally-sourced lunch at a farm in the western hills. Take in the area's natural beauty, pit craters, lava tunnels, and learn more about the Scalesia and Guayabillo forests. At the Tortoise Reserve, share some time in the giant tortoises' natural habitat, surrounded by the abundant bird life of the area. End this day at Galapagos Safari Camp with a sunset cocktail followed by dinner. Accommodation: Galapagos Safari Camp.
DAY 8, Santa Cruz Island – Visit the East
In the morning, you willl visit the eastern part of the island. At 490m above sea level, Cerro Mesa offers spectacular views and boasts the largest crater on Santa Cruz Island, home to a number of endemic plants, as well as seven subspecies of finch, and the vermilion flycatcher. After lunch, visit Garrapatero Beach, where the contrast of mangroves, black lava, white sand, and turquoise water, along with its birdlife and flamingo lagoon, is magnificent. Kayaking and mountain biking are optional activities. Accommodation: Galapagos Safari Camp.
DAY 9, Departure
After breakfast your guide will escort you to Baltra Airport in time for your flight to Mainland Ecuador and onward.
---
What's it Cost?
Price is $5,195/person sharing.
What's Included?
Escort throughout entire trip
All Activities and associated transportation
All accommodations in first-class hotels (mostly five star)
All Entrance Fees
Most Meals (a couple are for free time to explore)
Transportation between islands by plane or boat
All Guiding Fees
What's Not Included?
International Airfare to and from Galapagos and Ecuador (only inter island flights are included)
Passport and Visa Requirements (no visa is required for US passport holders)
Beverages
Galapagos National Park entrance fee (US $100 per adult)
Tourist Transit Card (US $20 per person)
Mandatory Travel Insurance
Gratuities for Porters and Guides
Any Costs for Food or Activities Enjoyed Separate from the Group
*Please note all elements of itinerary subject to change due to weather, logistics or availability. An itinerary is a living-breathing thing and it will continue to be improved up until and throughout the trip itself.  Only 10 spots available. $500 deposit is required to hold space.