Of all the times I've ever jumped off a cliff, paragliding in Cape Town probably takes the cake for the scariest jump ever. It wasn't that it was particularly high up or dangerous feeling, but rather it was that I had entirely too much information. But let me back up a bit. Yes, you can go paragliding in Cape Town. You can land in a field in one of the wealthiest areas on the entire African continent, have a great view of Table Mountain and you can do all of this before 9am.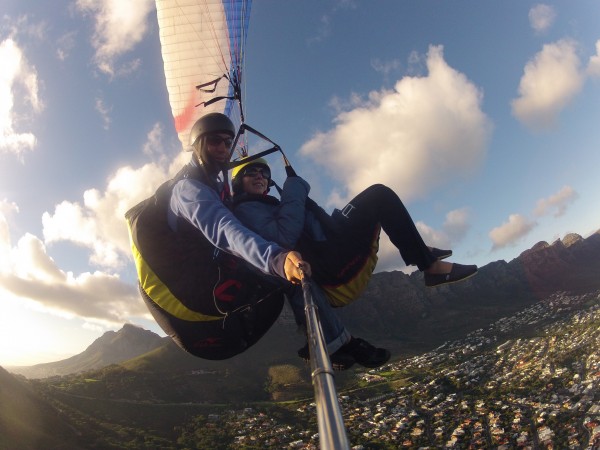 The Hike
We chose to paraglide with Cape Town Paragliding. Manu was our guide and he was DEFINITELY in the right profession. If he was in the US, he would probably be a surfer. But here he was in Cape Town, and jumping off of a cliff was certainly the next best thing.
There are few things I dislike as much as walking uphill. While I would hardly qualify walking to our jumping point as difficult, the entire activity does start with a brisk walk to the top of Lion's Head (the Ultimate Daredevil's Instagram Spot according to Huffington Post – cringe). Because it is so early in the morning, and because Cape Town has such a mild climate, the walk really isn't so bad. I probably thought it was worse than it really was because I didn't know that I was actually pregnant. Probably wouldn't have jumped off of the mountain if I had known that.
The walk is very scenic and, for me, made me realize how nice it must be to live in such a beautiful city with natural beauty and a decent climate. There were TONS of people walking/running up to the top of Lion's Head, many of them in pairs and many of them with their dogs. Just a normal way to start your day, you lucky Capetonians.
The Jump
When you finally reach the top (after stopping numerous times to catch your breath under the guise of taking in the scenery, a trick I learned in Nepal), the view is amazing!!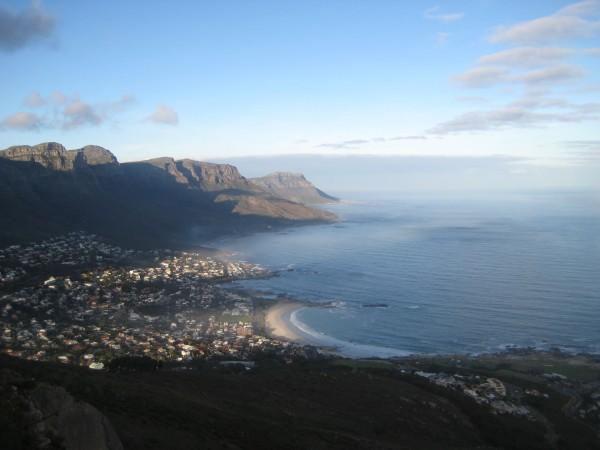 That's Camps Bay down below, one of the most beautiful neighborhoods in the city. All is well and good until you have to stand atop Lion's Head while your guides set up the parachute. This gives you entirely too much time to think about what you're about to do. Unlike hang gliding in Rio, which was fogged in until the moment we leaped off of the cliff, I could see exactly how up I was and all of the rocks that could injure me on the way down. It was just too much information.
You get suited up in a big, puffy jacket and step into a harness. You are then attached to the parachute and stand on a very slanty launching pad while waiting for just the right moment.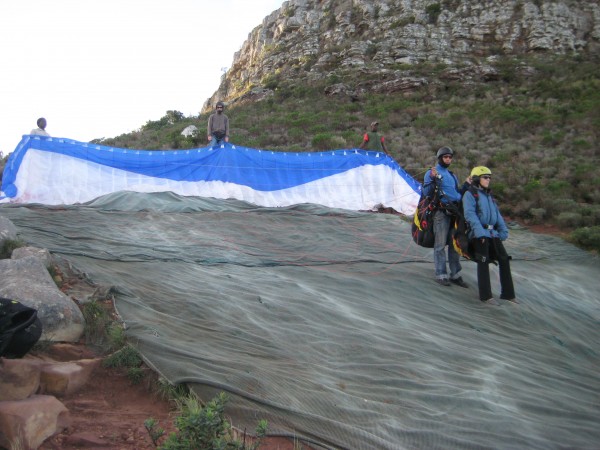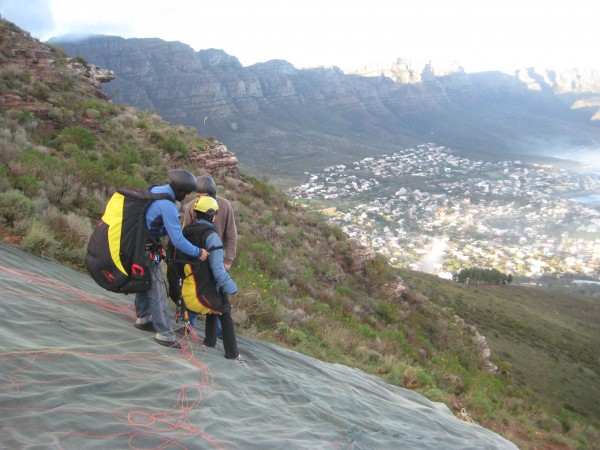 Except if you're me. Because if you're me, Manu yells "Run!" and you run and run until he yells "Wait, STOP!" and you think, well shit.
The lines had gotten a bit tangled and we had to give it another go.
I can't really convey how difficult it is to throw yourself off of a cliff a second time after one false start. I basically had to be pushed.
The Flight
But then it is awesome!!!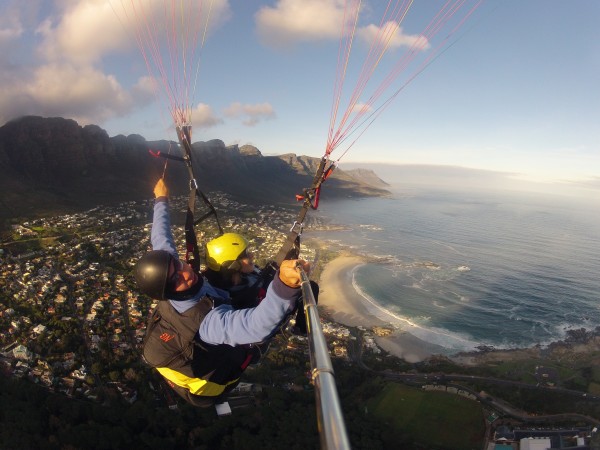 Dave got some awesome shots, too.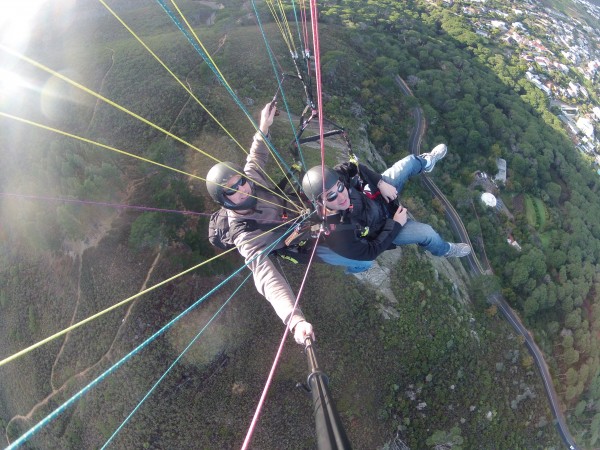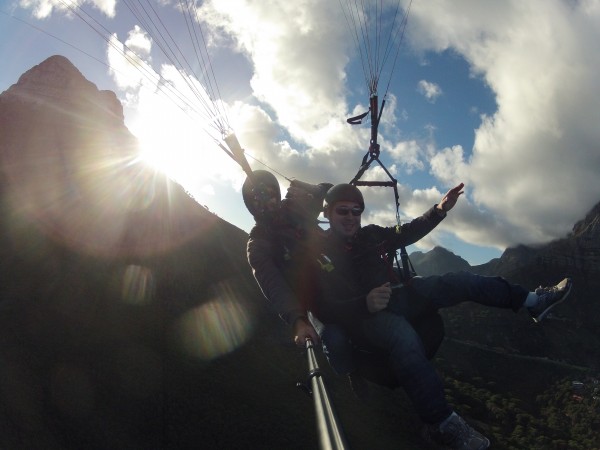 If you're a daredevil, you can have some fun on the way down by turning from side to side until you are almost up-side-down. I loved doing that! Dave had a more relaxing journey to the field.
Depending on the winds that day, you can expect to stay flying for up to 30 minutes. We were able to cruise for about half of that, which is still a pretty long time to be flying. After landing on a soccer field next to the beach, a car met us and dropped us back off at our hotel.
I would definitely recommend a flight while in Cape Town. It can be difficult to plan because it is a weather dependent activity, but for 950 Rand ($90 as of May 2014) it is an unforgettable way to see the city.