A short distance from Ho Chi Minh City, Vietnam (or "Saigon" for everyone who lives there) is the Mekong River Delta. A Mekong River Delta Tour is one of a few short excursions from the city that every tourist seems to do. It's a cheap ($7!) outing that only takes a day and allows you to see the countryside of Vietnam outside of the madness of Saigon.
The Mekong River Delta is approximately 100km from Saigon within the Ben Tre province of Vietnam. The day started out early with Dave and I grabbing some French pastries before climbing aboard a bus filled with other tourists. There were no other Americans although the tour was given entirely in English. Once through the city (please reference this scene from Seinfeld which accurately describes how to navigate the streets in Saigon) we made a pit stop in Ngoc Qui. It turned out to be a great opportunity to try out some Vietnamese hammocks.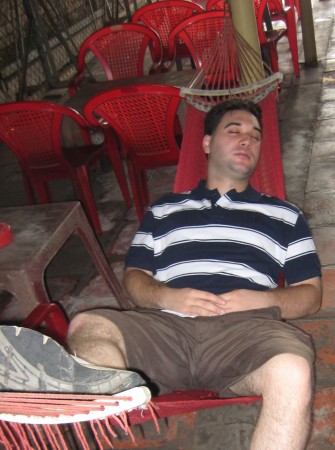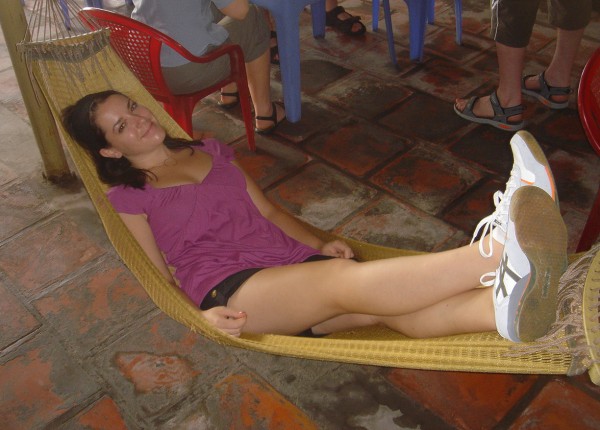 The ride took a total of about 3 hours, including the 40 minute stop. Many passengers slept, but we took advantage of the trip's duration to really absorb the scenery. Arriving at My Tho, we started on our tour of the delta, which was to include strange animal encounters, a boat ride, lunch, bike tour and finally a speed boat back to Saigon! Have I mentioned that this is the cheapest place we've ever been?
Strange Animal Encounters on Unicorn Island
Our first stop on the tour was on Unicorn Island, a very quick boat ride from My Tho. Our guide told us that people were very fortunate to live on this island. I suppose he knew better than I, but after this photo op, I'm not quite sure!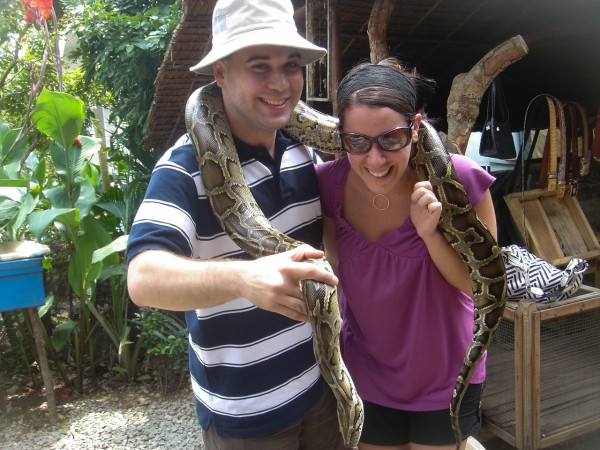 Have I mentioned I HATE snakes?! Well I do. Next up of course, was posing with bees. The area produces a lot of honey candy. Also, I had bought this hat back in My Tho for $0.47. I think I overpaid.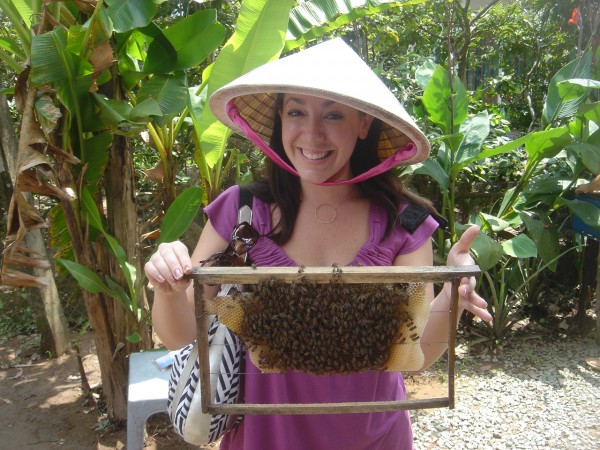 We also observed workers manufacturing coconut candy, which was delicious! The production line was all set up and of course we were the beneficiaries of their hard labor.
Next we were led to a small "restaurant" area with fruits set out to eat. We were placed at a table with a group of German girls, which worked out well because we were able to hold a conversation in English. We did all agree that the fruits looked a lot better than they tasted. But have I mentioned that the total cost for all of this is $7?!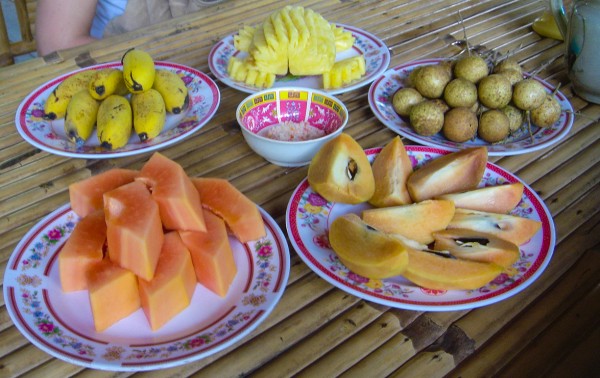 Vietnam, the Disney Ride
Our next stop was to ride "gondolas" through a small canal that would lead to the Mekong River. The canal water was brown, but the ferns were bright green and the Vietnamese women paddling the boats couldn't have looked more picturesque. I'm not really one for contrived, touristy experiences, and this certainly bordered on one…but the entire area was just so unique and SO Vietnam that we both enjoyed it!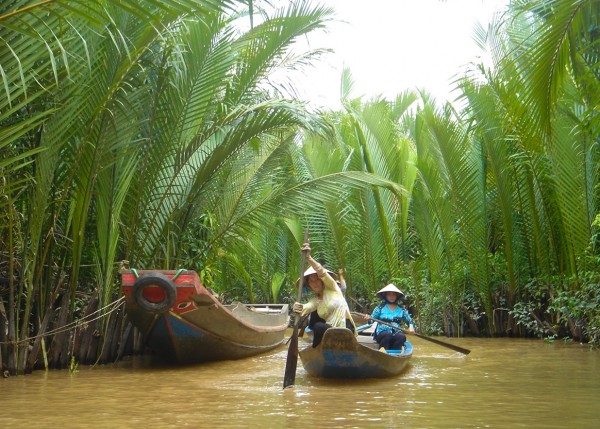 The boat ride lasted about 20 minutes and we enjoyed every second. Next up was lunch at Hao Ai, an open air pavilion of sorts that served us Vietnamese spring rolls, pork and fried rice. Again, for a $7 tour, we were most impressed.
A Bike Tour Into Town
After lunch, we were told we could explore the area for 2 hours. There were bikes available, free for our use, and we could easily ride into town. Despite the poor condition of the bikes (Dave's had one peddle…), we set out on our mini-adventure!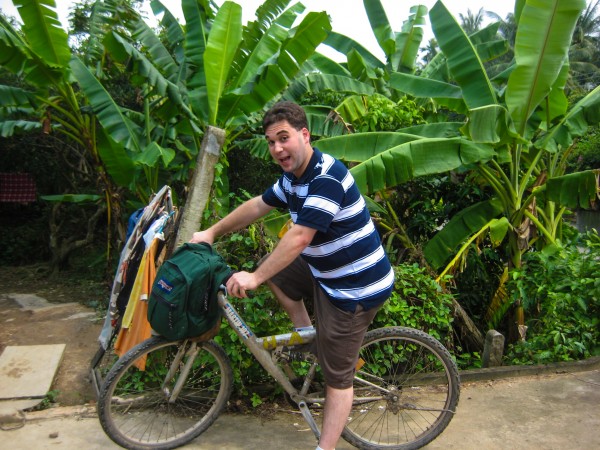 We road down the dirt path out of our little haven and out onto a main road with motos and a relatively small amount of chaos compared to that of Saigon. We saw a man washing his rooster and people lounging about in the midday heat. After less than a mile, we came into a small town…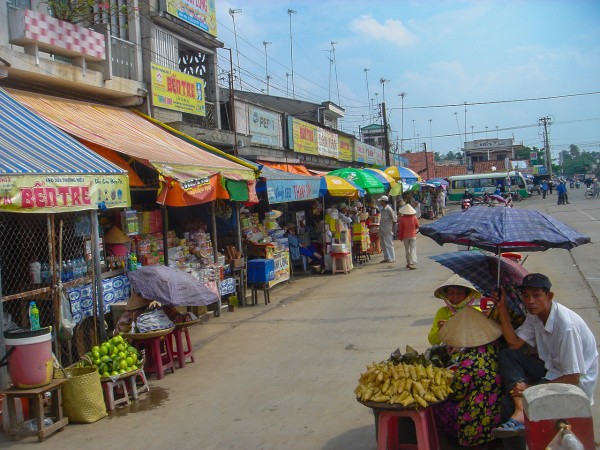 We walked around this town for a while.  I wish we could have explored more but we had the bikes, although I'm pretty sure that no one would have taken them.  It really felt like we were off the path – we weren't in the city and we were all alone really.  I liked that the best – it's pretty rare on a tour like this.  As we rode back, we saw the same man, this time washing his moto, not the rooster.
A Speedboat Splurge Back to Saigon
I know this whole time I've been boasting that a Mekong River Delta tour is only $7. Well the truth of it is that we paid $12 because we opted to splurge on a speedboat back to Saigon. In the end, I think it was worth it. We had already done the bus, and although the boat ride was 3 hours long, we would get to see the actual Mekong River.
We hopped aboard along with the others who had opted for the boat, which I think was nearly everyone in our group. We passed the largest mound of coconut husks I'd ever seen, the discarded waste of the candy-making operation on Unicorn Island: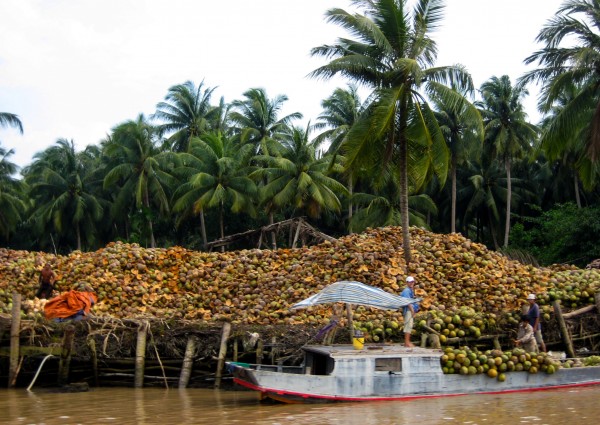 The ride was spectacular – we sat with our legs dangling off the side of the boat as we sped down the river towards Saigon. We passed floating markets, barges carrying everything from more coconuts to piles of dirt and even a wedding. For nearly an hour, we also passed the most abject poverty we've ever seen. The scenes were jawdropping, especially as the color of the river went from brown to jet black. The smell was that of raw sewage and we could only stare with concern as children played on the banks.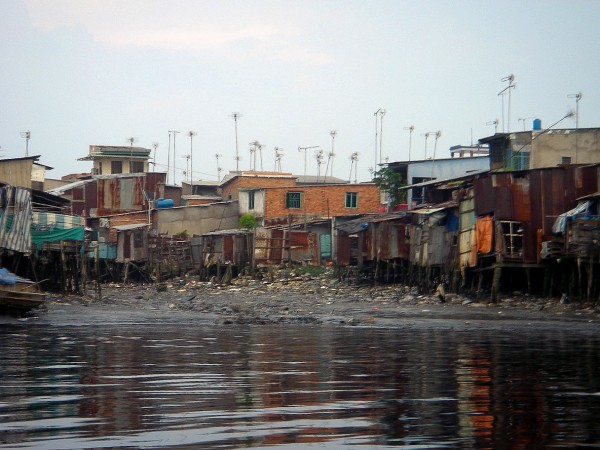 We made it back to Saigon in time for a tour bus to pick us up and return us back to our hostel. It was about 7pm by the time we returned. Twelve hours of activities and transportation for $12. Only it Vietnam.