I recently had the opportunity to fly on Turkish Airways to get myself to the Sochi 2014 Winter Olympic Games. I typically don't write airline reviews but this is the third major international trip I've used Turkish for and they've been pretty great. I felt I owed it to them to highlight some of the reasons you should consider Turkish for your next long-haul trip.
Routing
Turkish flies to 203 international destinations in 105 countries. That's pretty insane. From the US, they fly to Istanbul from Boston, Chicago, Houston, Los Angeles, Miami, New York and Washington DC. With just a stop in Istanbul you can easily reach most of the major cities in Asia, Eastern Europe, the Middle East and Africa. Coming from the US, the connections are pretty smooth. Istanbul's Atatürk Airport is modern and efficient and a lovely place to spend a few hours en route to your final destination.
Istanbul!
The best part of flying Turkish is getting to experience Istanbul. As lovely as the airport is, you need to get out and explore all the city has to offer. When you book with Turkish, include a stop-over on your itinerary that will let you spend a few days in Istanbul before continuing on to your final destination. Doing so won't cost you anything and it would be a shame to pass through one of the world's most wonderful cities without spending some time to get to know it.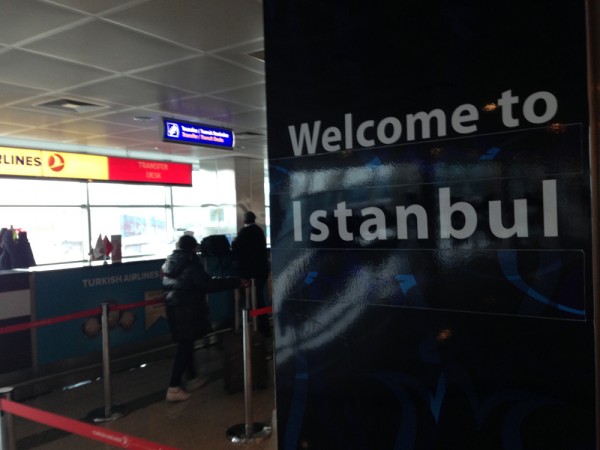 Food
I've only flown in economy class on Turkish but have always been impressed with their food selections. To be honest, it's probably the best meal I've had in economy class. The service that comes with the food is also top notch and it doesn't feel like you are eating out of a rolling cart – even if you are. Generally, the food has a solid Mediterranean/Turkish feel to it. The airline may be serving an international clientele, but they stay true to their roots. Before the meal service everyone on the flight is given a small piece of Turkish delight. It's small details like this that really make you appreciate this airline.
Entertainment
The on-board entertainment system in every seat back is good enough to make any length flight tolerable. A nice large screen and massive selection of first-run movies will keep you busy for hours on end. If you're like me and never have time to see movies in theaters, a single flight on Turkish can catch you up on a year of blockbuster hits. The entertainment system is also filled with all the usual suspects like TV shows, short programs and kids games but one thing that was really surprising was a selection of live television channels that you can receive even while flying over the ocean. I'm not sure how they do this but it's pretty cool to be watching live TV on such a long-haul flight. It's a nice way to feel more connected to back-home.
Special Amenities
Turkish was smart enough to include a power outlet and USB plug at every economy seat. For me, this is huge. Almost reason enough to fly this airline again and again. I was able to use my laptop as much as I wanted and keep my phone fully charged. This is a huge win. The other special amenity they have on board is Wi-Fi. Now you may expect me to freak out over how great that is, but in truth I find the idea of Wi-Fi on planes pretty terrible. I do appreciate it as an amenity and give Turkish huge credit for making it available, but I really enjoy my time disconnected when flying. Besides my shower, it's the only disconnected time that still exists.
Lost Luggage
On my way back from Sochi I had booked two separate tickets. One took me to Kiev and then Istanbul on Ukrainian International Airlines and the other back home from Istanbul to New York. Because of a delay in leaving Sochi, I barely made my connection in Kiev after running like a lunatic across the terminal at top speed. My luggage was not so lucky and got left behind in Ukraine. When I arrived in Istanbul with no luggage, I was turned over to Havas Ground Handling who handle all the luggage at Istanbul airport. These guys were incredible. I was only in Istanbul for a few hours before flying onward to New York but these guys not only received my bags when they arrived the next day from Kiev, but they communicated with me back and forth via email to make sure I knew what was happening every step of the way. They placed my bags on a Turkish flight to New York and gave me all the details I needed to retrieve them. I could not have been more impressed with the level of customer service from Havas. Rest assured, if your bags don't make your connection in Istanbul these guys will make sure you get them, no matter where in the world you are.
Kids on Board
My one warning about flying Turkish is that there tends to be a ton of children on board. This certainly isn't a bad thing as I love to travel with my own kid, but if you aren't traveling with kids, be careful which seat you select. Families with children will often be placed in the front of each cabin so that they can access the baby bassinets. If you don't have kids, I suggest choosing seats as far from these bassinets as possible. If you do have kids, make sure you reserve them early because you'll have more competition for them than you'd think.
Turkish Airlines had nothing to do with this post. They did not pay me or give me any freebies to write it. I don't always fly Turkish, but when I do I try to use my miles.