I've always been proud of my ability to pack light.  I have literally (old definition, not this nonsense) traveled around the world with only a carry-on bag.  I never use luggage carts and avoid porters at all costs.  My bags are my problem and if I can't manage them all, I brought too much.  This strategy has worked well for me up until recently. People told me ad-nauseam that once we had a baby there's just no way to pack lightly.  Sure there's a lot more stuff involved when you're traveling with a baby. Does that mean you can't still pack light, let alone continue traveling internationally? I think not!
We've just returned from a ten day trip across Chile, Argentina and Uruguay with our nine month old in tow.  This photo shows absolutely everything we brought with us.  When it comes to our gear for traveling with baby, there are some key points to note:
Everything can be easily moved by just Chandra and me.
Everything can easily be packed into a taxi.
There's no high-chair, no baby tub, no nonsense.  That's what the kitchen sink and Daddy's lap are for!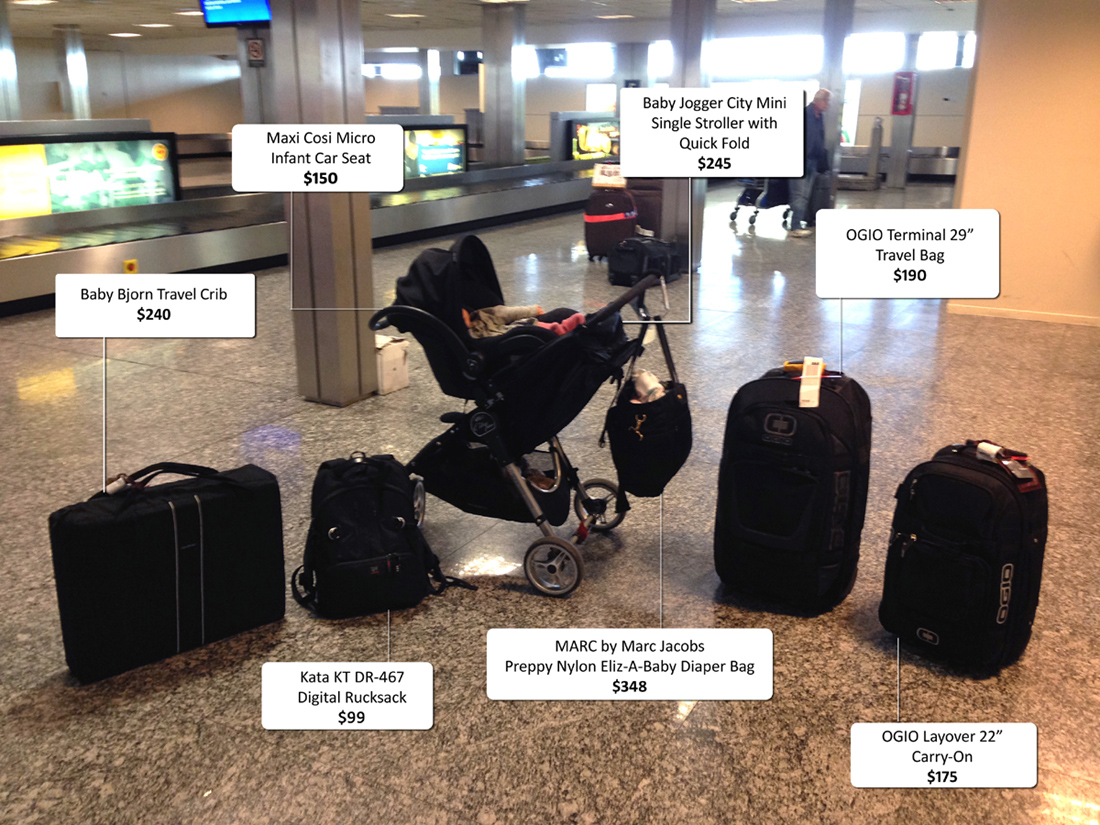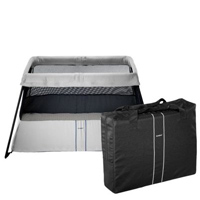 Baby Bjorn Travel Crib – $240
It may sound lame, but this crib is super cool.  It folds up into nothing but can be easily set up or broken down in under 10 seconds.  Although it's definitely the most expensive option like it on the market, our baby has always slept comfortably and the convenience of being able to set it up so easily has been worth the money.  It also feels solid and safe even when our daughter started standing up inside on her own.  It can take babies some time to get used to a new place to sleep.  Traveling with this means she's always comfortable right away.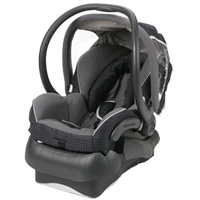 Maxi Cosi Micro Infant Car Seat – $150
Chandra and I debated the need to bring the car seat with us for awhile but ultimately brought it.  Since our trip required taxi transfers by highway from airports into cities we didn't feel comfortable without it.  That said, we did not take it when moving around on short trips within the city.  For those we just held the baby in the back seat like we were still back in the sweet 1960's.  This car seat has the base that stays in the car, but it doesn't need the base to get strapped in.  The best part is that with this accessory it connects perfectly to our stroller.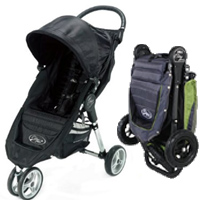 Baby Jogger City Mini Single Stroller with Quick Fold – $245
This is our everyday stroller and I could not be happier with it.  It's comfortable for baby and you can fold it up, one-handed, in about one second.  Every time we go to get in a taxi the driver always looks at me as if it's going to be a challenge to fit the stroller in the trunk.  But then with one pull I fold it up and smile as it slides effortlessly into the trunk, even when it's full of luggage.  It even fits easily in the back of our Mini Cooper and is light enough to carry up flights of stairs with ease.  One must-have accessory is definitely The Mommy Hook which lets you easily hang bags from the handle.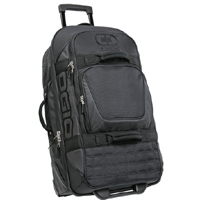 OGIO Terminal 29″ Travel Bag – $190
We originally bought two of these bags for our honeymoon and have been using them ever since.  I've always been a big fan of Ogio bags and this is one of the larger luggage pieces they make.  We find that we can pretty easily fit everything that we both need into this one bag for any trip of reasonable length.  When traveling with the baby we'll reserve this bag for our stuff, and the smaller Layover bag just for her things. This bag is distinctive without looking obnoxious.  It's always easy to pick out on a baggage claim, easy to move with and has lots of handles to lift.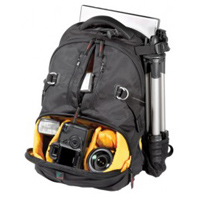 Kata KT DR-467 Digital Rucksack – $99
If you travel with a DSLR and don't want to lug a separate camera case, this bag is for you.  It's bisected in the middle so that the bottom is a protected area for camera and lenses.  Then the top is an open space for everything else.  It even has a laptop slot in the back and lots of small pockets for all the little things that never have a home.  It's a bit bulky, but it's a solid bag and it holds everything perfectly.  Although this model is a little old, there are updated versions that follow the same idea.  Baby or not, I never travel without this bag.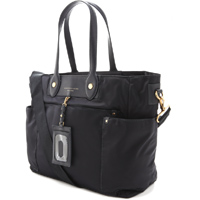 MARC by Marc Jacobs Preppy Nylon Eliz-A-Baby Diaper Bag – $348
We have a different diaper bag that Chandra uses back home, but this is our travel diaper bag for a couple of key reasons. The bag is made of durable nylon which is easily wiped clean after being placed on a sidewalk or airport floor. A black bag helps to hide all of these stains in between scrubbings. There are also three huge outside pockets. One is perfect for travel paperwork, while we use the other two to segregate between "toys that have been dropped too many times on a gross floor and need to be washed" and "clean toys". Most important though, I can carry it without feeling like I'm carrying a purse.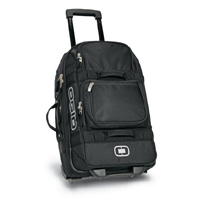 OGIO Layover 22″ Carry-on – $175
This has been my go-to bag since I was in college.  It's durable, has plenty of room, just the right amount of pockets, is easy to distinguish from other luggage and, best of all, fits in an overhead bin.  Traveling on my own, this bag would be all I need.  But traveling with a baby it made for the perfect bag to hold all of her things.  Ten days of diapers, bottles, clothes, bibs, toys – it all fit perfectly.  Not mixing baby's things with our own also meant we could easily find something of hers when we needed it fast.
Although none of these products have paid me to write about them, some of the links I have provided go via my Amazon Affiliate program account.