The following is a guest post from contributor Rebecca Adams de Garate and does not reflect the views or experiences of either Chandra or Dave. 
I have read many articles about people lashing out in horrendous ways at families with kids on flights. I myself have experienced disgust to the point of individuals cursing out loud at just the very thought of having to sit next to me and my two children on a plane. But what these people fail to see, is that the person who has it the worst in these scenarios is the parent.
To all of you who have never done this, who hate traveling on planes with babies, who find yourself silently hating on the young families who are on your flight, let me ask you…
How would you entertain two fidgety children for 6 hours at 35,000 feet?
How would you stop the tantrum created by the fact that we are not there yet and that we cannot get off the plane?
How would you deal with a vomiting 3 year old while holding a baby while sitting in the middle and window seats with a sleeping teenager in the aisle seat?
For those of you who about to embark on an international journey with children, here are my tricks to making life so much easier from check-in to baggage claim.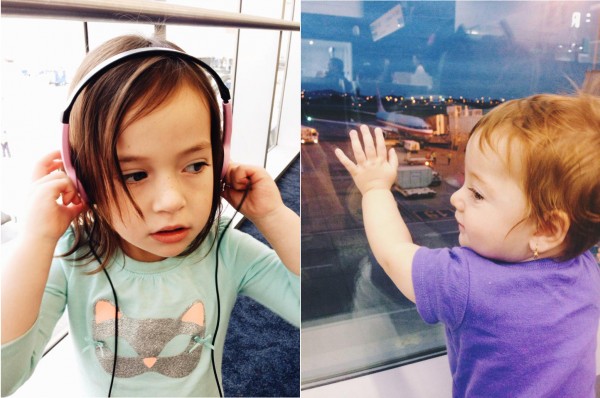 1. Pack Presents, Treats, Bribery Material, and Snacks
Packing treats they don't normally get goes a long way. Make sure you think airplane friendly when you buy (lollypops, gum, chewy candies, candies that come with stickers or toys, individual serving sizes of chips or crackers)
I gift my kids a toy every so often during our trip. Again, think airplane friendly. I once bought a toy tea set for Bugs and she kept dropping pieces and the person in the seat behind us had to pick them up. Poor choice of toy on my part. However, things that have worked for us have been mostly activity-based such as coloring books, crayons, stickers, and pens. I also create a small sticker tupperware and fill it with pre-cut and pre-peeled stickers so they are frustration free and ready to use.
Movies, iPad, iPhone, and personal gaming devices are all a big yes! Download new games, movies, and music prior to your departure, but don't let the kids use them until you travel, that way they are fresh and exciting!
This year we also bought Bugs her own pair of headphones. They kept her occupied for quite a while and helped keep her movie watching and game playing inaudible to our seat-mates.
Books. I always have a couple of books on hand for each child. We may or may not use them, but they are good for flights as well as layovers.
I also always pack my own food. Partially I do it for Pickles who can eat basically nothing. But I also do it because I know that the food is there just in case we need it. Airport/airplane food is pricey and you can't always find something in what your child perceives to be a timely manner. Having a granola bar or fruit leather handy will definitely make your life much easier.
2. Take Your Time!
I cannot stress this one enough! When you are in a rush, you stress. When you stress, your kids stress. When everyone is stressed, you make mistakes (and forget stuff on planes).
Do not rush through security. Take your time, talk your children through the process, ask them to help you out. Ask TSA to help you out (seriously, ask them).
Note: If TSA does a good job ask to speak to their supervisor and let them know who helped you and made your life easier. Trust me, they need the positive feedback. Be concrete about what they did well and what you appreciated. This will help them better train and direct their employees to assist families and people traveling with children. (I did this in Seattle. Fantastic TSA agents there!)
On the other hand, if they were horrible, unhelpful, and treated you like part of a cattle heard, or like you were a new inmate being processed, ask for their supervisor and lay it out on the line for them. Remember, they would be out of jobs if there were no travelers. They work for YOU. You are their customer, and should be treated as such. (I did this in Miami, which has the worst TSA agents I have ever encountered)
3. Use the Bathroom Immediately Before You Get on the Plane and Immediately After You Get Off
Take advantage of family and handicapped stalls to make sure you, your kids, and your luggage all fit in the same place. NEVER leave your kids outside of the bathroom while you are in the stall.
Our rule is everyone goes when we are in the bathroom. I make it clear that we will not use the bathroom on the plane, so we go now.
The last thing we do before we get on the plane is use the bathroom. The first thing we do when we get off is find a bathroom and all go.
4. Get on the Flight Early and Get Set Up
I know this may seem counterintuitive. You want to spend as little time as possible in that inclosed metal bird with your kids as possible, right? However, when you're alone with a baby and a preschooler you want to have everything as organized as possible before you are surrounded by people with no where to put your kids.
I get on as early as possible and take my time unloading blankets, toys, my laptop, the movies… everything should be within reach. You shouldn't have to get up out of your seat to get anything from the overhead compartment. Because, trust me, if you need to get it out from overhead, you won't be getting it until you've landed and off the plane.
5. Never Turn Down Help Getting On/Off the Plane or Getting Something in Flight
At first I would tell people I was fine. I'm superwoman, right? I don't need help carrying 3 bags, a baby, and ushering a preschooler down a tiny aisle of a plane! Yeah right. Help is good. Accept it and even ask for it!
If at all possible, arrange for an airline baby bassinet.
6. Teach Your Kids Their First and Last Name and the City/Country They Come From
DRILL IT IN TO THEIR BRAIN! "I am first name, last name from city, country'". Have them repeat it until they hate you.
Teach them a song with their address and have them sing it. Make sure they know they can sing it to the safe person they find who can help them get home (Bugs has one for Ecuador and for the US, but since she is still quite little she doesn't have them mastered yet).
7. Teach Your Children Who to Look for if They Can't Find You
If they get lost in the airport, what do they do? Do they know?
I have taught Bugs that she should find someone in a uniform of the company you are flying, a mother with children, or a police officer.
DRILL IT IN TO THEIR BRAIN!
8. Pack so You Can Drop Everything and Run After Your Kids!
Seems like a weird tip, right? But every time I travel alone with the girls my husband repeats over and over, don't worry about the bags, worry about the girls. And he's right. Airports can be dangerous for small children, especially because as an adult we are so distracted with the logistics of traveling. So, if all else fails be prepared to dump your bags and get your kids and pack accordingly. If you have to drop your bags and run after your child and your bag disappears in the process, where are your credit cards, cash, and passports? Were they in that bag?
9. Make Changing Clothes in the Airport Part of Your Travel Process
When we travel back to the US, it's a really long haul. So if we start in our pajamas for a really early AM flight, or have a red eye flight, I make part of our airport routine changing our clothes, brushing our teeth, and getting ready for whichever time of day it is. This kills time and gives the kids a sense of security and consistency keeping with their normal routine.
10. You Can't Parent on an Airplane
Parenting is extremely difficult at 35,000 feet, so pick and choose your battles very very very carefully when you're flying.
We were on the last leg of our flight back to Ecuador, we were all exhausted, and Bugs started  acting out. I asked her to stop. She didn't. She wouldn't… now what?! I said "no sparkly lemon water (soda) if you don't behave". She didn't behave. She lost the soda. She threw a tantrum and kept misbehaving…  s*** now what do I do?! Movies, get the movies! She zoned out and forgot she was trying to push my buttons *phew*. What's the lesson? So much for parenting on an airplane. Succumb to making your child totally happy rather than proving that you're parent of the year. Trust me, no one will judge if you give them an entire candy bar to keep them from crying the entire flight. Not. A. Soul.
About Rebecca Adams de Garate
Rebecca is an US expat living in Ecuador with her husband and two daughters. She's also a co-founder of El Nomad Study Abroad which offers immersive, internship, volunteer and language programs across Ecuador. Follow along as she shares tales of being a mom abroad and traveling with kids at Pickles & Bugs or @PicklesAndBugs.
What tips do you have for surviving airports, layovers,  flights, and other aspects of international travel with kids? Let us know in the comments.