Today was my first day in the beautiful country of Italy!  We were going to Sicily specifically, as part of our long weekend in Europe, and would be experiencing all of the delicious restaurants and romantic landscapes that Italy has to offer.
The day started in downtown London.  We were up at 6am, out of the hotel by 6:30, and found our way Liverpool Street station (via the Circle Line) by 7:15ish. We bought rip-off tickets to Stansted Airport on the Stansted Express at 28GBP for a return ticket and then got some breakfast before our 7:40 train. The train wasn't bad – very quiet and in 50 min we were at the airport. We made it quickly through security and then sat and charged my laptop until our flight. I've never flown RyanAir but I was familiar with their policy of sucking. We were antsy waiting in line to board the flight because our backpacks didn't fit in their ridiculously small "overhead" box, but we managed to either shove things into our bags or hide them in pockets of coats. I felt bad that people got pulled aside for having an extra bag (even no personal items were allowed) that they had from buying a bottle of something from the duty free shop. Really this airline is just terrible. As I'm typing this I'm listening to them whore themselves out by selling cigarettes, water, perfume, and a bunch of other stuff I'm sure.
Well after a bumpy landing we deplaned and got on a shuttle bus to presumable take us to the airport. Well, this thing drove from the back of the plane, where we got off, to the front of the plane, where the gate was. We had spent a good 5 minutes loading everyone on, making ourselves all fit in this bus, and then the ride was about 20 seconds. We laughed at the labor union that must have mandated this silly procedure and proceeded to customs and immigration, had our passports stamped and then went in search of an ATM and bus to the city center. We found both without too much trouble.  There is only one bus that goes to the city center and you can pay onboard.  We had to take the bus to Teatro Politeama, then walk to our hostel, the Casa di Amici, located on Via Vulturno near Teatro Massimo.
The land here is just amazing – huge rocky hills with green fields dotted with old houses. There were also unfinished construction projects everywhere you looked, a testimony to mafia involvement I suppose. With the help of the iphone and good directions we got off at the proper stop and had no problem getting to Casa di Amici. The place was grungy looking in the hallway, but as soon as we were inside it was very nice and cool looking with a Northern African theme. Claudia checked us in and in no time we were settled in. Its very clean, has a small balcony, and the bathrooms are very large – an excellent pick.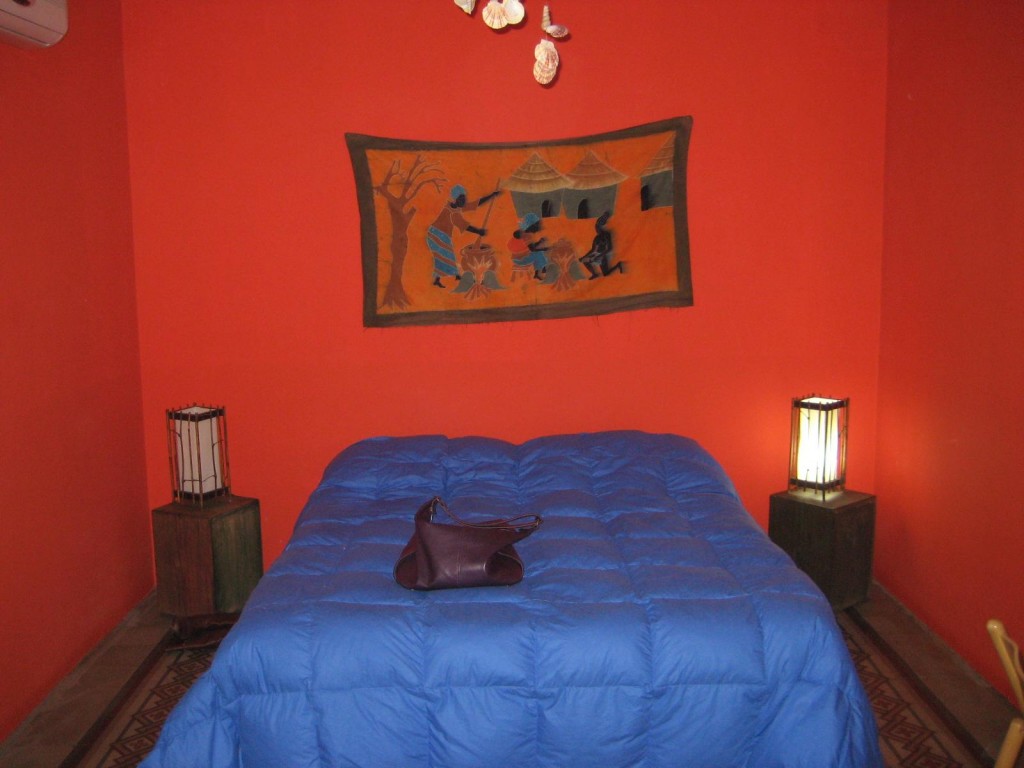 By now it was around 3 and we set off to look around and also to find some lunch. We ended up walking in the wrong direction but it was nice to be walking around no matter what. By the time we figured things out it was late and we just wanted pizza. Ironically, we had ended up pretty close to our hostel so we stopped by a pizzeria called Ristorante Pizzaria 59. The food was absolutely amazing!! We had the mushroom risotto, and a margharita pizza and some red wine. It was relatively cheap too and we left very satisfied and not feeling disgusting even though our food was completely drenched in olive oil. From there we decided to walk in the direction of the city center. The streets were now filled with stands selling random crap from cell phone chargers to fresh fish. It was very cool to walk around and watch all of this going down. I bought some spices as a gift and also for the house. They were so much better, yet so much cheaper, than back home.  We also really enjoyed looking at all of the fresh fruit and vegetables, which seemed to look completely different than in a supermarket in the US.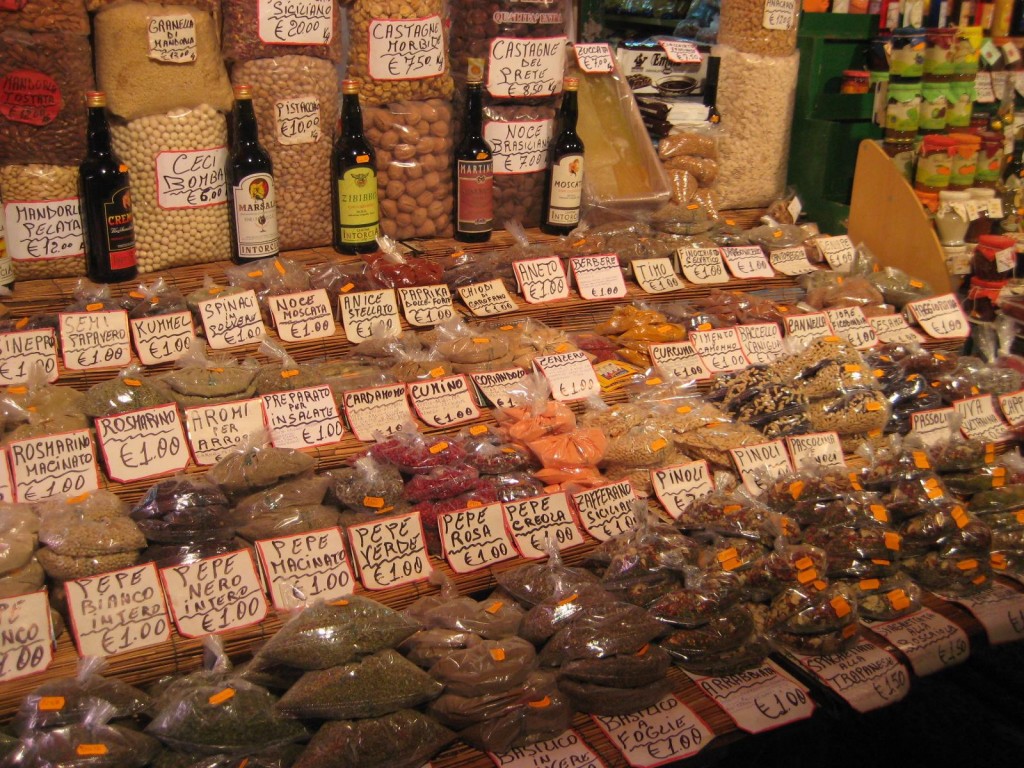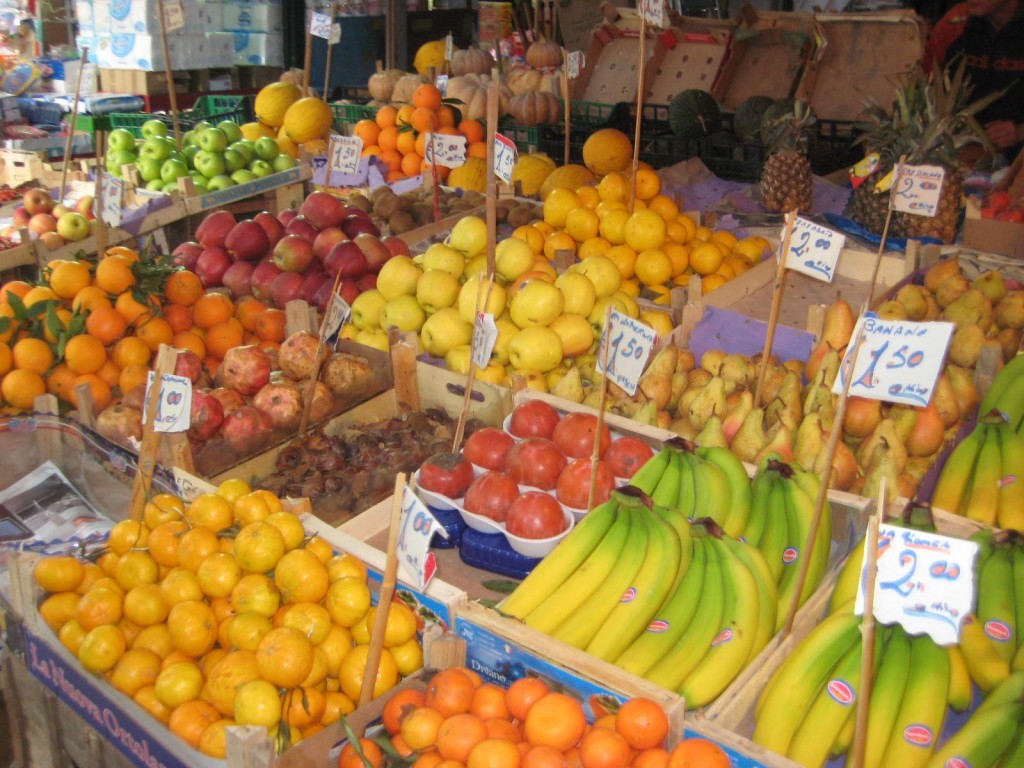 Eventually we searched for and successfully found gelato, which was also amazing. From there we decided to look for the street that Mike told us was a good time – Via dei Candelai. On the way we found the cathedral and it seemed open so we went inside. Mass was actually going on and the place was packed! An absolutely huge cathedral and here it was a Thursday night and the place was hopping. We walked along the sides where the kids were congregating and got a good look at everything. It was really beautiful. Once people started kneeling it became apparent that we should get out of there, so we headed for the door and continued on our journey. We found Via dei Candelai because Mike had said it was fun but it seemed too early so we just got a rice ball and hung out eating it. Its really great to just relax and watch the Italian world go by.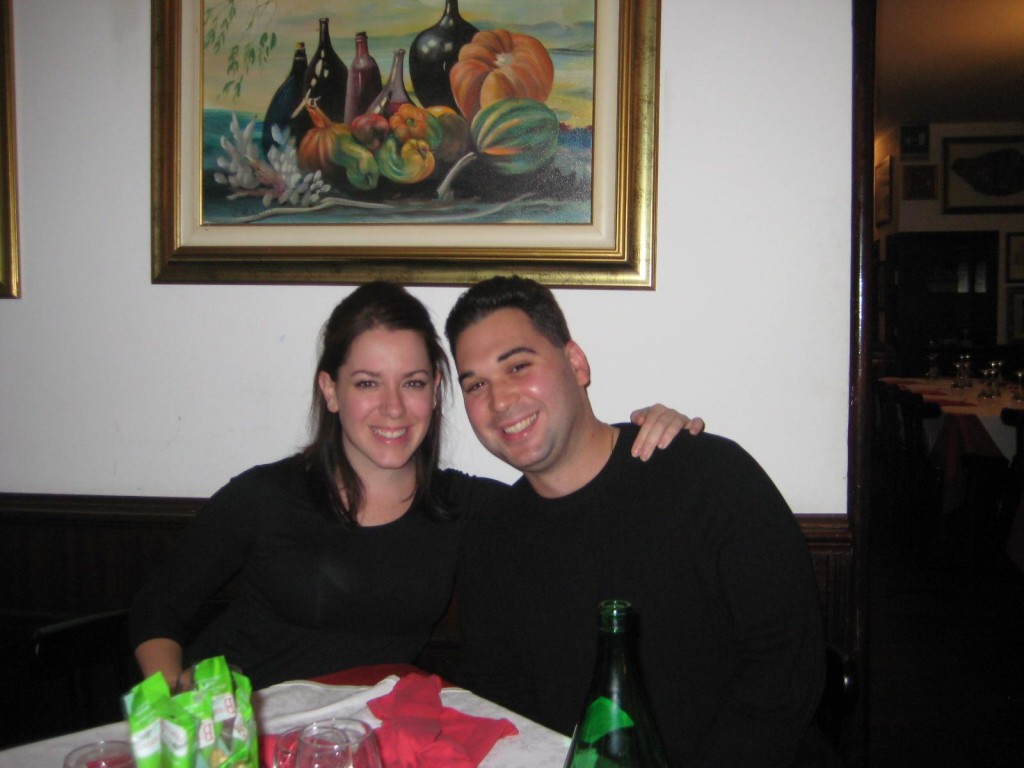 Back at the hostel we napped and used the computer until we decided that we needed dinner. We ended up close to our hostel at a small restaurant that was still open. I started out with a caprese salad and then Dave and I shared a linguini dish with mushrooms and shrimp followed by some fried calamari. We had more trouble reading this menu compared to the restaurant earlier, so Dave was translating the Italian on his cell phone. Food words are hard, even when we are very used to Italian menus back home in New York! We went back to the hostel very late and ended up staying up until 2am talking to each other and discussing our road trip around Sicily.