Last weekend Chandra and I took a trip to Lisbon. Chandra's birthday is coming up and since I'll be away at the Sochi 2014 Winter Olympics, I wanted to do something extra special as an early celebration. Some people thought that since we live in New York, going all the way to Portugal for only three nights was a bit crazy. It's not. The key was to define exactly what we were looking for in a destination and then evaluate some options against that criteria.
WHAT WE WERE LOOKING FOR
We had very specific requirements for this weekend away. It was going to be the first trip that we weren't traveling with our baby girl. We wanted it to be special and fun without being too demanding. Here were our specific requirements in choosing a destination:
We wanted to go someplace interesting where there would be things to do. Not just lay on a beach. This ruled out more convenient Caribbean destinations.
The destination had to be warmer than it was back home. Not necessarily warm, just warmer.
We needed a place we could get to with only one direct, non-stop flight.
Since we would be using miles for our tickets, we needed someplace a Star Alliance partner airline flew.
We didn't want to spend all our time flying, so we needed someplace we could get to within eight hours or so. This would allow us to leverage a red-eye flight and maximize our time on the ground.
Preferably a place neither of us had visited before, but at very least someplace Chandra had never visited.
Would be a place we could spend three days  in and feel like we really experienced what the destination had to offer.
DESTINATIONS CONSIDERED
With so many places we still want to go in the world, it was very difficult to narrow the list down. Given some of our requirements above we were able to come up with a preliminary list. We then knocked off choices one by one until we found a winner.

Istanbul, Turkey – I absolutely love Istanbul but Chandra has never been. This was a strong contender in all categories thanks to non-stop flights from New York on Turkish Air. In the end, the 10.5 hour flight time and larger time change cut too much of our very limited time. Covering a destination as large as Istanbul in the small time we had left seemed impossible.
South of France – The South of France is another spot I've spent some time in but Chandra has not. It's so beautiful it would have been a great choice. The problem was going anywhere would have certainly required two flights from New York and since the region is so large it would have been hard to stay in one place. Also, winter is not the time of year to go to the South of France.
Reykjavik, Iceland – Although only about five hours away, January in Iceland means freezing temperatures and very little day light. Not the right time of year.
Marrakesh, Morocco – Oddly enough there are no direct flights from New York.
Costa Brava, Spain – I didn't know much about Costa Brava except for the overwhelmingly positive reviews of the destination from the likes of Adventurous Kate and Cailin O'Neil. Unfortunately, the areas worth spending time in are hours of driving from any major city airport. Also January isn't ideal time of year.
Valletta, Malta – Another overwhelmingly positive review from Adventurous Kate had me consider Malta for the first time. I was really exited to make this work but there is nothing close to a direct flight from the US. Even if we caved on that requirement, getting to the tiny island was far from seamless.
Nicosia, Cyprus – Cyprus has been on our list for awhile but we had the same problems here as with Malta.
Ajaccio, Corsica (France) – I don't know anything about Corsica but once beginning research we found the same issues as with Malta and Cyprus. These just aren't viable destinations for such a trip originating in the US.
Ponta Delgada, Azores (Portugal) – The Azores are a chain of islands in the middle of the Atlantic Ocean owned by Portugal. They don't look that far away on a map but it turns out it's nearly impossible to fly to them from anywhere but Europe. Also, they are extremely expensive to get to.
WHY LISBON?
Ultimately we decided on Lisbon. It perfectly met all of our requirements. Thanks to a non-stop flight from Newark on TAP Portugal, we were able to get there in a shockingly short five and a half hours! It was such a short flight we didn't have enough time to sleep properly. Although not warm, it was mid-50's every day which when compared to the single digit frozen wasteland we left behind in New York, was pretty amazing. Neither of us had been to Portugal before but we have been to former Portuguese colonies of Brazil, Uruguay, Mozambique and Goa so we already had developed an affinity for Portuguese culture and influence.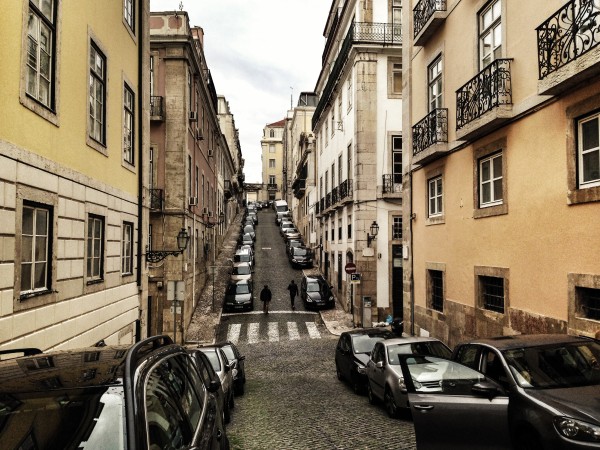 A PERFECT WEEKEND
The trip worked out perfectly. We left New York after work on Friday on a 6pm flight to Lisbon. We were landing in Lisbon at around 5am and at our beautiful hotel around six. This gave us all of Saturday, all of Sunday and all of Monday to explore the city before heading back to New York on Tuesday afternoon. Since it was Martin Luther King Jr. weekend, we were able to make the trip happen by only taking a single day off of work. We adored Lisbon and even had time to rent a car one day and explore some of the nearby castles and coastline. This was truly a trip to remember. It was made possible by carefully maximizing our time and resources and choosing a destination that best met our requirements. I would highly recommend you do the same!